NP Thyroid and Nature-Throid Voluntary as of August 25th, 2020
Some more bad news for thyroid patients.
RLC labs have issued a voluntary recall for ALL unexpired lots of both Nature-throid and WP thyroid as of August 25th, 2020 due to sub potency.
This announcement can be found on RLC labs official website here as well as on the getrealthyroid.com website.
Unfortunately, this comes in the wake of the recent recall for NP thyroid due to super potency as well as the more distant changes to the WP thyroid as well as Nature-throid that I've discussed here.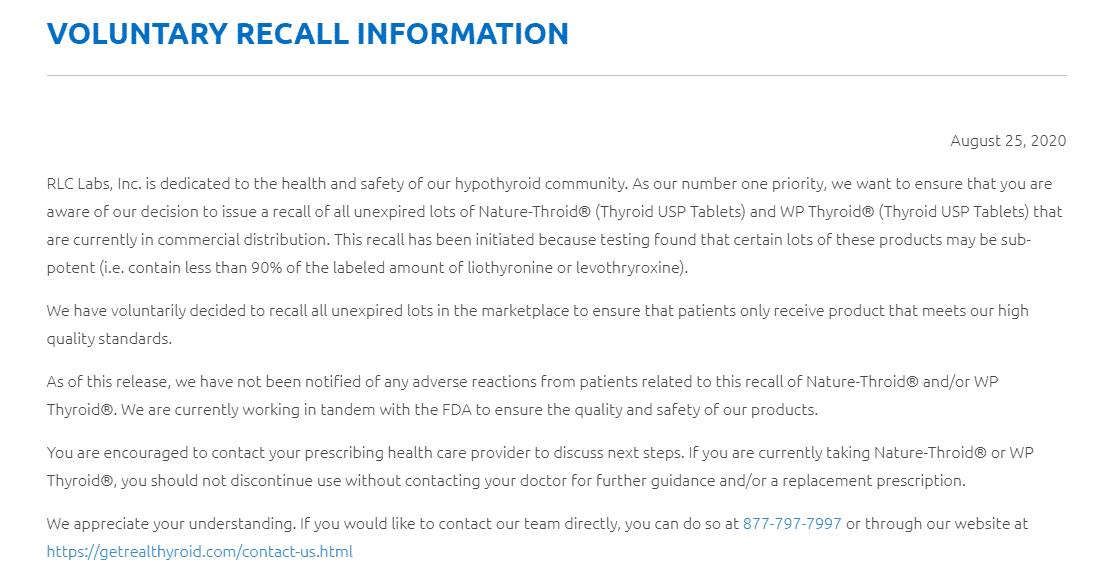 What we Know So Far
This recall is voluntary which means that RLC labs made the decision to recall the lots on their own.
They weren't forced to do so by the FDA for complications related to the lot.
The reason for the recall is due sub potency of the active thyroid hormones found in certain lots of both WP thyroid and Nature-throid.
It does not appear that ALL lots were affected even though they have decided to recall them all.
In their official statement, RLC labs stated that the active thyroid ingredients (T3 and T4) in certain lots are less than 90% of what they claim on the packaging.
Per standard guidelines, each grain of Nature-throid and WP thyroid should contain 38mcg of T4 and 9mcg of T3.
If the dose is sub potent (90% of normal, in this case) then it means that each grain would contain 34.2mcg of T4 and 8mcg of T3 instead of the regular 38mcg of T4 and 9mcg of T3.
What does this mean for you? It means that if you were taking one of these affected lots you were getting LESS thyroid hormone than you or your doctor expected.
And, in this case, you would have been more likely to experience low thyroid symptoms despite taking your medication faithfully.
This sub potency issue was found during testing of the active ingredients and the lots which are affected were not specified in their announcement.
For unknown reasons, they have decided to recall ALL unexpired lots even though not all lots may have this issue.
Officially, they have not reported any adverse effects from this sub potency issue but if you have experienced an issue please share your story in the comments below.
What we don't know is what this means for the long-term outlook of both WP thyroid and Nature-throid.
Are they going to continue to produce these medications? If so, how long will they be out of stock? How difficult will they be to get when they do come back in stock? Etc.
These questions are very real and very important for thyroid patients who were doing well on these medications before this change.
No Official News from the FDA with Conflicting Information from Various Pharmacies
This news doesn't appear on the official FDA website but I did call a few pharmacies to get additional information.
One pharmacy (CVS) reported that they were aware of the recall and that the only NDT formulation available at their pharmacy was Armour thyroid.
I received a conflicting message from another pharmacy (Walgreens) which stated they did not hear about the recall and it wasn't in their system.
This particular Walgreens stated that they had Nature-throid on their shelf which was ready to be prescribed.
The official date of the announcement was August 25th, 2020 which was yesterday as of the time of this writing so it's possible that some pharmacies have not received the information yet.
I have several calls out requesting additional information from RLC labs and I will update you with more information as I receive it.
What This Means For you if you Take These Medications
Unfortunately, this isn't great news for thyroid patients or for NDT brands in general.
Thyroid medications, but NDT brands specifically, have taken a beating over the last few years with several recalls and reformulations.
And with each recall and reformulation, we are seeing more and more problems.
Thyroid patients who were previously doing well are now experiencing hypothyroid symptoms and so on.
As a thyroid patient taking thyroid medication, one of the most important things you can do is to ensure that your thyroid medication is sufficient for the needs of your body.
Doctors, at baseline, tend to underdose thyroid patients due to a variety of reasons and this sub potency issue may complicate that issue even further.
What should you do if you are currently taking any lot of Nature-throid or WP Thyroid?
I would recommend calling your pharmacy and asking if they are aware of this recall (share the information you obtain from them in the comments below, if possible).
The pharmacy will be able to contact your doctor and get you a prescription for a new formulation of NDT (this will most likely be Armour thyroid).
If you'd like to switch medications entirely, which is what I would probably recommend, then you will need to request these from your doctor.
Which NDT Brands Are Still Working?
What if you want to stay on NDT medication?
Unfortunately, it would seem that your only option as far as NDT is concerned is to use Armour thyroid.
You may be able to find some pharmacies which have NP thyroid but NP thyroid suffers from the super potency issue (previously mentioned) as well as the reformulation issue.
Armour thyroid hasn't had significant changes made to it for several years and while it normally isn't the best NDT option available, it may be the ONLY option available to you right now.
Armour thyroid is dosed in a similar way as Nature-throid and WP thyroid when converted into grains.
The mg dosing of Armour thyroid is slightly less than equivalent grains of WP thyroid and Nature-throid.
For instance, 1 grain of Armour thyroid is equal to 60mg whereas 1 grain of Nature-throid is equal to 65mg.
Both of these doses contain the same amount of T4 and T3, though, so you can essentially ignore the mg component.
Other Thyroid Medications I am Recommending Right Now
In light of this recall, what medication should you use as a thyroid patient?
If you are determined to stay on a brand of NDT (natural desiccated thyroid) then it looks like your only option right now may be Armour thyroid.
Armour thyroid has had issues in the past but is definitely still working for many people.
The switch to Armour thyroid will be relatively easy if you transfer over on a grain-by-grain basis.
But what if you want to stay away from NDT medications entirely?
I would probably recommend this route IF you were not doing well on WP thyroid or Nature-throid.
This transition can be a little bit more complicated, however, because you will be going from 1 medication that contains two different thyroid hormones to 2 different medications (if you follow my preferences).
Earlier this year I wrote an article in which I outlined the thyroid medications that I am having the most success with.
You may or may not be surprised to know that NDT formulations didn't really make the cut, but you can find a shorthand version of these recommendations below:
(Note: If you can't get Tirosint then the white 50mcg tablet of levothyroxine/Synthroid may work as well as Levoxyl)
Armour thyroid is another alternative as well but your mileage may vary in terms of success
These combinations are meant to replace NDT formulations as they contain both T4 and T3 thyroid hormones.
The only downside is that you will most likely need to get two NEW prescriptions unless you decide to swap over to Armour thyroid.
I recommend these medications because they are currently the cleanest options available with the fewest number of inactive fillers, binders, and dyes.
Tirosint, which is incredibly clean, can sometimes be expensive though so you may need to swap it out for cheaper versions if you need to.
Good alternatives include the 50mcg tablet of Synthroid and levothyroxine (which does NOT contain additional dyes) or you can just swap it out for Levoxyl.
Alternatively, you can also get your thyroid medication from a compounding pharmacy that can provide you with equivalent doses of both T4 and T3.
Consider this example if you are a little bit confused.
Imagine you are taking 1.5 grains of Nature-throid. 1.5 grains is equal to 97.5mg.
Because each grain of Nature-throid is supposed to contain 38mcg of T4 and 9mcg of T3 you can simply multiply these values by 1.5 (which represents the 'grains' you are taking).
1.5 x 38mcg = 57mcg of T4
1.5 x 9mcg = 13.5mcg of T3
So if you wanted to transition to compounded T4 and T3 thyroid medication you would need a prescription for 57/13.5 of T4/T3.
And while I believe that MOST thyroid patients do far better on thyroid medications that contain both T4 and T3, there are some people who do well on T4-only medications so keep that in mind.
Lastly, always remember that it's still possible to get good results with other types and brands of thyroid medications.
At the end of the day, whatever works for you is what you should use.
Final Thoughts
I will keep you updated as I get more information.
For now, though, I want to hear from you:
Is your lot of Nature-throid or WP Thyroid affected?
Have you noticed a change in how effective your medication is?
Do you think this issue has contributed to your symptoms or do you think it's the cause of something else?
Are you able to still get Nature-throid and/or WP thyroid where you live?
Share your questions or comments below!