Sale!
Berberine 500+ [Powerful Berberine HCL + ALA Weight Loss Formula]
$38.99
The powerful combination of Berberine plus Alpha lipoic acid help to

promote hormone balance and weight loss. 

*
Berberine has been clinically shown to reduce glucose levels and hemoglobin A1c.*
Alpha lipoic acid is a powerful anti-inflammatory supplement which also promotes healthy glucose homeostasis and metabolic function.*
Both supplements help support cholesterol and lipid metabolism.*
Berberine increases expression of PPAR gamma which reduces fat cell production.*
2 Capsules = 500 mg of Berberine and 250mg of Alpha-lipoic acid (therapeutic dosages).*
Each bottle contains 120 vegetarian capsules for 60 days of therapy.*
Does NOT contain gluten, wheat, corn, yeast, soy, dairy, fish, peanuts, tree nuts, GMO, artificial colors/sweeteners or preservatives.*
30-Day Money Back Guarantee (see below)
Free Shipping on all orders to the United States
Out of stock
Description
Berberine 500+ A Powerful Berberine + ALA Complex
Are you struggling with weight loss resistance or persistent belly fat?
If so, Berberine may be the supplement for you.
Research has shown that Berberine is helpful at lowering blood glucose levels and insulin levels (studies have shown that Berberine may be as powerful as metformin at reducing hemoglobin A1c) and it is these markers which cause persistent belly fat, to begin with.
Through this mechanism, berberine may help reduce the root cause of your weight loss resistance and help you finally lose fat mass.
Berberine 500+ is a supplement specifically designed with weight loss in mind.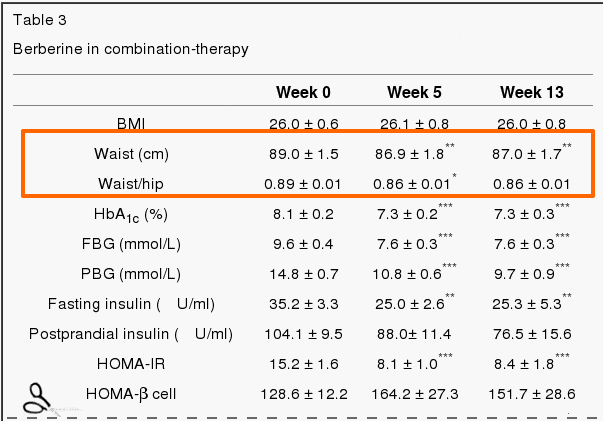 It has been well researched and complexed to another powerful supplement known as Alpha lipoic acid.
Alpha lipoic acid has tremendous benefits on its own, but these benefits are compounded when it is used in conjunction with Berberine.
Berberine 500+ contains 500mg of Berberine HCL and 250mg of Alpha Lipoic acid in each serving.
This synergistic combination of supplements may help you:
Lose weight*
Lower blood sugar*
Improve insulin sensitivity*
Increase energy levels*
Increase fat burning potential*
Lower inflammation*
Improve gastrointestinal function*
How Berberine 500+ Helps with Weight Loss
Berberine is one of the few herbal supplements that has been well studied with a number of clinical studies proving its efficacy (see more below).
These studies have shed insight into how Berberine helps with weight loss…
As you know, weight loss is more about achieving hormonal balance than it is about reducing your calories and increasing the amount that you exercise and Berberine highlights this mechanism perfectly.
#1. Berberine Targets Insulin Resistance and Helps Lower Blood Glucose.
You can think of insulin as a "fat storing" hormone in your body.
Insulin sends the signal to your body to shut down fat breakdown and instead to store all of the calories you eat directly as fat.
High levels of insulin contribute to well known and damaging disease states such as metabolic syndrome and diabetes.
One of the most effective strategies to help with weight loss is to target high insulin levels (known as insulin resistance).
Reducing insulin helps your body naturally burn fat by activating an enzyme known as hormone-sensitive lipase.
As insulin levels drop your body will naturally burn fat at rest which will result in weight loss and a reduction in fat mass.
Berberine helps speed along this process.
#2. Berberine increases the number of Mitochondria in your muscles.
Your mitochondria help produce energy for your entire body and help set your basal metabolic rate (AKA your metabolism).
When it comes to weight loss your metabolism may be the most important metric for determining IF you will lose weight and IF you will keep that weight off.
With that in mind, it's important to keep your metabolism functioning optimally and prevent it from slowing down.
Part of your metabolism is controlled by your thyroid and another large part is controlled by the number and efficiency of mitochondria in your muscle cells.
Anything that helps to increase mitochondrial numbers may help increase your metabolism.
So how does Berberine fit in?
Berberine has been shown to increase mitochondrial numbers in muscle tissue which may help normalize metabolism and help with weight loss.
#3. Berberine directly increases Brown Fat (the GOOD fat) in your body.
There are 2 types of fat cells worth talking about:
White adipose tissue and brown adipose tissue.
You can think of white adipose tissue (white fat) as the fat that gives you cellulite and makes your belly bigger. This fat also causes hormonal damage, leptin resistance and inflammation – you don't want a lot of this fat in your body.
Brown fat, on the other hand, actually is a healthy type of fat which increases energy production and caloric burn – you do want healthy levels of this fat in your body.
Berberine has been shown to help increase both the relative amount and activity of brown fat in your body.
The Benefits of Alpha Lipoic Acid
Remember:
Berberine 500+ includes a COMBINATION of both berberine AND alpha lipoic acid (ALA for short).
All of the discussion so far has been targeted towards berberine, but ALA can also help with weight loss.
And, much like berberine, ALA has several scientific studies which show it is efficacious: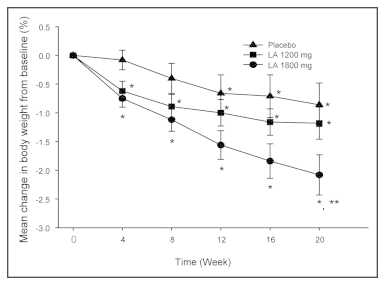 So how does ALA work?
Alpha lipoic acid exerts its effects by acting as a powerful anti-inflammatory agent. By reducing inflammation ALA will help reduce cellular damage over time by cleaning up free radicals.
Studies have shown that this reduction in inflammation may also be one of the main reasons that ALA helps with weight loss.
These studies indicate that the more ALA that you take, the more weight that you lose.

ALA also works by reducing insulin resistance, lowering blood sugar and increasing mitochondrial energy production much like berberine.
For this reason, they are the perfect pair for helping with obesity and weight loss.
Dosing Berberine 500+
Each serving of Berberine 500+ contains 500mg of Berberine and 250mg of ALA.
Studies have shown that the most efficacious dose of Berberine is around 1,000mg to 2,000mg per day.
But does that mean you HAVE to take up to 2,000mg per day?
Not necessarily.
By combining alpha lipoic acid with berberine you can reduce the total dose of berberine needed while still achieving optimal results.
With this in mind, weight loss dosing looks like this:
Optimal weight loss dose for Berberine 500+ = 1 serving to 2 servings per day.
1 serving of Berberine 500+ = 500mg of Berberine and 250mg of ALA. 
2 servings of Berberine 500+ = 1000mg of Berberine and 500mg of ALA. 
I recommend that you start out with 2 capsules per day of Berberine 500+ and stay here for 2-4 weeks.
If you have a significant amount of weight to lose, or if you have more weight loss resistance (remember not everyone is the same) then you can consider increasing your dose up to 2 servings per day.
One of the benefits of combining both ALA and berberine together is that you don't need a massive dose of berberine to get results.
Frequently Asked Questions
1.) How do you take Berberine 500+?
Berberine 500+ should be taken on an empty stomach in the morning or in the evening.
If you take thyroid medication take this supplement 4 hours apart from your thyroid medication.
2.) How long do I need to take it?
For optimal results, you should plan to use Berberine 500+ for at least 1-3 months.
You can continue Berberine 500+ beyond the 3-month mark as well and it can be used as long as you need (based on your weight).
3.) Are there any side effects?
Berberine is generally well tolerated. Some people may experience intestinal issues if they take this supplement on an empty stomach.
If you experience nausea or issues with Berberine 500+ on an empty stomach you can take this supplement with food.
4.) Can I use ALA if I have hypothyroidism?
Some studies have indicated that ALA may reduce T3 levels in the body, but my experience suggests that this isn't a universal truth.
For instance:
I believe that high levels of inflammation play a much larger role in the reduction of T3 levels. Taking ALA may reduce inflammation and therefore increase T3 levels overall in the body.
I have used ALA in many thyroid patients without issues in the past.
5.) Does this product contain fillers or dyes?
This product does NOT contain Wheat, gluten, yeast, soy, dairy products, fish, shellfish, peanuts, tree nuts, egg, ingredients derived from genetically modified organisms, artificial colors, artificial sweeteners or artificial preservatives.
6.) How do Shipping work & Refunds work?
All supplements have a 30-day money back guarantee.
We want you to take a chance to improve your health and use our high-quality supplements. If you don't love your supplement simply contact us, ship back the supplement and we will happily provide you with a full refund.
You can find more information about our return and refund policy by clicking here.
If you have questions about our products or our return policy please reach out to us via email at [email protected] or call (480) 331-9431.
*These statements have not been evaluated by the Food and Drug Administration. This product is not intended to diagnose, treat, cure or prevent any disease.
The Science Behind Berberine 500+
Studies showing Berberine efficacy:
https://www.ncbi.nlm.nih.gov/pmc/articles/PMC4529214/
https://www.ncbi.nlm.nih.gov/pubmed/22739410
https://www.ncbi.nlm.nih.gov/pubmed/16873688
https://www.ncbi.nlm.nih.gov/pubmed/25423280
https://www.ncbi.nlm.nih.gov/pmc/articles/PMC3366688/
https://www.ncbi.nlm.nih.gov/pmc/articles/PMC3965561/
https://www.ncbi.nlm.nih.gov/pmc/articles/PMC3310165/
https://www.ncbi.nlm.nih.gov/pmc/articles/PMC2410097/
https://www.ncbi.nlm.nih.gov/pmc/articles/PMC5329945/
Studies showing alpha lipoic acid efficacy:
https://www.ncbi.nlm.nih.gov/pubmed/28295905
https://www.ncbi.nlm.nih.gov/pubmed/21187189
https://www.ncbi.nlm.nih.gov/pubmed/26276648
https://www.ncbi.nlm.nih.gov/pubmed/20388095
https://www.ncbi.nlm.nih.gov/pubmed/28629898
https://www.ncbi.nlm.nih.gov/pmc/articles/PMC4124142/
https://www.ncbi.nlm.nih.gov/pubmed/22768734
https://www.ncbi.nlm.nih.gov/pubmed/15195087
https://www.ncbi.nlm.nih.gov/pubmed/18344723
https://www.ncbi.nlm.nih.gov/pubmed/28239907
Can't wait
ready to reoder, when will this be back in stock
Hi Melissa,We currently do not have an ETA right now as it is being reformulated but we will put it out as soon as we can :)
Works well for me!
When I first started taking this supplement I only took it for about a week. I have a hard time of really allowing things to work in my body before deciding if I enjoy something or not. Now that I have started taking it again I have noticed a decreased appetite, flatter stomach, I don't crave certain foods, I have energy to keep up with my toddler, and I never have that "crash" feeling even after I drink a pop. I love this stuff. I came back to purchase more and decided to review this product first!
I think the product works.
I think the product works. Unfortunately, it is extremely strong. I experienced side effects when taking it which included chest pain and shortness of breath. Unbeknownst to me, it is very unsafe to take this supplement when you are also on Zithromax. This supplement interacts with that medication and can cause cardiac issues. Additionally, I noticed my urine developed an extremely strong (almost chemical) smell. Based on feeling like death from taking it, I had to stop within 10 days of starting to supplement. Disappointing, because I do think it was helping with the weight.
Hi Christine,Sorry to hear about your issues!You might be a slow metabolizer which may impact how you react to certain supplements (especially those which are metabolized in the liver).Most people should not experience the symptoms you described, but it can happen rarely.Hope you are doing better now!