Do you love our supplements? Do you want to help other thyroid patients feel amazing while also earning some money in the process?
If so, this is THE program for you!
Quick affiliate program overview:
Earn a 10% commission on purchases from people who use your link and place an order within 30 days (you receive 10% of their entire purchase price).
Receive a unique $10 off coupon that you can share with friends, family, or followers.
No cap on commissions earned.
Free to sign up.
Receive either a cash redemption each month (through PayPal) or store credit, you choose.
Frequently Asked Questions
Our affiliate program is a way for you to earn money while sharing our supplements and products with people who you think will benefit from them.
There are SO many thyroid patients out there who are suffering and many have no idea that supplements can help them feel better.
Encouraging you to help share your experience will not only help them get on the right track but also benefit you as well.
Have some friends who could benefit from adrenal support, thyroid support, or weight loss supplements? Share your knowledge!
Have some family members who you know should get their thyroid checked but haven't yet? Supplements are never a bad place to start!
Have followers on social media that trust your judgment and recommendations? Feel free to share your link or coupon code!
The options are endless.
It's simple:
All you need to do is share your link and/or coupon code and direct people to the supplements you think they may benefit from.
If someone uses your link and makes a purchase on our website, you will get credit for their purchase and receive a 10% commission for the entire price of their order.
Cookies will track people who use your link for 30 days, so even if they don't purchase right away you can still receive credit down the road.
You can also receive credit for purchases if someone uses your coupon code at checkout (whether they use your link or not).
This allows for two different ways for you to receive credit.
You can easily track your referrals in our affiliate portal and once a month you will receive a payout from PayPal.
If you don't have a PayPal account you can also opt for store credit for yourself as well.
It's easy!
Just go to this page, fill out the required fields, and submit your application for approval.
Once submitted, a member of our team will review your application and let you know if it gets approved!
Once you are approved, you will receive your special link and unique coupon code and you're off to the races!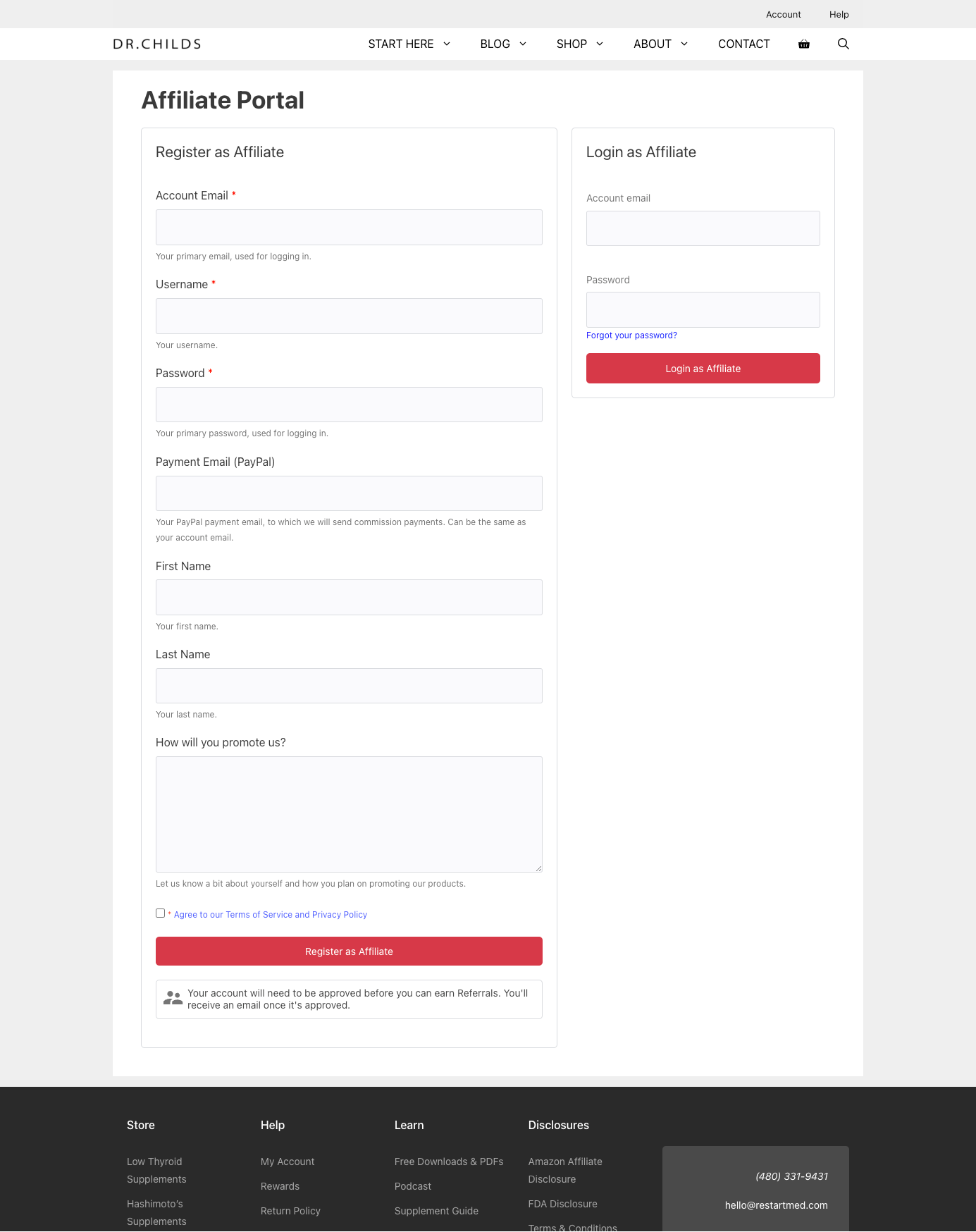 Once a month (at the beginning of the month), we will automatically send out your earnings to PayPal.
If you don't have PayPal, you can opt to receive your commission in the form of store credit.
At this time, we don't support other payout options aside from PayPal.
There's no minimum amount for a payout, so you will always get paid regardless of the size of the payout.
Step 1. Go to our affiliate portal login page.
Step 2. Login to your account as an affiliate.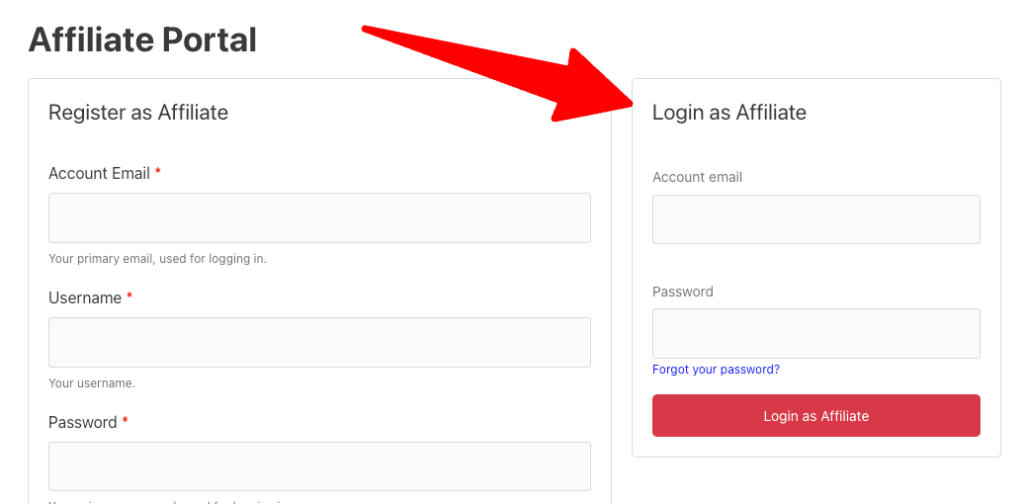 Step 3. Locate your affiliate link in the upper right corner of the dashboard: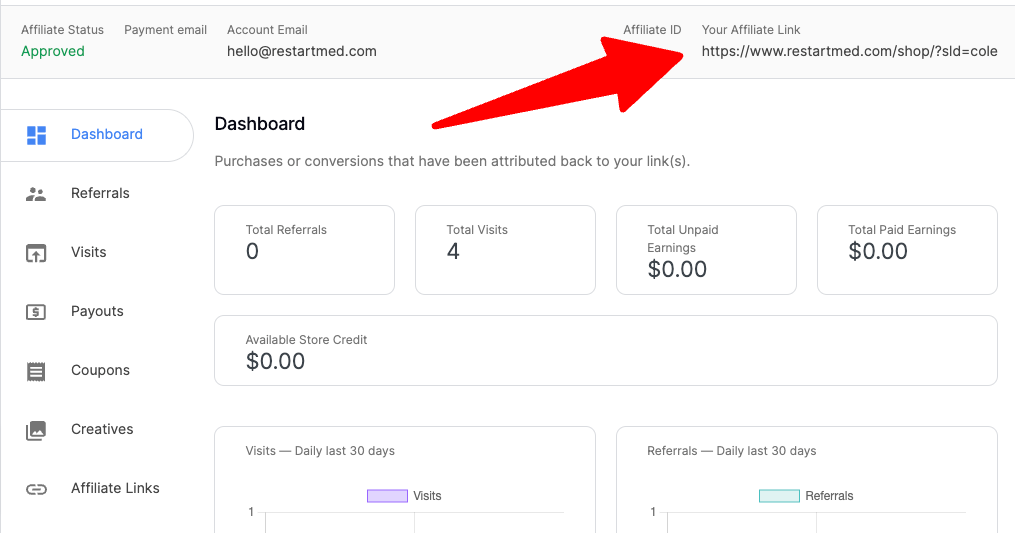 Step 4. Share your link with friends, family, or followers!
You can also find your link and create unique links by going to the "Affiliate links" tab on the dashboard page: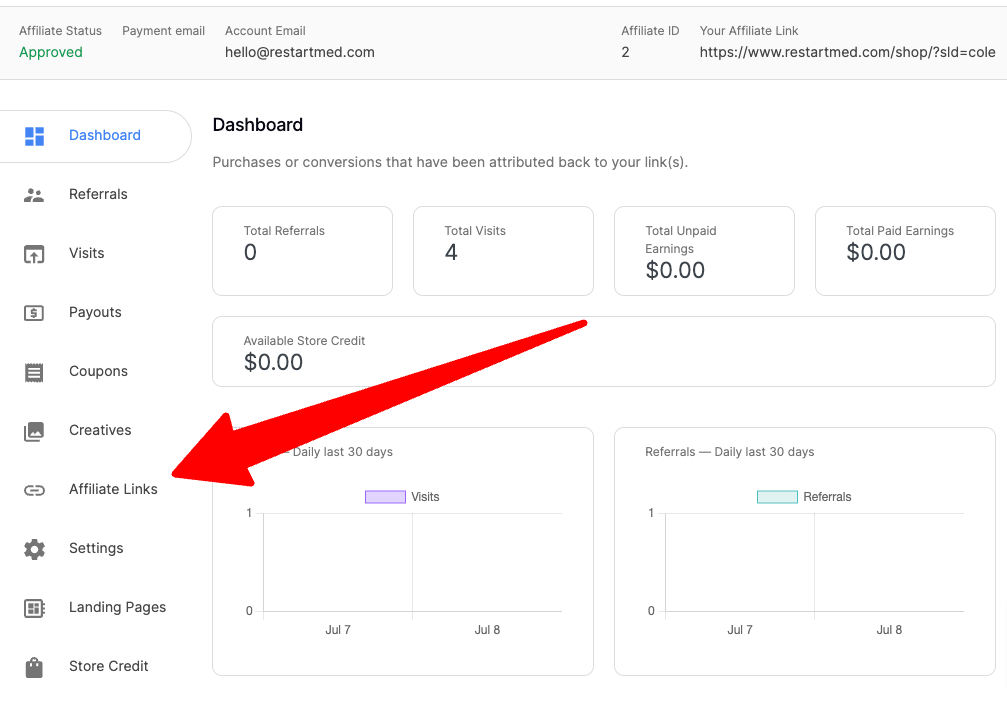 On this page, you can generate your own links or create your own custom slug if you don't like the link name our system auto-generates for you.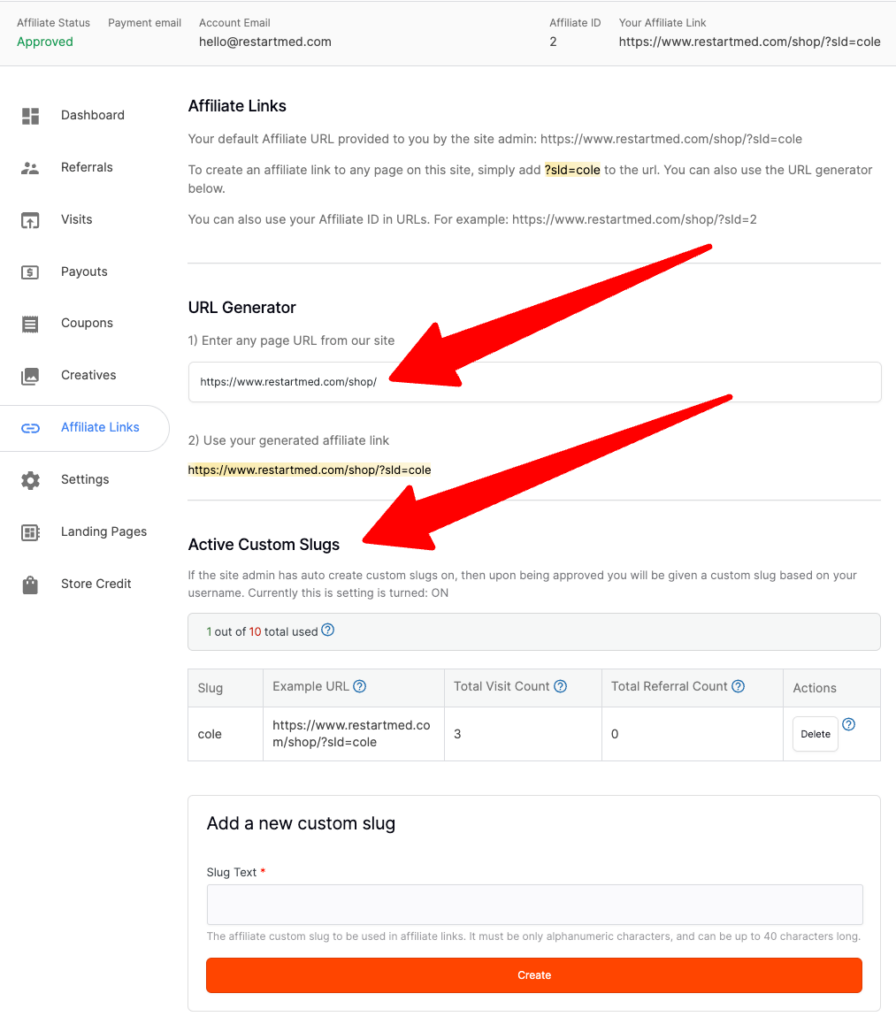 Generating your own link allows you to send people to a specific page or product on our website if you'd like.
By default, your special link will send people to our shop page, but you can create a unique link for an individual product as well.
Note that if you send someone to the shop page, and they make a purchase, you will receive a commission. So it's not necessary to send someone directly to a product page to receive credit for a purchase but you are welcome to do that if you'd like to promote a specific product.
Step 1. Go to our affiliate portal login page.
Step 2. Locate the coupon tab and click on it: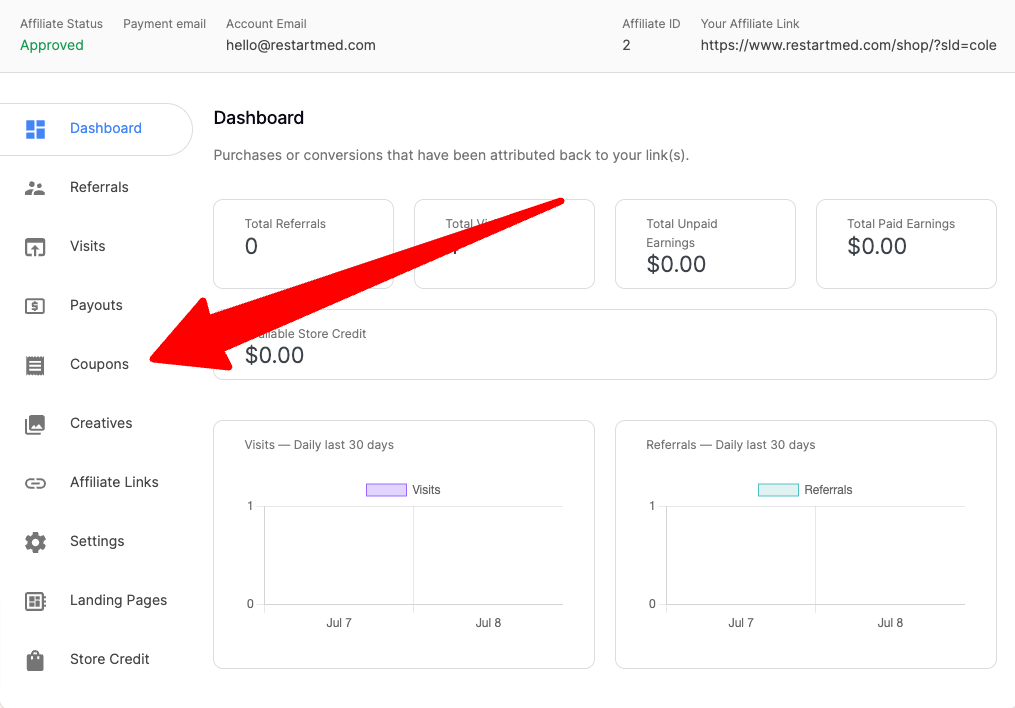 Step 3. Locate your unique coupon code: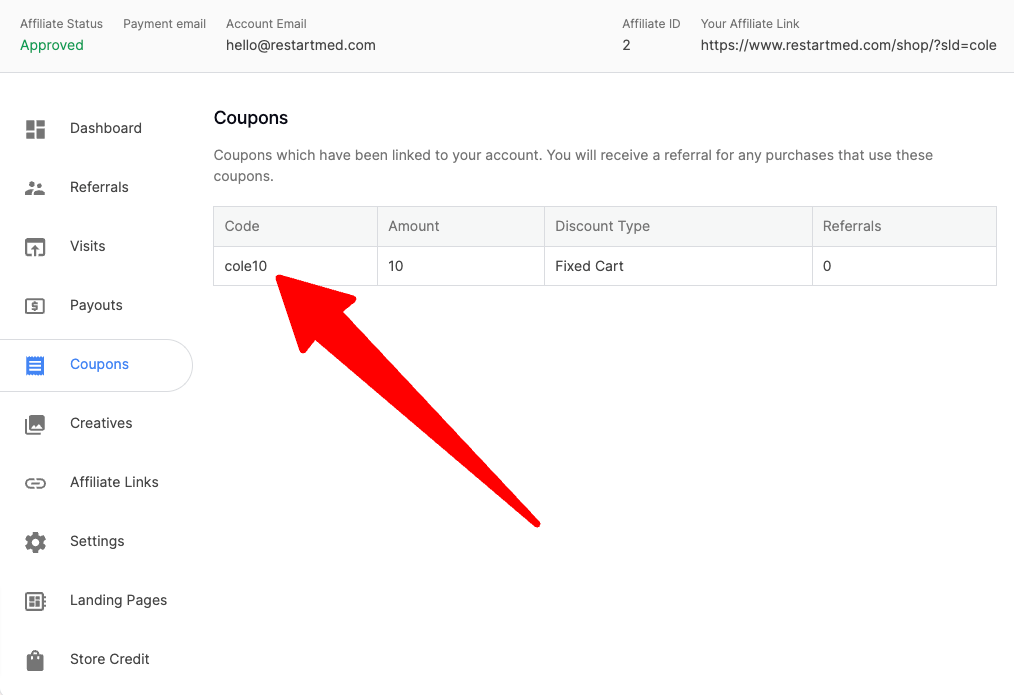 Step 4. Share your coupon code with friends, family, or followers!
Yes! You can easily track people who have visited our website using our link by going to the visits tab on the affiliate portal dashboard.
When there, you will see information that looks like this: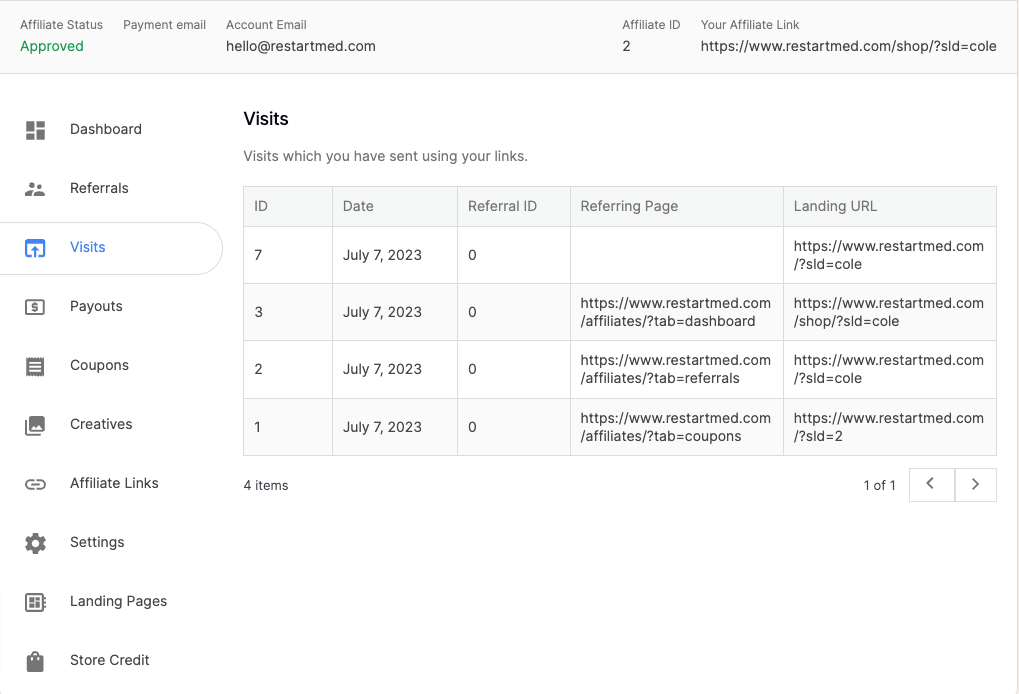 You will then be able to see visits, where they were referred from, and which page they landed on our website.
You can easily track your payouts by going to the Payouts tab on the affiliate portal dashboard: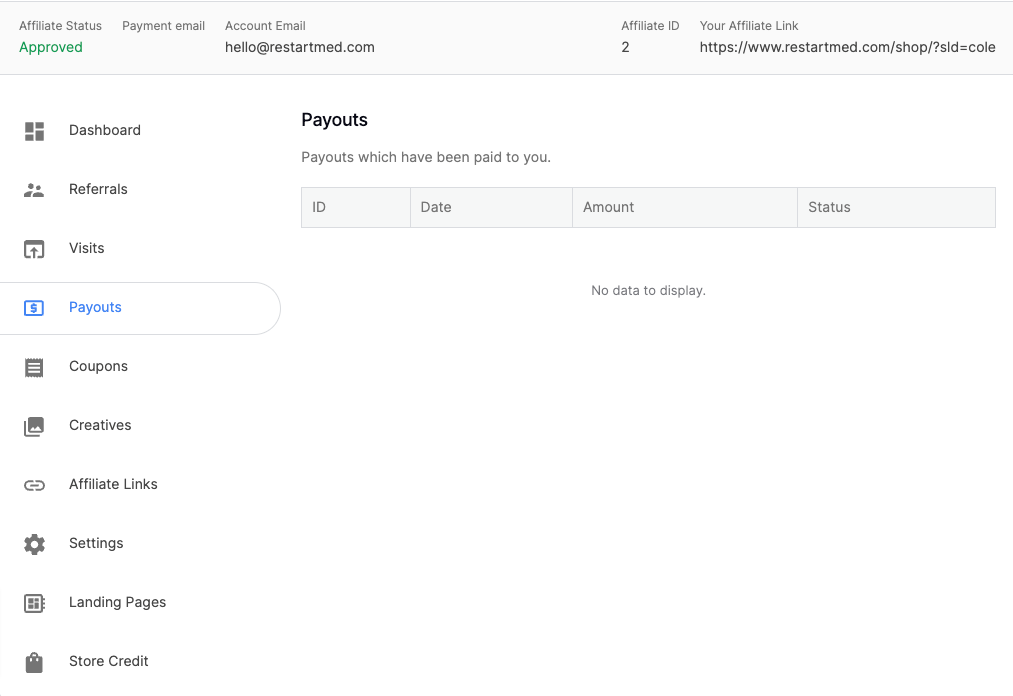 Payouts will be posted in this section.
Payouts will occur on the first business day of the month, every month.
There is no cap on how much you can earn! The more you share, the more you can earn.
Feel free to share your link and coupon code with as many people as possible.
Absolutely, you can share it anywhere you'd like! Email, posts, texts, etc.