There's a lot of confusion relating to some of the topics that are routinely discussed on my website. Topics such as thyroid management, advanced weight loss treatments, hormone management, and so on.
As an avid consumer of information who may just be hearing this information for the first time, it's really easy to get overwhelmed while trying to sort out the wheat from the chaff.
When you add on top of this the fact that the information you see here may contradict what you've heard in other places, the situation gets even more complex.
But it doesn't have to be.
Let me bring some clarity to the process by which the information you see here is created and explain why you can trust this information by being as open as possible.
Who Creates The Information On Dr. Westin Childs (restartmed.com)?
All of the information that you will see on restartmed.com is solely created by Dr. Westin Childs (that's me).
This includes all of the articles, podcast episodes, long-form videos, short-form videos, supplement and product page information and FAQs, and product formulations.
Every single piece of content is researched, written, and edited by Dr. Westin Childs.
I do not have help from ghostwriters, guest writers, staff writers, or anyone else helping to create content.
I also do not accept payment from third parties for guest posts, link requests, free products, or anything else.
This allows me to freely give my own opinion on any of the topics discussed without any conflict of interest or bias.
I also have not, nor will I ever, accept payment from pharmaceutical companies regarding the discussion of various medications.
I do have personal preferences and favorites, but these preferences come from my own experience and are not influenced by pharmaceutical companies in any way.
Most of the articles and information on this website will be informational in nature but, occasionally, you may see product reviews.
If I am reviewing a product, you can be sure that the following has occurred:
The product has been personally tested and used by me or a member of my family (I frequently use them as guinea pigs)
My reviews are honest and not influenced by requirements from a third party
A potential list of pros and cons will be discussed in a fair and measured way
Information on how to best use the product in question will be recommended
How can you confirm that an article was written by me and not someone else?
There are two ways:
At the top of any given article, you will see a reference to the author of that article as seen in the image below: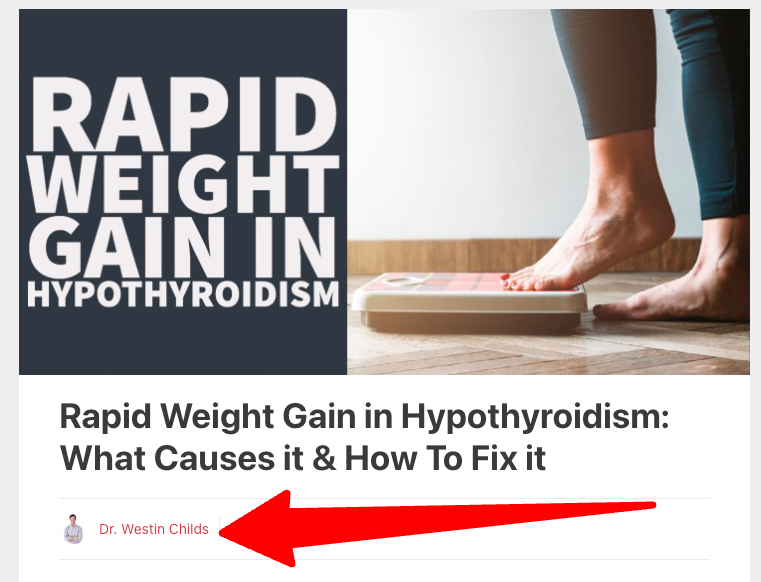 At the bottom of any given article, you will see an author box with an image of the author and a short bio about that person (since I'm the only author, it will always be of me):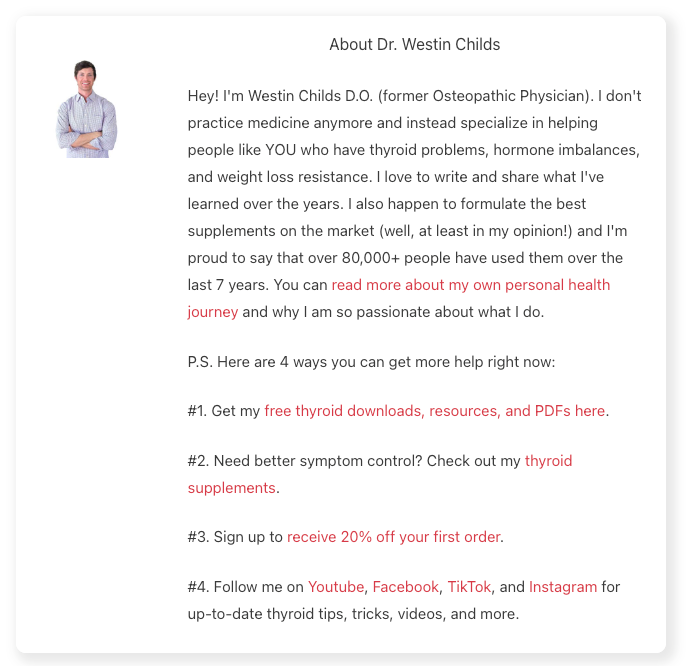 You can view the entire list of articles written by Dr. Westin Childs here.
And you can learn more about me personally on my About page here.
In brief, I am a former practicing osteopathic physician that has expertise in thyroid management, weight management, and anti-aging medicine.
I've spent the last 8 years researching, reading, and helping people with thyroid problems, weight problems, and hormone imbalances.
Throughout this time I have written over 550 articles (amounting to over 1 million words), created over 500 videos and over 200 podcast episodes, and have personally formulated 12 supplements.
Throughout the internet (such as Amazon.com) and on my website you will find more than 10,000 combined reviews of my products and services.
My expertise is primarily in the fields of thyroid management, weight management, anti-aging medicine, supplement creation and formulation, and nutrition.
You can see my credentials below:
How is This Information Created?
Want to know more about how I create the information you see on my website?
Here is my exact process:
Step #1. Time Spent Gathering Information From People Who Are Struggling to Find Topics To Write About
Every single day I spend time looking and responding to comments, emails, social media posts, youtube video comments, and anything else that can help me figure out what you are struggling with.
This research is invaluable and I've created a list of hundreds and hundreds of different topics that I'd like to write about and bring clarity to.
Not every single topic will be written about, but I do spend time to try and find themes that are confusing to the majority of people.
These themes are centered around topics that I have expertise in including hypothyroidism, Hashimoto's, Graves' disease, hyperthyroidism, nutrition, diet, weight loss, weight gain, and hormone management.
Once I choose a topic I then proceed to the next step:
Step #2. A Careful Review of Available Scientific Research
I always start with a review of available research on any given topic.
This research forms the backbone and framework from which the article will be created.
My primary scientific sources include:
I use these articles primarily when discussing the results of a study or to provide background information on physiology.
Because many of the topics that I write about are new and emerging, there isn't always a large body of evidence to draw upon when discussing them.
For this reason, I will frequently make references to physiology (which is how we understand the body to work) and then draw upon that physiology to make educated hypotheses on how treatments or therapies may impact certain populations.
These references are listed in the main content of any given article and are again referenced at the bottom of every article under the section heading "View All References".
If you ever have questions or concerns about these references, you can always reach out to me or a member of my team at hello@restartmed.com.
Step #3. My Expertise & Opinion Is Combined With Scientific Research To Provide a Unique Take on the Given Topic
All of the information from step two is then combined with my own personal experience in treating patients, clinical data, and a review of patient experiences.
This is incredibly important because it brings a unique take to the information being presented.
It's one thing to simply restate what a study found and another to try and extract meaning from that study so that it's applicable to the person reading the article.
For this reason, you may find that some of my own opinions differ from established opinions in the conventional world.
This doesn't mean that one side of the argument is wrong and the other is right, but simply that there is still disagreement in what the information means to the average person.
Whenever I am inserting my opinion into an article it will be clear that it's opinion and not scientific fact based on the language being used.
Step #4. The Information Is Reviewed, Edited, Published & Shared
Finally, after the information has been created, sourced, and referenced, the information is then reviewed and edited for inaccuracies.
After the article is published, it is then shared to social media accounts and to my email list.
Why Doesn't My Doctor Know About This Information?
A common question that people are constantly asking when they read my information is "Why does the information I see here differ from what my doctor has told me?".
And the answer to that question is actually quite simple:
If you were to put ten doctors into a room and ask their opinion on any one topic, you'd get ten different opinions.
And because of the nature of the topics that I routinely discuss, there's a lot of disagreement between experts on how these conditions should be treated and managed.
Again, this doesn't mean that both sides are wrong because they disagree, it just means that there is still work to do to figure out the truth.
In addition, you will find that the information you see here is a reflection of my unique expertise in more than just conventional medicine.
I apply a framework that takes into account my conventional training but also adds my experience with natural remedies, integrative treatments, nutrition, hormone therapy, and more.
I have spent considerable time in these areas and so I have a unique perspective compared to conventionally trained doctors who tend to focus primarily on the use of medications and surgeries as their primary treatment tools.
The way that I approach treatment can be summed up as follows:
No matter what disease you are trying to treat you should always first focus on lifestyle changes, dietary changes, stress reduction, and sleep.
These should form the backbone of any treatment regimen and, by far, will provide more benefit than anything else.
As needed, both natural treatments and conventional medications can be added on top of these lifestyle changes based on the personal preference of the patient.
Any article that I write will express this ethos.
How Does Dr. Childs Deal With Errors?
My philosophy is one of complete transparency and that includes my errors.
I'm far from perfect and, even though I do my best to reduce the number of errors that you may see here through my review process, ultimately some will get through.
When this happens, I will make every effort to fix the problem as quickly as possible.
If you see any errors in the articles written here or in my videos, please reach out to me or a member of my team directly at hello@restartmed.com and we will make every effort to clarify or make adjustments as needed.
How Are Product Reviews of Dr. Westin Childs Supplements Handled?
Hopefully, it goes without saying but we do not fabricate or manipulate any of the reviews that you see on our product pages.
We use a third-party system (judge.me) which aggregates our reviews and publishes them on our behalf.
We do have the ability to hide reviews (we can't delete them), but this feature is rarely used unless we are specifically asked by the customer who left the review to remove it or unless the review is inaccurate (I.E. someone used the review feature to ask a product question or a review was left for the wrong product, etc.).
You can confirm that we do not hide any reviews by viewing the medals that our store has acquired from our third-party review aggregator.
Currently, we boast:
A 99% transparency rating (We have published 99% of verified reviews that have been left by customers)
A 98% authenticity rating (98% of reviews are verified to have come from an actual purchase)
Over 9,600 verified reviews
A top 1% store medal (We are in the top 1% of stores on judge.me that have the most published and verified reviews)
And a top 1% trending medal (Top 1% trending shops that obtained and published the most verified reviews in the last 30 days)
All of these claims and medals are independently confirmed by Judge.me and can be viewed here.
Whether it's the creation of content, articles, videos, or the reviews that you see on my product pages, my intent is that you can be confident in trusting what you see.
Have any questions or concerns about this creation process? Feel free to contact my team here.