Physician-Formulated Supplements Made for Thyroid Patients
I've been helping thyroid patients for coming up on just about 8 years now and I've noticed that thyroid patients tend to be a skeptical bunch.
After being yanked around by doctors that are only concerned about the TSH and levothyroxine which only leave you feeling fatigued and worse off to being promised the moon with natural therapies only to be disappointed, I know what you've been through.
I get it. So believe me when I say that I am really only out here to help.
If you are looking at my line of thyroid supplements and want to know more about the "special sauce" and what makes them so effective, you are in the right spot.
Hypothyroid Bundle
Hashimoto's Bundle
Thyroidectomy Bundle
Here you will learn everything you need to know about how they are formulated, how we control quality, how we make sure you get only what works for you, and much more.
I truly believe that I have the best thyroid supplements on the market and that you will not find a better way to support your thyroid than here on my website.
A bold claim? Maybe, but here's why I believe it:
I've spent the last 8 years interacting with, helping, treating, and talking to thousands and thousands of thyroid patients.
When these thyroid patients were speaking, I was listening.
And I found out exactly what works for them (well, most of them).
I've created a line of supplements designed to target every aspect of thyroid function you can think of:
T4 to T3 conversion? Check.
Thyroid cellular sensitivity? Check.
Thyroid hormone production? Check.
Inflammation that slows down thyroid function? Check.
Detoxing harmful chemicals that block thyroid function? Check.
Addressing gut problems that impact thyroid hormone absorption? Check.
The adrenal-thyroid connection? Check.
Animal thyroid glandulars with enzymes and proteins not found in other supplements? Check.
By targeting these often ignored, but important, aspects of thyroid function, it's possible to see significant improvement in your symptoms with the use of over-the-counter supplements.
I've come to learn one very important point:
It's IMPOSSIBLE to get everything that your thyroid needs in one single solitary supplement.
And that's where most other supplements/companies go wrong.
They believe they can slap a few helpful ingredients into a bottle, wrap it up with some fancy labeling, and call it a "thyroid supplement" without much thought.
I'm here to tell you that this just doesn't work.
You simply can't get all of the nutrients that your thyroid needs from one supplement and you can't even get close to addressing the many other systems in your body that must be optimized in order for your thyroid to work.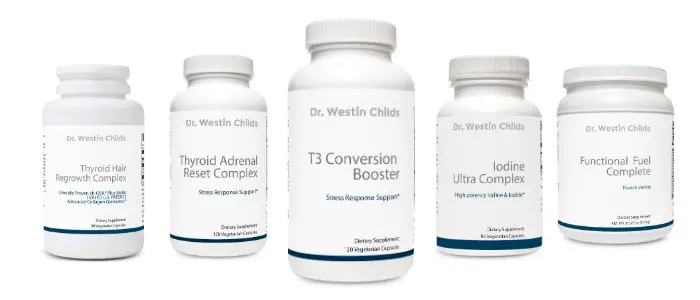 My supplements and supplement bundles focus on the ENTIRE body. They target specific areas of thyroid function while also addressing other important organ systems such as the gut as well as important systems such as the inflammatory cascade.
You will simply not find a more comprehensive set of thyroid supplements anywhere out there.
And, for the record, I believe in my own supplements so much that I personally use them each and every day.
My wife, who also has thyroid disease, uses them each and every day.
My mother, who has thyroid problems, ALSO uses them each and every day.
I wouldn't recommend anything to you that wasn't also good enough for my own family.
Used By Over 80,000 Thyroid Patients (And Counting!)
No one likes to be a guinea pig or to be the first person to test anything out.
I'm grateful that my products have been trusted by over 80,000 thyroid patients to DATE over the last 5 years. This number rises by the thousands each and every month so by the time you are reading this it's probably considerably higher.
But I want you to know that you are not alone in using my products or supplements.
You can also check out the over 10,000+ reviews on my products from thyroid patients just like yourself.
These reviews are aggregated by a third party (judge.me) and we do not manipulate them in any way.
Quality & Standards that Matter
What about quality? Our process ensures the highest quality supplements that are available for YOU the thyroid patient.
Every single one of my products goes through rigorous tests before it is encapsulated and available for purchase.
Every single lot (each batch of thousands) is third-party tested and verified to ensure that it contains the ingredients that you see on the back of the bottle.
This third-party testing includes testing for heavy metals, pathogens, bacteria, mold, and supplement purity by ISO accredited laboratory in the United States.
If you are taking anything from us it means that your product has passed all of these tests.
We use a third party to independently confirm our ingredient list to keep our manufacturers on their toes.
This third party is not affiliated with us or with our manufacturer. They are just there to run the tests to make sure everything checks out.
Did I mention that all of our products are 100% manufactured in the United States? Or that they are produced in a GMP-compliant facility?
Because they are.
When purchasing anything from our website you are getting an American-made product produced in an American-made facility.
Meticulous Sourcing Standards
When possible, we get everything from the United States.
But you have to understand that some ingredients are simply not available in the United States so these ingredients must be sourced from other countries.
Some of our botanical ingredients must be sourced from countries such as India where the plant natively grows.
These ingredients are then shipped back to us in the United States, tested for impurities, heavy metals, and pathogens, and finally encapsulated if everything checks out.
I'm confident that you will find that my products are very high quality and this should be evident when you open them and start taking them.
Binders and Fillers and Dyes, Oh My!
I mentioned that I take the sourcing of quality ingredients very seriously and inactive binders and fillers are no exception.
These inactive binders and fillers can sometimes make up the bulk of a supplement, especially when we are talking about incredibly small doses of powerful ingredients.
For this reason, it's of the utmost importance that they are well-tolerated and do not cause more harm than then benefits imparted by the active ingredients!
Whenever possible, I do my best to completely eliminate or reduce the need for inactive fillers in all of my supplements.
Currently, we are in the process of removing magnesium stearate as an inactive binder in favor of rice hull concentrate.
Even though there are zero studies showing that magnesium stearate may cause issues, I have opted to remove it for a non-GMO rice concentrate (Nu-FLOW) because several thyroid patients have noticed they've had issues with magnesium stearate.
In addition, some of my supplements may use microcrystalline cellulose which is simply wood pulp and completely harmless.
Why not just completely eliminate fillers? I wish that were always possible but the simple fact is that it isn't.
Whether or not a supplement requires fillers depends on the quantity of the active ingredient and a number of other factors.
And because some ingredients are so powerful at low doses, fillers are required to make sure that we get even distribution and dosing in every single capsule.
Think of it like this:
Imagine you are trying to put 3 grains of salt in a capsule to serve as a supplement.
There would absolutely be times when you serve 2 grains or 4 grains instead of 3 because it would be very difficult to ensure consistent 3-grain dosing in every capsule.
Bulking up the ingredients removes this problem and ensures that every single capsule gets the 3 grains you want it to which means better outcomes for those using your hypothetical salt supplement.
60-Day Money-Back Guarantee
I want you to know that my #1 concern is whether or not my products will work for you.
I really only want you to use my products if they are going to help you.
With that in mind, we have a 60-day-no-questions-asked money-back guarantee on ALL of our products.
It can take thyroid supplements a good 6 weeks to really take effect, so this 60-day timeframe allows you enough time to see if the products work for you.
If they do GREAT!
If they don't, no worries, we can get you set up with a refund.
Our success and satisfaction rate is quite high (over 85%) so there's a very high probability that you will be happy with your purchase!
But we can't account for individual variances among each person and, sometimes, products just don't sit well with you for one reason or another.
For instances such as this, you don't need to stress.
All you need to do to take advantage of this return policy is get in contact with us within 60 days after your product shows delivered per the tracking number we give you. My team can then help you out with minimal hassle and stress.