The 60-Day Guarantee
I've said it before and I'll say it again, I'm a big believer in supplements as a way to help improve symptom control and quality of life.
It's easy for me to say something like this because I use supplements every day and I've experienced huge changes in how I feel as a result.
Having said that, I understand that not everyone has the same beliefs or even the same experience.
For some people, using supplements is uncharted territory.
They can be expensive, confusing, and it can feel like a risk to give them a try.
If you are a little hesitant to pull the trigger and start on my supplements, let me give you a guarantee that may change your mind…
While I can't guarantee that my supplements will work in every person or in every situation, what I can do is guarantee a simple and easy return process.
Every single one of my supplements is backed by a 60-day money-back guarantee which means you can send back your supplements for any reason and receive a full refund.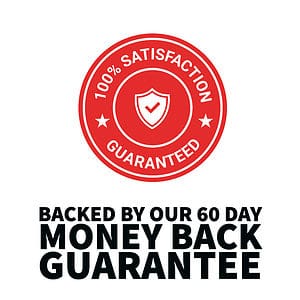 This guarantee will give you peace of mind in knowing that in the off-chance they don't work for you, you won't be out any money if they don't.
Why do I offer this guarantee?
For a simple reason:
I'm confident in my design and formulation process and I really do have your best interest in mind.
This money-back guarantee means that when you purchase a supplement from Dr. Westin Childs the supplement either does its job and helps you feel better or you get your money back.
How the Return & Refund Process Works
We make the return process simple and easy.
If you need help with a return, here's how it will work:
Step 1. Reach out to us via email.
Step 2. We will confirm that your order is within our return window and provide return instructions.
Step 3. Send back your supplement.
Step 4. Receive a full refund.
Frequently Asked Questions
The return window is set at 60 days because that's how long it takes on average for thyroid and weight loss supplements to take effect.
It takes roughly 6 weeks for thyroid hormones to reach a new steady state in the blood when a new treatment or therapy is being used (this applies to both supplements and medications).
Likewise, it can take several weeks for the scale to respond to weight loss supplements when you take into account their effect on both muscle mass and fat mass.
For this reason, our return window is set at 60 days to allow you to give our products and supplements enough time to really start working.
No problem! Even if your bottles are empty you can still receive a refund as long as you are within 60 days of purchase.
Just let the team know they are empty and they will be able to process your refund without the need of sending back the empty bottle.
Once we receive your return, we will process your refund within 2-3 business days.
When your return is processed, you will receive an email letting you know.
Please be aware that it can take several business days for the refund to post to your account, depending on the form of payment you used at checkout.
Absolutely!
In fact, this is something that we frequently recommend.
Sometimes making the switch to another one of our supplements makes all of the difference.
If the supplement you ordered didn't do the job you wanted, just let us know and we can exchange it for another one.
We do not provide return labels for returns.
You can send your return to this address:
Attn: Returns at Dr. Westin Childs
10423 E. Naranja Ave
Mesa, AZ 85209
The 60-day return window starts the day that you receive your supplement as indicated on your package tracking link.