Are these things wasting your time?
Did you know that many thyroid patients end up wasting their time on things that don't matter and won't help them feel better?
The goal of every thyroid patient is to obviously try to get back to feeling 100%.
And you know, if you have thyroid disease, that this can be a tall order, especially if you don't have the right help from your doctor.
But it doesn't have to be impossible.
In this article, you will find out more about common pitfalls and traps that thyroid patients frequently run into on their journey to feeling better.
By avoiding these traps you can enhance the speed at which you feel better by potentially several years.
Are you guilty of doing any of these thyroid time-wasting habits? If so, leave a comment below and let me know which one(s) you are doing!
Let's jump in…
DOWNLOAD FREE RESOURCES
Foods to Avoid if you Have Thyroid Problems:
I've found that these 10 foods cause the most problems for thyroid patients. Learn which foods you should avoid if you have thyroid disease of any type.
The Complete List of Thyroid Lab tests:
The list includes optimal ranges, normal ranges, and the complete list of tests you need to diagnose and manage thyroid disease correctly!
#1. Checking your Labs too Frequently.
One thing that thyroid patients want to do more often than they should is to check their thyroid lab tests.
Of course, it's tempting to read about some new therapy or some new thyroid medication online and then implement that therapy and want to see if it is working.
What better way than to check your thyroid lab tests?
That is obviously the best way to determine if you are on the right track but there's something very important you should know about thyroid lab testing.
There's no benefit to testing your lab tests more frequently than every 6 weeks.
If you do this you will NOT get accurate results.
Why?
Because the thyroid hormone system in your body takes weeks and weeks to react to any changes that you make.
It also takes at least 6 weeks for your thyroid status to reach an equilibrium between what is happening in your cells and what is happening in your bloodstream or serum.
And since you can only check the thyroid status in your bloodstream (and not in your cells) you must wait until this equilibrium is achieved.
Checking more frequently will give you information but that information will be incomplete and, therefore, you shouldn't take any action based on that result.
And, by the way, this also applies when checking to see if your new thyroid medication is working as well!
You should not check your thyroid lab tests any more frequently than 6 weeks AFTER you make any changes to your thyroid medication for all of the reasons above.
Doing so is just a waste of time and money.
#2. Staying with your current Doctor for too long.
Another obvious one that thyroid patients fall prey to all of the time is staying with their current doctor for far too long.
I understand that it's easy to become attached to your current doctor for whatever reason.
Maybe they've been treating you for 10 years or more.
Maybe they are a family friend or something similar.
But it doesn't matter if your current doctor is NOT helping you to feel better.
Even if they have a good heart or want the best for you, that means nothing if you are still feeling crappy day in and day out.
And I know that this is a huge problem among thyroid patients based on the thyroid surveys of tens of thousands of thyroid patients (1) which are available for you to look at.
These surveys show that people often stay with their doctor for 10 years or more despite feeling terrible and suffering from symptoms of fatigue or weight gain or depression.
Why on earth are you staying with a doctor if you still feel this way?
I also see patients who leave comments on my blog posts and videos which ask for help with ways to help their current doctor understand the information that they read here.
My only response to this is that it's far easier to just find a new doctor than it is to teach your current doctor how they ought to be treating you.
You can't teach an old dog new tricks, as they say.
Do NOT waste your time with your current doctor if they are not helping you feel better, if they are not willing to work with you, or if you don't have confidence in their ability to help.
I have articles that are designed to help you find a knowledgeable doctor and I have articles that outline why endocrinologists aren't the best doctors for managing thyroid disease.
Make sure you read those articles if you haven't already.
#3. Copying what other patients are doing (especially from Facebook groups).
This next topic is something that I see happen ALL of the time, especially on places like Facebook.
Someone will leave a comment saying something like this:
"I fixed my thyroid with zinc, vitamin D, and taking Armour!".
Following their comment, you will see a string of people asking about what dose they took, where they got their supplements, and so on.
And it's all for one purpose:
So they can do the exact same therapies that this person did because they feel that this is the "key" to helping them feel better.
Let me be the first to tell you (if you don't already know) that managing the thyroid is an INDIVIDUAL endeavor.
This means that there is no one-size-fits-all in terms of treatment or management.
It also means that whatever works for one person is unlikely to work for you in any way shape or form.
There are countless causes of thyroid disease and hypothyroidism (including Hashimoto's) and some of these can be easily reversed and others are completely irreversible.
Before you jump headfirst into any therapy you need to have information on your "brand" of thyroid disease including what caused it, what treatment options are available for you, and what your expected outcome is.
And I can promise you that you will not find this information on a random Facebook thread or Facebook group (or any other social media source) online.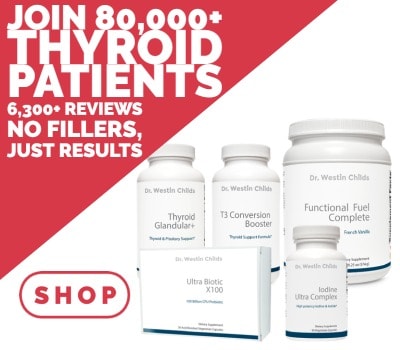 I don't think thyroid Facebook advocate groups are all bad but I do think that they are often filled with information that is really only relevant to a select few people.
Watch out for this time waster because if you follow this path you will not only waste time but potentially lots of money.
The chances of you finding the random concoction of therapies, supplements, and medications that could help you through a shotgun approach are so unlikely that it's not really worth giving it a go.
It would be far better for you to spend that time and energy finding the right type of doctor to help you and leaning on their experience.
#4. Counting on your medication to do all of the "work" to help you feel better.
This is one that applies to a huge number of thyroid patients as well!
And it has to do with you relying completely on your medication to help you feel 100% better.
And while there is some truth to this idea, there's much more to the story.
As a thyroid patient, you should realize that the reason you feel so poorly is that you simply don't have enough thyroid hormone in your body.
And if you take medication shouldn't that completely fix your problem and make you feel better?
Well, yes and no.
Yes in the sense that you will have fixed the deficit of thyroid hormone that you were suffering from but ONLY if you use the correct dose of thyroid medication (most people are undermedicated).
And no in the sense that there is so much more to help you feel better and regain your health outside of your thyroid medication.
You must realize that feeling optimal has to do with the foods that you put into your body, how much stress you are under, whether or not you are exercising, your relationships, and more.
All of these factors play a HUGE role in managing your overall health.
So don't fall into the trap of thinking that if you can just dial in your thyroid medication to the exact right dose suddenly all of your thyroid symptoms will disappear.
While it will certainly help you to feel better (which is a great thing) it is probably not going to be the 100% solution you are looking for.
For that, you will have to look into those other areas I mentioned above and I have tons of resources to help you manage those on my website.
#5. Staying on supplements that are NOT helping you feel better.
Another issue I see all of the time is the use of unnecessary supplements, especially those which are not helping.
It's not uncommon for me to see people who take 10, 15, or even 20 different supplements!
And as I go through each of these supplements one by one, most of the time they aren't quite sure why they are taking them or whether or not taking them improves their situation in any way.
If you are taking any type of supplement, including thyroid-specific supplements, you better know why you are taking it and, ideally, you better be feeling some benefit!
Not all supplements have a noticeable benefit such as Vitamin D3 and multivitamins but most thyroid support supplements should help you feel noticeably better.
If you are taking thyroid supplements, adrenal supplements, or weight loss supplements and you are not seeing any improvement in your thyroid, adrenal health, or weight then it may be time to swap out your therapies.
Please realize, however, that you must give your supplements an adequate "shot" before throwing them out!
When it comes to your adrenals and your thyroid, the time you should give can be anywhere from 6 to 8 weeks because these hormone systems are often slow to respond.
But if you've been taking certain supplements and you aren't noticing any net benefit then it may be time to try something new.
#6. Living with thyroid symptoms like fatigue, weight gain, depression, and more.
Lastly, and this is probably the most important time waster of all, you need to pay attention to how you are feeling.
It's absolutely NOT normal for you to have thyroid disease and live with the symptoms of hypothyroidism.
These symptoms include things like weight gain, hair loss, fatigue, cold intolerance, brain fog, depression, anxiety, and the list goes on.
All of these symptoms should be reversible provided you get on the right treatment!
And you should NOT settle for anything less than that.
Hypothyroidism or Hashimoto's should not rule your life or dictate how you feel day in and day out.
While these conditions may be chronic, they are not chronic in the sense that you MUST suffer from them forever.
Both conditions can be completely managed provided you catch them early enough and get on the right treatments.
This isn't always possible (especially if you've had your thyroid removed or ablated with RAI) but for many of you reading this you should be able to get significant improvement with the right therapies.
Final Thoughts
These are my top 6 thyroid time wasters and things that I want you to make sure you are NOT doing.
Doing these things will prolong your ability to get on the right treatment and may negatively impact your day-to-day life.
You can find all of the resources necessary to help manage your thyroid disease directly on my website, blog, and videos.
Now I want to hear from you:
Are you guilty of doing any of these time wasters?
If so, which one(s) are you doing?
Are you planning on making any changes or taking action after reading this list?
If so, what are you planning on doing?
Do you know of any other thyroid time wasters that thyroid patients should be aware of?
Leave your questions or comments below! I want to hear from you.