The T3 Uptake Thyroid Lab Test
I get a lot of questions about thyroid lab tests on almost a daily basis and those questions typically include a request to help people understand what their tests mean.
The idea, of course, is if you can understand what your lab tests mean then you can start to develop some kind of plan to help you start to feel better.
Among these lab tests includes a relatively uncommon lab test known as T3 uptake.
And that's exactly what we are going to discuss today.
What is the T3 uptake thyroid lab test?
What does it actually mean for you?
Does it matter?
And are there better thyro​​id lab tests available?
The quick and dirty answer is that the T3 uptake thyroid lab test is relatively useless and doesn't mean a whole lot to you as a thyroid patient!
But, as always, we are going to explain why that is and which test(s) you should ask for instead…
DOWNLOAD FREE RESOURCES
Foods to Avoid if you Have Thyroid Problems:
I've found that these 10 foods cause the most problems for thyroid patients. Learn which foods you should avoid if you have thyroid disease of any type.
The Complete List of Thyroid Lab tests:
The list includes optimal ranges, normal ranges, and the complete list of tests you need to diagnose and manage thyroid disease correctly!
What Does it Test for?
What exactly is the T3 uptake thyroid lab test and why do doctors order it if it isn't all that useful?
We will break this down into two sections:
#1. What information does the T3 uptake lab test give you?
The short answer is that it gives you an indirect idea as to how much thyroid hormone is bound to proteins floating around in your bloodstream.
If you aren't familiar with thyroid lab testing then this may sound foreign to you but it isn't difficult to understand.
All hormones, because they are mostly made of FAT, need to be carried in the bloodstream which mostly consists of WATER.
Your blood is a watery substance and so just like water and fat repel each other so do your hormones and your bloodstream.
Your body has a neat way of getting around this and that's with the use of binding prot​​eins (1).
These proteins "hold" onto your hormones and it allows them to travel safely in the bloodstream.
The only problem with these proteins is that they bind strongly to your hormones which renders them inactive unless they are "free" to float around.
This is why we care A LOT about your free T3 and free T4, by the way! (But more on that below).
The way that your body moves thyroid hormone around in the bloodstream is via a protein known as thyroid-binding globulin.
So the T3 uptake can indirectly measure ho​​w much thyroid hormone is most likely bound to this protein (2) compared to how much is available for use.
We are going to discuss why it doesn't matter all that much in a second, so hold any thoughts you have about that.
This brings us to…
#2. Why do doctors order the T3 uptake if it isn't very useful?
This topic is probably more important than the first question we answered because it speaks to the relative gap in knowledge when it comes to regular doctors and thyroid function.
The truth is that many doctors will order whatever "thyroid panel" is available simply because they are given a panel from the lab company.
And this lab company is typically filled with a bunch of relatively useless thyroid lab tests such as T3 uptake, total T4, and TSH.
A huge warning sign that your doctor isn't th​​at knowledgeable about thyroid function is if they order the T3 uptake or total T4 lab test without the thyroid lab t​​ests we are going to discuss below.
These tests do provide some information about thyroid function but there are other thyroid lab tests that are so much more important and which give you so much more information that can be acted upon.
I've discussed why you should avoid certain physicians, including endocrinologists, in previous a​​rticles.
High vs Low T3 Uptake
If you've already had your T3 uptake lab test taken and you have your result in hand, perhaps you are wondering how to interpret your results.
If so, then you can use this as a general guide:
A high T3 uptake is usually associated with hyperthyroi​​d conditions.
And a low T3 uptake is usually associated with hypothyr​​oid conditions.
But, again, this isn't very helpful because no doctor ever really misses hyperthyroidism and that's because it's much easier to diagnose compared to hypothyroidism.
Patients with hyperthyroidism ALWAYS exhibit the symptoms of hyperthyroidism (hair loss, tremors, diarrhea, weight loss, fatigue, anxiety, and heart palpitations) and have a low TSH and a high free T3 level.
You don't need the T3 uptake to make that diagnosis.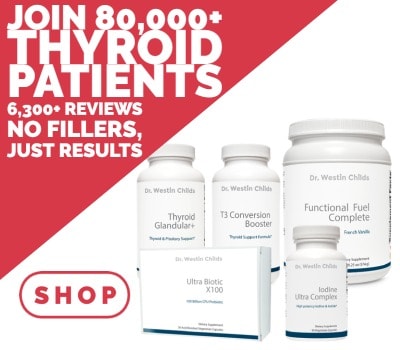 And the opposite is true for hypothyroid patients.
These patients don't need the T3 uptake for proper diagnosis instead, they need the free T3 and free T4 lab tests to assess just how well their thyroid is functioning.
One of the reasons that so many hypo​​thyroid (meaning low thyroid function) patients continue to suffer is because of the over-reliance on certain thyroid lab tests such as the TSH.
If more focus was placed on these free thyroid hormones (and less on the TSH and T3 uptake) then these patients may be able to get on the right treatment to help them feel better.
This is why getting a full set of thyroid labs is so important and why comparing your values to the 'optimal' leve​​ls and not the 'normal' is something that you should be aware of.
Does it Even Matter?
So, back to the main question:
Does the T3 uptake thyroid lab test even matter?
The short answer is no.
But why?
Because you can get more meaningful and direct information when looking at other thyroid lab tests.
Remember:
The T3 uptake lab test gives you an indirect measure of how well your thyroid-binding protein is working.
But that bound protein isn't useful to you as the patient because it is bound to a protein which makes it unusable.
What you care about instead is the amount of FREE thyroid hormone floating around in your bloodstream.
And you can measure that DIRECTLY with the thyroid lab tests free T3 and free T4.
You can look at both of these free thyroid hormones and get an immediate understanding of how much thyroid hormone is free and available for your body to use.
And this is much more valuable than having some idea as to how much thyroid hormone is probably bound to proteins in your blood.
Better Thyroid Lab Tests – What you should actually get tested for
Now that you know why the T3 uptake isn't all that useful we need to take a second to talk about the thyroid lab tests that you SHOULD be getting.
Unfortunately, you will probably find that your current doctor has not and may not even be willing to order these tests but will be perfectly fine ordering useless tests such as the T3 uptake.
Why they do this is a complicated issue but it boils down to a treatment paradigm that is outdated even in the fac​​e of new research.
If this is all new to you make sure that you spend some time here and check out the links below because it is very important.
Thyroid lab tests that are much more important than the T3 uptake include:
These thyroid lab tests form the FRAMEWORK that you can build upon and give you enough information to take actionable steps to help you feel better.
If you use outdated tests such as the T3 uptake, or the TSH alone, it will be next to impossible to obtain near 100% levels.
Final Thoughts
T3 uptake is one of many thyroid lab tests available to assess thyroid function.
Unfortunately, as far as clinical utility is concerned, T3 uptake is not a helpful lab test and you can get more information from the other thyroid lab tests which are available.
As a thyroid patient, you need to be aware of these various lab tests and what they mean because the chances are high that your doctor won't (this may come as a shock to many of you but if you've​​ had thyroid disease for more than 5 years you know what I'm talking about (3)).
The sooner you start to learn about this information the sooner you will start to feel better!
If you have a doctor that ordered your T3 uptake then check out this resource to help you find a knowledgeable th​​yroid doctor.
The second thing you should do is leave a question or comment below if anything is unclear!
Did you get your T3 uptake tested recently?
Did your doctor explain your results to you or did you have to look online to find out what it means?
Does how you are feeling match up with your thyroid lab tests?
Why or why not?
Let me know in the comments below!