Sale!
Thyroid Hair Regrowth Complex – #1 Thyroid Hair, Skin & Nails Vitamin
$47.00
Studies have shown that this combination of vitamins and minerals helps thicken and strengthen hair.*
Provides superior results for hypothyroid patients suffering from cosmetic issues relating to low thyroid hormone: hair growth, nail growth and improvement in skin texture.*
Helps reduce fine lines and wrinkles by providing collagen precursors.*
Strengthens nails.*
Supports healthy bone mineral density.*
Promotes connective tissue formation in healthy joints.*
Contains patented technology to improve choline-stabilization and provide superior absorption over other choline based products.
30-Day Money Back Guarantee (see below)
Free Shipping on all orders to the United States
Description
Introducing Thyroid Hair Regrowth Complex
When it comes to your thyroid most people focus only on energy and weight gain, but this doesn't account for the serious cosmetic changes that hypothyroidism causes.
Your outward appearance has a dramatic impact on your self-confidence.
It's not wrong to want to improve these cosmetic features!
What kind of changes am I referring to?
Low thyroid function (hypothyroidism) may cause any or all of the following:
Hair breakage
Hair loss
Accelerated aging (increased wrinkles and age spots)
Weak or brittle nails
Skin changes such as dermatitis, rashes or eczema
Reduced wound healing
These changes all result from a combination of low thyroid function AND nutrient deficiency that hypothyroidism causes.
The big problem is that simply taking thyroid hormone won't necessarily replace the nutrients that your body is deficient in!
This explains why so many hypothyroid patients STILL have hair loss, skin changes, and brittle nails even after taking thyroid hormone like Synthroid or Levothyroxine.
This leaves hundreds of patients feeling frustrated or stuck as they try desperately to get back their beauty.
Up until now, hypothyroid patients had to rely on poor quality nutrients to try and reverse these cosmetic changes.
That's where thyroid hair regrowth complex steps in:
Thyroid hair regrowth complex contains patented technology which allows for superior absorption of silicon and choline by binding these nutrients to orthosilicic acid. This combination has been studied and proven to be effective in placebo-controlled trials at increasing hair growth, strengthening nails and improving skin quality.
By taking Thyroid Hair Regrowth Complex you are providing your body with the exact high-quality nutrients and precursors it can use to efficiently strengthen your hair, skin, and nails.
In addition to supporting hair growth, this formula will also support:
Nail growth and strength
Skin (may reduce fine lines and wrinkles)
Bone strength & Flexibility
So what does thyroid hair regrowth complex do?
It provides your body with the critical nutrient precursors to collagen, elastin, and keratin – collectively known as the beauty proteins in your body.
That means it will help accelerate the growth of hair follicles, promote strength in your hair/nails and restore your skin to its natural state.
Collagen and your Skin, Hair, and Nails
Why is it important to increase collagen, elastin, and keratin?
First off:
We already know that hypothyroid patients have ACCELERATED LOSS of these proteins due to low thyroid function at the cellular level.
So that's a really good reason to increase collagen production by itself.
But that's not the only reason.
Starting at around age 35 your collagen naturally starts to fade and reduce.
This effect is compounded if you also have hypothyroidism which means that collagen loss will be accelerated even further.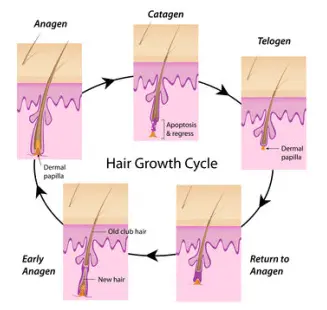 This is why so many women start to notice wrinkles, skin changes, hair changes and the signs of "aging" around this age.
The important thing to realize is that you can SLOW DOWN this process if you take the right steps (sorry, we don't know how to stop it!).
You can slow down the aging process by doing 2 very important things:
#1. Take supplements that promote collagen, keratin and elastin growth and acceleration.
#2. Stop doing things that INCREASE collagen loss and degradation.
Factors that increase collagen loss include:
Hypothyroidism
Nutrient deficiencies (biotin, silica, choline, B12, Vitamin C & A)
Smoking
Dehydration or reduced intake of water
Excessive sun exposure (damage from UVB rays)
Poor diet (high in refined sugars and low in anti-oxidants)
Hormone imbalances especially excessive estrogen and low progesterone
Exposure to endocrine disrupting chemicals
High insulin or blood sugar levels
The two most important things that thyroid patients need to do is get started on thyroid hormone AND take supplements to halt collagen loss.
But why is collagen so important?
Collagen, elastin, and keratin form the FRAMEWORK of your hair, skin and nail cells which provides them with structural integrity.
Imagine building a tree-house with flimsy wood instead of strong sturdy wood.
It might look like a tree house but it starts to sag, bend and even break.
This exact same concept is occurring but in your hair, skin and nail cells.
The lack of structural integrity results in weak nails that bend and break.
It causes your hair follicles to bend, break and even fall out.
And it causes your skin to become heavy, sag and form wrinkles.
Get the picture?
You can FIGHT these changes by providing your body with the precursors to collagen, elastin, and keratin.
All of these precursors are included in thyroid hair regrowth complex which has been designed to specifically fight this problem.
Taking thyroid hair regrowth complex will help you regain your hair, skin, and nails – all of which have been robbed by your thyroid.
In addition to these benefits you will also get some others:
Beyond the effects on hair, skin, and nails – Thyroid Hair Regrowth Complex will also help strengthen your bones and improve both strength and flexibility in your joints.
What makes Thyroid Hair Regrowth Complex Different?
So how is thyroid hair regrowth complex different from your run of the mill hair/skin/nails supplement?
I probably don't have to tell you (but I will anyway) about the importance not only of taking the RIGHT nutrients but allowing for those nutrients to be absorbed properly.
It doesn't matter if you take the RIGHT supplements if none of them are getting absorbed in your GI tract, right?
Well, it turns out that this is a huge problem for thyroid patients…
Hypothyroidism results in low stomach acid which REDUCES the absorption of critical nutrients in the small intestines.
Because of this interaction hypothyroid patients need to take extreme care when choosing supplements.
Thyroid hair regrowth complex cuts out this problem by binding choline and silica to a special compound known as orthosilicic acid.
Orthosilicic acid helps dramatically INCREASE the absorption of both of these nutrients and actually ALLOWS them to enter your body through your intestinal tract.
It also "stabilizes" and protects these nutrients from bacteria and acidic pH in the intestinal tract ensuring that they are delivered to the right place.
If you don't take special care to increase the absorption of these nutrients then all you end up with is very expensive stool…
And, by the way, this compound has indeed been proven to work clinically in several studies (you can find all relevant studies at the bottom of this post).
The Complete Ingredient List
Each capsule of Thyroid Hair Regrowth Complex contains the following ingredients:
100mg Choline (as choline-stabilized orthosilicic acid)
5mg Silicon (as choline-stabilized orthosilicic acid)
Biotin 5000mcg – 1,667%
How to use Thyroid Hair Regrowth Complex
For best results, you will want to use 2 capsules each day (1 in the morning and 1 in the evening).
You should notice an improvement in your hair, skin, and nails within a few weeks of use and this effect will continue to improve over 6-8 months of daily use.
Clinically proven dose for skin: 1 capsule, 2 times daily
Clinically proven dose for hair: 1 capsule, 2 times daily
Clinically proven dose for nails: 1 capsule, 2 times daily
What if I don't have a Thyroid Problem?
No problem!
The ingredients in this supplement are designed to help whether or not you have a thyroid problem and they should, therefore, help you if you have other issues that aren't related to your thyroid.
Many patients are deficient in the combination of choline (found most common in particular food sources) and silica which is why this combination is so effective.
This potent combination of nutrients helps improve the quality and texture of your hair, skin, and nails by enabling protein and elastin synthesis.
Tips for making your supplement even MORE effective: 
In addition to taking thyroid hair regrowth complex as described above, you can also go above and beyond to help boost your results.
#1. Drink at least 64 ounces of filtered water each and every day and up to 128 ounces (1 gallon) if you are active.
---
Hydration will help increase skin turgor and promote elimination of harmful chemicals/toxins that can bind to your supplements and deactivate collagen.
#2. Take supplements to increase free T3 levels and promote thyroid conversion.
---
You can increase the effectiveness of your existing thyroid medication (which may help you reduce your total dose) by taking supplements designed to increase T4 to T3 conversion.
You can do that by using my Thyroid Adrenal Reset Complex or my T3 Conversion Booster formulations.
#3. Avoid GMO and non-organic foods.
---
Avoiding GMO and non-organic foods will reduce your exposure to toxins and endocrine disruptors that damage skin and accelerate the aging process.
These hormones also bind to thyroid hormone and reduce the effectiveness of thyroid hormone.
#4. Avoid excessive sun exposure.
---
Excessive sun exposure can also accelerate the degradation of collagen and advance skin aging. If you are treating aged skin make sure to protect yourself from harmful UVA rays.
#5. Check your iron levels.
---
If you are suffering from hair loss make sure to evaluate your ferritin levels (this acts as a marker for iron stores in the body). In order to grow hair back properly, you need to have a ferritin in excess of 60.
Low iron also impairs thyroid function by the way!
FAQ:
How do you take thyroid hair regrowth complex?
Thyroid hair regrowth complex should be taken with food or without food 1 capsule in the morning and 1 capsule in the evening.
How quickly will I notice a change in my hair, skin, and nails?
As you may be aware it can take up to several months for hair to enter its growth cycle.
Some patients who use Thyroid Hair Regrowth Complex notice an improvement in the quality and texture of their hair very quickly. While this can't be explained scientifically I suspect it has to do with the triggering of hair growth cycles with the supplement.
Other patients may need to take the supplement for up to 2 months to notice full results, but many patients will notice an improvement within the first 30 days.
Are there any side effects?
No, thyroid hair regrowth complex is well tolerated with no reported side effects at this time (it has been used on thousands of patients).
How long do I need to take it?
Most people will see results within 2-4 weeks, but these results continue to improve and grow over 6-8 months.
In clinical studies, most patients showed the strongest improvement with 6-8 months of consistent daily use.
Does this interfere with my thyroid medication?
No, thyroid hair regrowth complex should not interfere directly with thyroid hormone absorption.
As a precaution, we recommend that you take this supplement (along with others) 30-60 minutes away from your thyroid medication.
Does this work if I don't have thyroid problems?
YES! Thyroid hair regrowth complex is NOT just for thyroid patients and it has been shown to work in both hypothyroid and non-hypothyroid patients.
Is this supplement safe for vegans?
Yes, this is a vegan safe supplement.
Does this supplement have gluten, dairy, soy or any other ingredients?
No, we go to great lengths to ensure that our products are pure and 100% all natural. This product does NOT contain Wheat, gluten, yeast, soy, dairy products, fish, shellfish, peanuts, tree nuts, egg, ingredients derived from genetically modified organisms, artificial colors, artificial sweeteners or artificial preservatives.
How does shipping work?
All product orders receive free shipping. We ship out within 1 day of your order (unless you order on the weekend) and it takes approximately 1-3 days to reach the destination depending on how far you live away from Arizona. All supplements are shipped with free shipping via first class mail through USPS but you can upgrade to priority mail if you prefer as well.
You will receive an email notification once your product is "completed and shipped".
What is your Return/Refund Policy?
All supplements have a 30-day money back guarantee.
We want you to take a chance to improve your health and use our high-quality supplements. If you don't love your supplement simply contact us, ship back the supplement and we will happily provide you with a full refund.
You can find more information about our return and refund policy by clicking here.
If you have questions about our products or our return policy please reach out to us via email at [email protected]
What if I have other questions?
Please reach out to us via email at [email protected] and we will do our best to get back to you within a day or so!
*These statements have not been evaluated by the Food and Drug Administration. This product is not intended to diagnose, treat, cure or prevent any disease.
**Results may vary.
Questions about our quality standards? Please see this article for more information.
The Science Behind Thyroid Hair Regrowth Complex
https://www.ncbi.nlm.nih.gov/pubmed/16205932
https://www.ncbi.nlm.nih.gov/pmc/articles/PMC2442067/
https://www.ncbi.nlm.nih.gov/pmc/articles/PMC3546016/
https://www.ncbi.nlm.nih.gov/pmc/articles/PMC4938278/
https://www.ncbi.nlm.nih.gov/pubmed/26285179
https://www.ncbi.nlm.nih.gov/pubmed/18547426
https://www.ncbi.nlm.nih.gov/pubmed/17960402
https://www.ncbi.nlm.nih.gov/pmc/articles/PMC2658806/
Additional information
| | |
| --- | --- |
| Weight | 0.1875 lbs |
| Dimensions | 2 × 2 × 3.75 in |
Low iron
My hair is still shedding a lot but I found out I have low ferritin levels.
Thyroid Hair Regrowth Complex
I have been taking these capsules for 3 weeks now. No bad side effects. Too soon to really notice a huge hair difference, but my nails are stronger. Going to buy another bottle just to make sure I stayed on it long enough to see some change.
Thyroid Supplements
I've been taking the supplements for over a month and they seem to be helping!
Thyroid Hair Regrowth Complex
It took about a year and then I was diagnosed with hypothyroidism. One of my main issues was that I was losing my hair and the texture had changed from smooth to dry. I'm so happy to report that after taking this product for 4 weeks, the lose has slowed down -- thank goodness! Thanks Dr Childs!!
Loss of hair
On my second bottle just starting seeing growth at the front. Very happy will keep ordering