This is lesson #5 in the thyroid beginner series.
As you know, this series is designed to help you understand the most basic concepts about thyroid function so you can be a better advocate for your own health.
Today is all about T4 to T3 conversion.
This is the process by which your body creates and activates thyroid hormone.
It's important because there are steps that you can take to actively enhance this conversion process and help reduce (or improve) your symptoms.
Let's jump in:
T4 to T3 Conversion Explained in Plain English
This is really a continuation of the concepts that were built upon in lesson #3 and lesson #4 which discuss T4 and T3 thyroid hormones.
They are short videos (less than 10 minutes each) so if you don't feel like you have an understanding of thyroid hormones then go watch those before you jump into this lesson.
As I stated previously, T4 to T3 conversion is the process by which your body takes inactive thyroid hormone and activates it (1).
This process is also known as thyroid conversion or peripheral thyroid conversion but don't let this confuse you because they are all referring to the same process.
In this conversion process, your body takes T4 thyroid hormone, which it either produces on its own or that you've taken by mouth, and cleaves off a portion of the molecule which changes its shape and structure.
This change alters the hormone to T3 (triiodothyronine) which is the active thyroid hormone.
Why is this important?
Because the more T3 you have in your body the better your thyroid functions.
The less T3 you have in your body the more symptoms you will experience.
What that means for you is that you want this process to be working at 100% because if it isn't then you will be producing less active thyroid hormone.
It turns out that the way that your body increases or decreases this conversion process is through the activity of special enzymes.
These enzymes, known as deiodinase, are responsible for "cleaving" off an iodine moiety on the T4 hormone.
T4 is named T4 because it contains 4 iodine portions on the hormone base.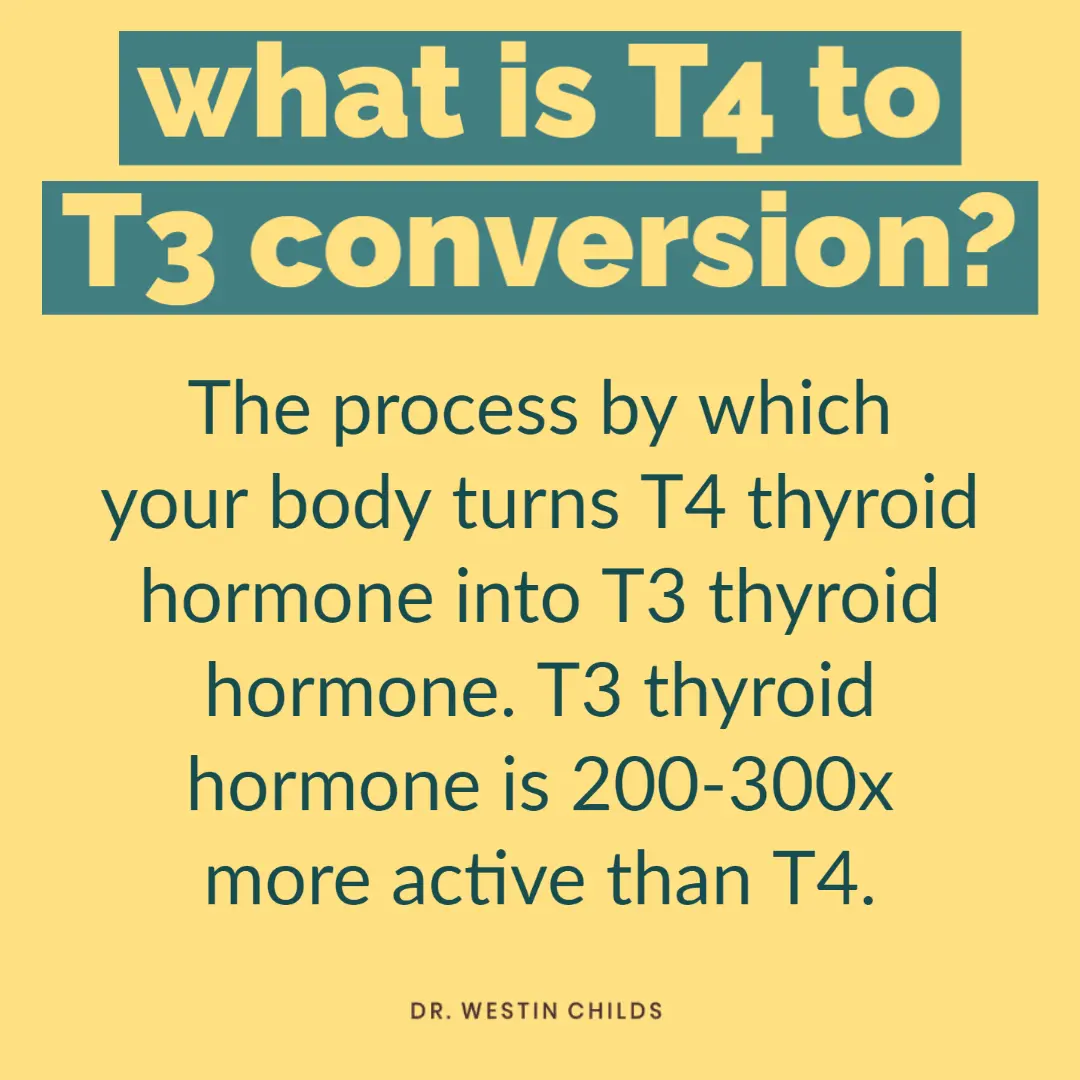 Once it loses an iodine portion it now only has 3 and we call it T3.
Approximately 80% of the T3 in your body is created through this conversion process which means it's very important for thyroid health.
This conversion process matters if you have a thyroid, if you don't have a thyroid, if you have Hashimoto's, if you have thyroid nodules, if you have thyroid cancer, and so on.
Basically, it matters for everyone.
Why?
Because even if your thyroid isn't working you still have to take thyroid hormone by mouth and most thyroid medications contain T4 (not T3).
DOWNLOAD FREE RESOURCES
Foods to Avoid if you Have Thyroid Problems:
I've found that these 10 foods cause the most problems for thyroid patients. Learn which foods you should avoid if you have thyroid disease of any type.
The Complete List of Thyroid Lab tests:
The list includes optimal ranges, normal ranges, and the complete list of tests you need to diagnose and manage thyroid disease correctly!
Factors that DECREASE T4 to T3 Conversion (These slow down thyroid function)
There are certain factors that can slow down the conversion of T4 to T3 by interfering with the efficiency of the enzymes responsible for this conversion.
These factors act as a brake on your entire thyroid system.
They slow down the amount of T3 that your body is able to produce and may make less efficient the medication that you are taking.
If you can address and reverse these issues then you can "release" the brake on your thyroid and finally start feeling better!
I've created a list of the most common factors that blunt this conversion process below: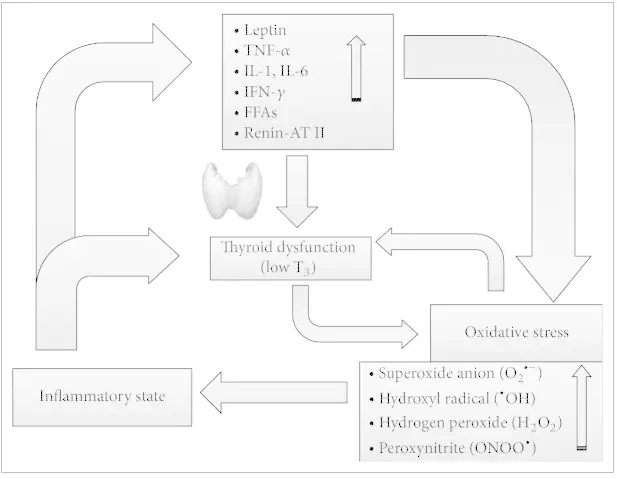 If you have any of these issues going on in your body then your thyroid function may suffer.
These conditions may lead to an increase in a metabolite known as reverse T3 (a topic for another time).
Reverse T3 is the metabolite created when your body is having trouble with the thyroid conversion process.
Therefore, it can be used as a marker of thyroid conversion in your body.
You can test for reverse T3 with a simple blood test.
Factors that INCREASE T4 to T3 Conversion (You can use these to improve how well your thyroid works)
So what are you supposed to do if you have any of the factors listed above?
This section will discuss some of the available therapies that you can use to potentially help improve T4 to T3 conversion.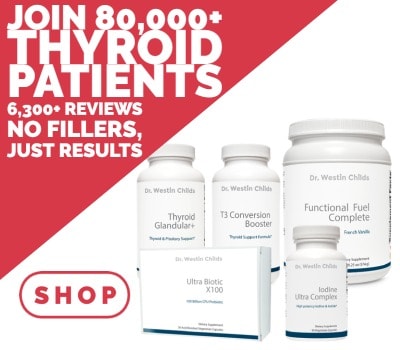 Using these strategies can help you increase thyroid function naturally and may even help if you are taking medication.
Remember:
If you are taking thyroid medication your body still must convert T4 into T3.
So all of these factors still matter if you are taking thyroid medication or if you don't have a thyroid at all.
The good news is that almost everyone with thyroid-related issues can benefit from this information.
Bypassing T4 to T3 Conversion with T3 Medication
Another strategy that we will discuss (briefly) is the use of T3 thyroid hormone to bypass T4 to T3 conversion.
We already discussed the importance of T3 and how it does pretty much all of the heavy lifting when it comes to thyroid function in your body.
Normally, thyroid medications that contain T4 must be activated to T3 before your body can really use them.
But you can skip out on this process by using T3 medications such as liothyronine or Cytomel.
If you ingest T3 medications then they do NOT require activation in the way that T4 medications do.
This allows you to bypass the conversion process and start feeling better almost immediately.
This doesn't mean that you should skip out on all of the therapies listed above, but instead, combine them all together for maximum benefit.
I find that using medications that contain T4 + T3, using supplements designed to improve thyroid conversion, and addressing issues that blunt thyroid function all at the same time cause the best results clinically.
You can learn more about using T3 medications here.
Conclusion
The bottom line?
Addressing this tiny concept known as thyroid conversion may be one of the most important things that you learn about your thyroid.
Most of the time, patients feel helpless with their thyroid because so much depends on their doctor and what he/she is willing to do.
But if you understand your thyroid you can take steps to optimize whatever thyroid function your body is capable of producing.
Just remember:
This is a process and it takes time!
Don't expect immediate results, but instead, give your body weeks to months to improve.
Now I want to hear from you:
Are you struggling with T4 to T3 conversion?
Have you tried therapies designed to improve this process?
Have they worked for you? Why or why not?
Have you tried T3 medications?
Leave your comments and questions below!
Scientific References
#1. https://www.ncbi.nlm.nih.gov/pubmed/6479377
#2. https://www.ncbi.nlm.nih.gov/pubmed/1249190
#3. https://www.ncbi.nlm.nih.gov/pubmed/27051079
#4. https://www.ncbi.nlm.nih.gov/pmc/articles/PMC2910542/
#5. https://www.ncbi.nlm.nih.gov/pmc/articles/PMC1411539/
#6. https://www.ncbi.nlm.nih.gov/pmc/articles/PMC3148770/
#7. https://www.ncbi.nlm.nih.gov/pmc/articles/PMC1070767/
#8. https://www.ncbi.nlm.nih.gov/pmc/articles/PMC5751186/
#9. https://www.ncbi.nlm.nih.gov/pubmed/25758370