Do you have thyroid problems?
Are you taking thyroid medication?
Are you also taking other medications?
It may surprise you to know that there is a long list of medications that can alter thyroid function, interfere with thyroid tests or even interfere with your thyroid medication.
This post will teach you about these medications, what to do if you are taking one of these medications, and your next steps.
Prescription Medications and your Thyroid
It's estimated that at least 70% of Americans take at least one prescription medication and that up to 20% of Americans take five or more medications (1).
We know, if you read this blog, that up to 15% of patients in the United States also take thyroid hormone (2) (a prescription medication) for thyroid disease.
When you start crunching these numbers it's easy to see that there is likely considerable overlap between those taking thyroid hormone and those taking other thyroid medications.
What may surprise you is that many of these common medications may be silently interfering with your thyroid function or your thyroid medication.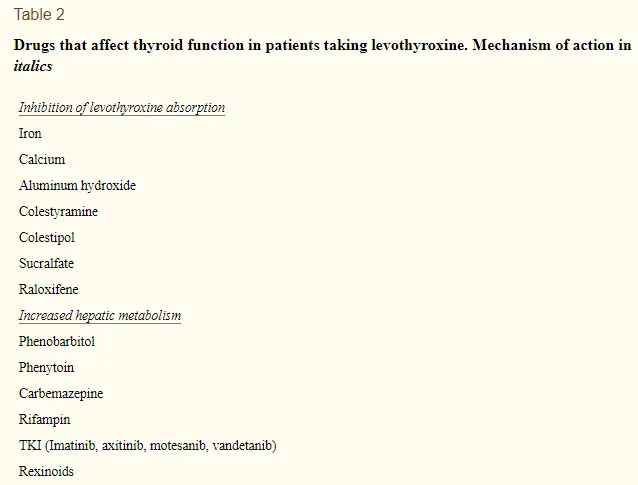 What that means is that certain prescription medications, while they may be helpful for various conditions, can also reduce the amount and function of circulating thyroid hormone in your body.
And medications aren't the only things to interfere with your thyroid medication either, even some supplements (such as calcium) can bind to and inactivate the thyroid hormone when you ingest it.
These two factors combined make it very important for you to understand the basics of thyroid function and the impact prescription medications have on it.
Ever wonder why your doctor and pharmacist give you "special instructions" on how to take your thyroid hormone medication?
They are trying to give you tips to help you increase the amount of thyroid hormone that you absorb.
Remember:
Taking thyroid hormone by mouth doesn't automatically ensure that it will get into your body and into your cells.
In order for that to happen, it must be absorbed by your intestinal tract and then activated by your cells.
With this in mind let's talk about some of these medications:
DOWNLOAD FREE RESOURCES
Foods to Avoid if you Have Thyroid Problems:
I've found that these 10 foods cause the most problems for thyroid patients. Learn which foods you should avoid if you have thyroid disease of any type.
The Complete List of Thyroid Lab tests:
The list includes optimal ranges, normal ranges, and the complete list of tests you need to diagnose and manage thyroid disease correctly!
Medications that Interfere with Thyroid Function (Make your Thyroid Worse)
Because thyroid physiology is quite complex so too is the way that prescription medications can interfere with thyroid function.
We can break it down into three major sections to make it easier to digest.
All of these sections represent ways that prescription medications can interfere with how thyroid hormone operates and functions in your body.
#1. The first way that medications can impact thyroid function has to do with a process known as T4 to T3 conversion.
T4 to T3 conversion is an important process in terms of thyroid physiology because it is this process that activates your thyroid hormone.
Any medication which blunts this process will result in DECREASED T3 levels in your serum and decreased thyroid function in the entire body.
Only a handful of medications fit into this class, and they are commonly used to treat a condition known as hyperthyroidism.
Hyperthyroidism is a condition that results in TOO MUCH thyroid hormone so it makes sense that the treatment for this condition would be to slow down thyroid hormone activity.
Medications that fit into this category include:
In most cases, you will know if you are taking these medications and you will most likely feel that they are interfering with thyroid function in your body.
The exception may be beta blockers which are commonly used to treat high blood pressure.
Beta-blockers are known to cause other issues such as erectile dysfunction and depression which may be linked back to their impact on thyroid conversion.
#2. Medications can also interfere with your thyroid by altering your ability to produce TSH.
TSH is the stimulating prohormone produced by your pituitary gland which signals to your body that you need to produce more thyroid hormone.
TSH circulates from your brain where it interacts directly with your thyroid gland and "stimulates" the release of thyroid hormone.
If a medication alters your TSH level (either up or down) this will directly influence how much thyroid hormone you can produce.
These medications can complicate your clinical picture and make determining how to proceed with thyroid dosing difficult.
Medications that are known to lower your TSH include:
The two biggest medications in this group include metformin and steroids because they are very commonly prescribed.
The other medication classes, while still important, are not quite as common.
Metformin is commonly used to treat insulin resistance and high blood sugar and can also be used in weight loss regimens (you can read more about that here).
Steroids, on the other hand, are frequently used to treat autoimmune diseases or inflammation "flare-ups".
Just realize that using steroids in this way may be beneficial for inflammation but may be causing damage to your thyroid gland in the process.
You may be able to forgo using steroids to reduce inflammation by focusing on more natural ways to reduce inflammation such as diet and other supplements like Fish oil or Curcumin.
#3. The last way that medications can impact thyroid function is by reducing the amount of hormone that you produce from your thyroid gland.
Obviously, if you reduce the amount of thyroid hormone that your body can produce then you may experience the symptoms of hypothyroidism!
These medications act to directly block or inhibit the secretion of T4 and T3 directly from the thyroid gland.
Remember:
TSH is required to "stimulate" the release of thyroid hormone from your thyroid gland, but, even if TSH levels are normal, your thyroid gland must still be able to produce thyroid hormone in order for it to get out and function.
Medications that fit this category include:
Most people know if they take these medications, that their thyroid may be in jeopardy as it is considered the standard of care to evaluate thyroid function every few weeks while taking them.
Supplements That Interfere with Thyroid Function if you are Taking Thyroid Hormone
Even if you aren't taking any of the medications listed above, you still may not be out of the woods yet!
It turns out that many other factors, including the supplements that you take by mouth, can also interfere with your body's ability to absorb thyroid medication (and this applies to all types of thyroid medications).
Remember:
Most hypothyroid patients take a medication that contains T4 such as Levothyroxine or Synthroid.
These medications are notorious for being difficult to break down and absorb by hypothyroid patients.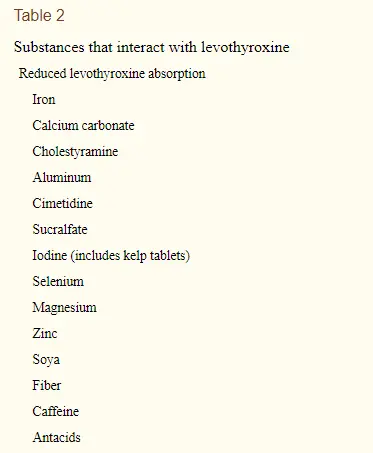 For these reasons, you may have been given certain instructions on how to take them.
This includes the time of day that you take them and instructions to not take them with food or water.
It turns out that these recommendations are important, but let's also talk about other factors which impact thyroid hormone absorption:
What to Do if you Think your Medication is Interfering with your Thyroid
What are you supposed to do if you believe that your medication may be interfering with your thyroid?
Below I've included a list of potential options for you to consider.
Please note that not all of these options may be available to you, however, because not everyone may be able to switch medications or stop them entirely.
It's very possible that you are taking a medication that is necessary for your body (for some reason) and you must deal with the side effect of thyroid dysfunction as a result.
That doesn't mean you can't take steps to improve your thyroid function, but it does mean that you may not be able to switch medications.
#1. Try to switch to a different medication in the same (or different) class
The first option you should consider is simply switching medications or switching to a different class of medications.
Let's use high blood pressure as an example:
There are many different types of blood pressure medications that can help drive down your blood pressure and they all act in a slightly different ways.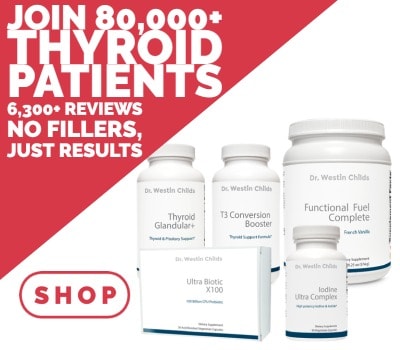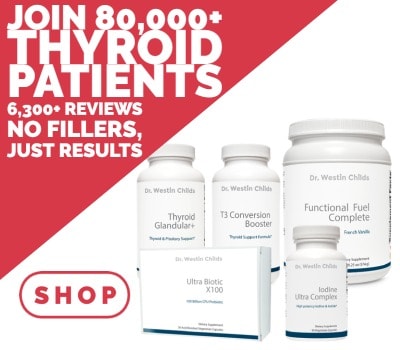 If you are taking a beta-blocker (such as propranolol) for your blood pressure, you may be able to ask your doctor about switching to a different class of medication.
This may also work for those taking diabetic medications, blood pressure medications, and anti-seizure medications which all block thyroid function.
Make sure that you discuss potential options with your prescribing doctor before making any changes!
#2. Try natural treatments (if possible) in an attempt to wean yourself off of your medication
Another alternative is to try and use a natural approach, as opposed to conventional medication, to treat your problem.
Let's go back to the blood pressure example again:
High blood pressure may be caused by a combination of diet, fat mass, salt intake, and other factors such as insulin resistance.
It makes sense to try and REVERSE the causes of high blood pressure as opposed to simply covering it up with medication like beta blockers.
Most patients find that as they lose weight their blood pressure falls and they no longer need their medication.
This is also true for patients who suffer from conditions such as type II diabetes or insulin resistance.
Moral of the story?
If possible, do your best to try alternative and natural treatments to try and wean yourself off of your medication.
It may surprise you to know that there are many ways to treat medical conditions outside of medications, but they may require some energy and research on your part.
#3. Take your medication away from your thyroid medication (if possible)
Another option and one that we've discussed briefly in this article is to take your thyroid medication as far away from your other medications as possible.
This might mean taking your thyroid medication in the morning and all other medications in the evening, or vice versa.
If you have prescription medications you NEED to take in the morning then you can swap and take all medications in the AM and your thyroid medication in the PM.
Don't be afraid to play around with the time of day that you take your medications to find a regimen that fits your body.
In some cases, I spend a lot of time just figuring out the ideal time for patients to take medications and hormones throughout the day and it makes a huge difference.
#4. Take supplements to promote thyroid function to try and "balance" the negative effects
Lastly, you may want to consider taking supplements designed to "boost" thyroid function.
These supplements may be able to counteract some of the negative effects seen by medications and supplements by providing your body with the nutrients it needs to produce and activate thyroid hormone.
In this way, you may be able to "brute force" your way to thyroid function.
Certain supplements such as zinc, selenium, iodine, and vitamin A may help your body to convert thyroid hormone to T3 and help thyroid hormone work at the cellular level.
You can find supplements that fit into this category here.
Final Thoughts
It turns out that many different prescription medications and even over-the-counter supplements have the ability to interact with your thyroid medication.
These are very important to consider, especially if you are someone who is taking thyroid medication but not feeling very well.
By using the tips and tricks outlined in this article you may be on your way to improving your thyroid function without making huge changes!
Now I want to hear from you:
Are you taking medications that may interfere with your thyroid?
What about supplements?
What have you done to fix these problems?
Leave your comments or questions below!