Want to know if you should use hormone pellets?
Ever wonder if they actually work or if they are safe?
This guide will teach you everything you need to know about hormone pellets and what should be used before you get them done.
It will include basic information, side effects, the differences between other hormone routes, and more…
What are Hormone Pellets?
Hormone pellets are simply a way to put a specific amount of hormone into the body through a small procedure.
These pellets are usually created and filled with bio-identical hormones such as progesterone, estradiol, and testosterone.
For men, they typically include testosterone but for women, they may include all 3 or any combination.
These pellets have gained significant traction over the last 10-15 years, but is it all hype or is there something to them?
In general, and for the record, I'm not a huge fan of hormone pellet therapy, but I will walk you through everything you need to know if you are considering this treatment.
There are definitely some people who love their hormone pellets, and who do very well on them, but just because some people do well on them does not mean that everyone should use them.
Hormone Pellets vs Other Hormone Administration Methods
Hormone therapy differs not in the hormone you use (although it can) but primarily in how you put it into your body.
How you take your hormones dramatically impacts the serum levels of your hormones, other sex hormones in your body, your symptoms, and much more.
Because of this, it's worth exploring all of the options before you jump into hormone pellet therapy.
Hormone pellets require a procedure to be placed, which is unique among all other forms of hormone replacement therapy.
These pellets are usually inserted into the subcutaneous tissue in your hip or stomach area with a small incision (1).
The pellet then dissolves slowly over a period of months, all the while slowly releasing a stable amount of hormone into your bloodstream.
The exact amount of hormone which is placed into each pellet can be adjusted based on the needs of the individual.
In addition, these pellets can also come formulated with multiple hormones.
Taking hormones through the skin, or via injection/pellet therapy, is preferred over oral administration.
Oral administrations have been shown to cause highs and lows in hormone levels in your serum (2) and may dramatically increase other hormones such as SHBG.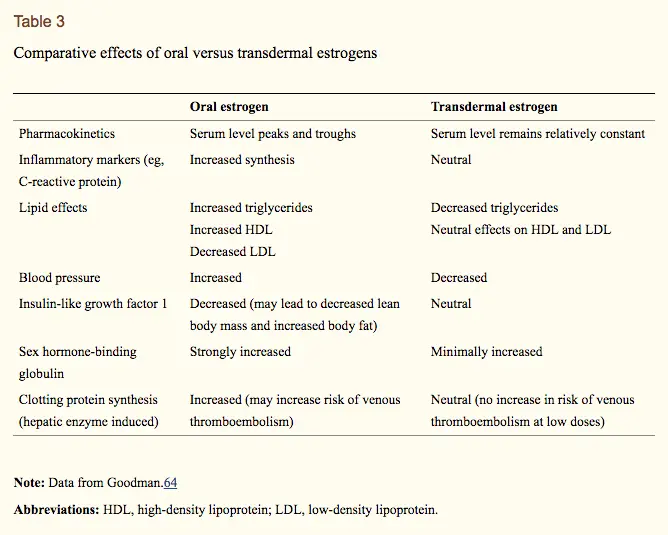 So, pellets are favored in that way.
But how do they compare to creams/gels/shots?
In terms of efficacy, pellets are no more effective than a gel/cream or injection in theory.
Basically, as long as you don't take your hormones by mouth you should be good to go.
Creams/gels/shots/pellets tend to differ in other ways such as patient compliance (how likely you are to take them), potential negative side effects, ease of altering your dose, and so on (3).
The choice of which type of hormone method you decide to use largely depends on your preferences.
With this in mind, it's helpful to have a full understanding of the pros and cons of pellet therapy so you can help make the decision for yourself.
Pros & Cons of Hormone Pellets
Every procedure, therapy, or medication comes with a list of potential benefits and potential side effects.
You must weigh the pros and cons to determine if the procedure is right for you!
In some instances, your Doctor may have an incentive to push you in one direction (usually due to reimbursement) even though there are other options available to you.
Make sure you understand these pros and cons before you get hormone pellet therapy.
Pros
#1. Set it and forget it approach
Perhaps the most important benefit of using hormone pellets is what I refer to as the "set it and forget it approach".
This approach stems from the fact that hormone pellets are relatively hands-off in terms of patient compliance.
You get the procedure done in a short visit and then the pellet dumps hormone into your body over the next 3-4 months.
There's usually a peak hormone rise around the first 1 month and a drop thereafter (4).
Most people tend to start feeling their symptoms return around 3-4 months (some shorter or longer) which drives them back into the office to get another pellet.
This is great for some patients, especially if you find it difficult to apply gels/creams on a daily basis due to a heavy travel schedule or other conflicts.
This is also another option if you can't stand to be injected on a weekly/biweekly basis (for hormones like testosterone).
But, if you don't mind applying your hormones to your skin on a daily basis, then this benefit may not apply to you.
#2. Contains bio-identical hormones (superior when compared to pharmaceutical and synthetic hormones)
Hormone pellets also have the benefit of containing bio-identical hormones.
These are hormones that are exact replicas of your existing hormones and are superior to synthetic or pharmaceutical formulations (5).
Whenever you look for hormone replacement therapy, of any kind, make sure you are using bio-identical hormones.
You'll know you are receiving these hormones because the name of the hormone your body creates is the same as the hormone you should be taking.
For instance:
If you want to take estrogen then look for a medication that contains estradiol.
If you want to take progesterone then look for a medication that contains progesterone USP.
Synthetic formulations of estrogen (6) include Ethinyl estradiol, esterified estrogens, conjugated equine estrogens, and so on.
Synthetic formulations of progesterone (7) include medroxyprogesterone acetate, norethindrone acetate, norethindrone, norgestrel, norgestimate, levonorgestrel, desogestrel, and megestrol.
Whenever possible, stick to hormones that are identical to what your body produces naturally!
#3. A stable stream of hormone delivery
The pellet delivery system is designed to provide a steady stream of hormones directly into your body.
It is deposited into the subcutaneous tissue, which is relatively avascular compared to other tissues (meaning it has fewer blood vessels) which reduces the rate at which it is absorbed.
This allows for your body to break down the pellet based on the surface area which supplies a relatively even hormone dose directly into your body and tissues over several months.
This delivery peaks at around 1 month (based on some studies) and begins to fall from that point on at a steady rate (8).
You can compare this type of delivery to oral (which is much more erratic) and transdermal (creams and gels) which tend to have more peaks and troughs in terms of hormone delivery (9).
Cons
#1. Requires a small surgical procedure for each visit
The fact that hormone pellet therapy requires a small incision is something that should be considered by all patients.
This procedure will require an office visit with a doctor and time on your part.
You can compare this to simply calling in for a refill of your prescriptions which can easily be done over the phone or through an assistant.
#2. More expensive when compared to other methods
Hormone pellets also tend to be more expensive when compared to other forms of hormone replacement therapy.
Anytime your doctor has to do a procedure, spends extra time with a patient, or has to mitigate an increased risk of infection, there will always be higher costs involved.
The actual hormones themselves are quite cheap.
The price that you pay for the pellet tends to come from the formulation of the pellet, the time it takes to implant it, and so on.
If you are trying to save money, then sticking to the basic hormones in gels/creams may be a cheaper alternative.
Some hormone locations tend to shuttle people into hormone pellet insertion because it is a big money maker for the clinic.
Do your best to avoid clinics like these, especially if you feel that you are being pushed into something you don't want to do.
#3. Increased risk of pain/infection at the insertion site
Anytime the skin is entered, either through injection or otherwise, there is a small risk of infection or bleeding after the procedure.
With infection rates around less than 1% of all procedures (10), there's probably around a 1 in 150-200 chance that your hormone pellet therapy may become infected or have complications.
This risk is low but can be real if you plan to get the pellet 3-4x per year.
#4. Inability to alter or adjust dosing after implantation
One of the biggest problems with hormone pellet therapy, from my perspective, is the fact that you can't alter dosing after you implant it.
Once the pellet is implanted you will be getting the hormone that you were prescribed for several months whether it's the right dose for you or not.
This can be a problem because it's quite rare that doctors get hormone dosing right on the first try.
Adjusting hormone dosing is a regular part of treating patients with hormone imbalances and it can take months to get everything just right.
If you put in a pellet which contains too much hormone then you will experience the side effects associated with hormone excess for several months.
On the other hand, it's also possible to put in an insufficient dose and have the pellet be ineffective.
It's far easier to simply add to your dosing or take away from your dosing when using gels and creams.
Side Effects
Side effects from hormone pellets tend to stem from the DOSE and WHICH hormones they contain.
So, it's not as if all hormone pellets will give you the same symptoms (or benefits) because that largely depends on your prescribing physician.
There are some potentially negative side effects that are unique to hormone pellets and these are included below:
The potential risk for infection at the insertion site
Potential for Bumps/nodules at the insertion site
Potential for overdosing hormone (if dosing is done inaccurately)
Potential for underdosing hormone (if dosing is done inaccurately)
Potential for weight gain (if dosing is done inaccurately)
Potential for breast tenderness, menstrual bleeding, hot flashes, and weight gain (specifically if dosing of estrogen is too high)
Potential for acne, irritability, weight gain, facial hair, and dramatic rise in libido (specifically if testosterone dose is too high)
Potential for water retention, depression, dizziness, and weight gain (specifically if the progesterone dose is too high)
These side effects largely depend on the hormones you are using, the dose they are formulated with, and various other factors such as how you tolerate them.
Limitations & Who Should use Hormone Pellets
Hormone pellets certainly aren't for everyone, but I've combined a list of patients who tend to do well on this type of hormone therapy below:
Those who desire the "set it and forget it approach"
Those who travel frequently or who frequently forget to use gels/creams
Those who have trouble remembering to apply their hormones on a daily basis
Those who already know what their "dose" is and just want a more convenient approach
Those who have better symptomatic control with pellets over gels/creams
Those who would rather not take the risk of exposing family members to hormones through close touch, etc.
If you do not fit within these parameters then it may be wise to seek out (at least initially) other ways to take your bio-identical hormones such as the transdermal route.
Do Hormone Pellets Cause Weight Gain or Weight Loss?
Many patients get hormone therapy to fix a specific problem and one of the problems they are looking to fix is often their weight.
There is no easy answer to this question because it really depends on if your doctor is able to dose your hormones accurately through pellet therapy.
If the dose is correct then you may expect to see an improvement in your symptoms and you may see some weight loss.
If your dosing is incorrect, either too much or too low, then you may see the opposite effect and you may actually see weight gain (11).
This is why you see conflicting stories about people who state they either gained weight on hormone pellets or lost it.
It's not the pellet therapy itself but rather the dose of the hormones.
But remember:
The dose can be achieved through other means, such as gels or creams.
The bottom line?
Don't count on hormone pellets as a primary weight loss tool, instead just be happy if they happen to help you with weight loss along the way.
There are much better, and more targeted ways, to lose weight which you can read about here.
Final Thoughts
Hormone pellets are one of many ways to provide your body with a steady supply of specific bio-identical hormones.
Like other therapies in medicine, there are specific pros and cons to using this type of delivery system.
While pellets may provide you decreased maintenance (in terms of how often you have to "apply" hormone), they come with an increased risk of other overdosing hormones and other side effects such as infection.
Before you get a hormone pellet implanted into your body make sure you fully and completely understand the potential risks and benefits involved.
Now I want to hear from you:
Have you had hormone pellet therapy?
Are you thinking about this type of therapy over other options?
Did it work for you? Why or why not?
Leave your comments below!