Want to know exactly what you are taking when you take Armour Thyroid?
If so, you're in the right place.
As a thyroid patient, you need to be aware that while you may need thyroid hormone to survive and thrive, you don't always want all of the extra baggage that comes along with these medications.
For this reason, it's always preferred to use what I refer to as clean thyroid medications.
These are medications that contain the fewest inactive fillers, binders, and dyes, which means they provide you with the real ingredients that you want and need: thyroid hormones.
Let's talk about the ingredients found in Armour Thyroid and see how it compares to other thyroid medications.
DOWNLOAD FREE RESOURCES
Foods to Avoid if you Have Thyroid Problems:
I've found that these 10 foods cause the most problems for thyroid patients. Learn which foods you should avoid if you have thyroid disease of any type.
The Complete List of Thyroid Lab tests:
The list includes optimal ranges, normal ranges, and the complete list of tests you need to diagnose and manage thyroid disease correctly!
Inactive and Active Ingredients In Armour Thyroid
All thyroid medications contain a combination of active ingredients and inactive ingredients.
Active ingredients are those ingredients that actually provide the benefit of the medication.
In the case of thyroid medications, they are the active thyroid hormones.
The inactive ingredients are really there to stabilize the active ingredients, assist with absorption, and assist in the manufacturing process.
Unfortunately, as a thyroid patient, you can react to a combination of the active ingredients, the inactive ingredients, or both.
For this reason, it's actually quite important to be aware of the ingredient profile of whatever thyroid medication you are taking.
If you understand the ingredient profile then you can make educated guesses about why a certain thyroid medication does or doesn't work for you.
And you can opt to avoid ingredients that crossover between different thyroid medications.
With this information in mind, let's talk about the active ingredients in Armour thyroid:
Active Ingredients in Armour Thyroid
There are multiple active ingredients found in Armour thyroid but only two are standardized.
I'll explain more about what that means in just a second but, for now, here are the active ingredients (1):
Each grain of Armour thyroid contains 38 mcg of T4 (levothyroxine) and 9 mcg of T3 (liothyronine).
These two compounds are thyroid hormones and are standardized to be the same in each lot of thyroid hormone.
Standardized just means that tweaks are made to the final product to ensure that the dosing remains the same from dose to dose and lot to lot.
This is important because you have to remember where Armour Thyroid comes from:
The thyroid gland of pigs.
You can easily imagine that not all pigs are the same. Some are larger, some are smaller, some are more metabolically active than others, some are older, some are younger, etc.
Each of these factors will influence how much thyroid hormone is found in the thyroid gland of the pig it was extracted from.
To ensure that this doesn't cause fluctuations in Armour Thyroid dosing, the T4 and T3 thyroid hormone doses are standardized in every lot.
This ensures that no matter which pharmacy you get your Armour Thyroid from, you're getting the dose that's on the bottle.
As I mentioned, there are other active ingredients found in Armour thyroid that are not standardized.
These non-standardized ingredients include:
We can safely assume that each dose of Armour Thyroid contains some of these additional hormones because these hormones are naturally occurring in the thyroid gland.
The difference between these hormones and T4 and T3 is that they are non-standardized.
This means while they are likely in each dose of Armour Thyroid, we don't actually know how much each grain contains.
This is one major downfall of Armour Thyroid and one reason that I believe this medication is inconsistent in terms of how it's tolerated by thyroid patients.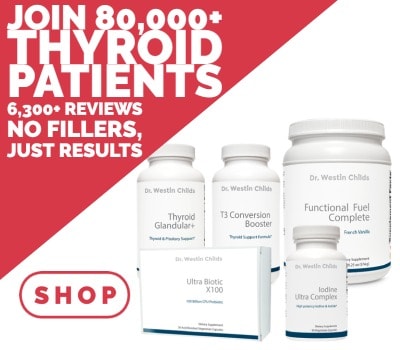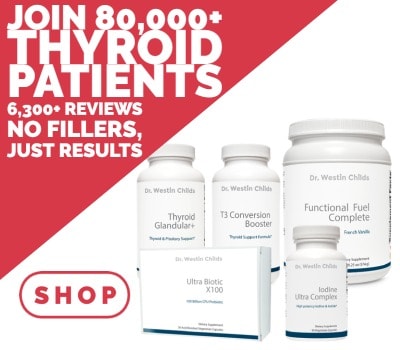 We know, for instance, that T2 is a powerful thyroid hormone and definitely exerts an effect on the body.
And it's very possible that these additional hormones are part of the reason why Armour Thyroid can be so effective for some thyroid patients.
But because these ingredients are non-standardized, it's possible (and likely) that certain lots contain more of these ingredients than others.
For this reason, you may see variability in terms of how different lots of Armour Thyroid impact your overall health.
This limitation can be solved by just adding an additional T2 thyroid hormone to your dose of Armour Thyroid by using a supplement such as this.
Additional T2 in supplement form allows for you to standardize the dose outside of Armour Thyroid and obtain the benefits mentioned previously.
Inactive Ingredients Found In Armour
In addition to the standardized and non-standardized ingredients found in Armour, you'll also be getting several inactive ingredients.
Here's a list of these ingredients and why each one is included:
Even though each dose of Armour contains a very small amount of these ingredients, don't be fooled into thinking they won't have an effect on your body.
Time and time again I've seen thyroid patients respond negatively to these ingredients, even in very small amounts.
The biggest offenders include dextrose, calcium stearate, sodium starch glycolate, and likely Opadry white.
If you are having trouble feeling well on Armour thyroid then here's where you want to look:
Armour Thyroid Not Working? Here's Why
Like any other thyroid medication, there will be some people who respond to Armour and some who do not.
If you are someone who is what I would consider a non-responder (meaning you're taking the medication and not seeing any improvement), here are a few things to consider:
Recap & Final Thoughts
Armour Thyroid is an overall solid thyroid medication that contains many additional active ingredients compared to other more popular thyroid medications like levothyroxine.
Problems that exist with the use of Armour Thyroid most often stem from its inactive ingredient profile or from complications relating to its absorption and activation in the GI tract.
While it's not the cleanest thyroid medication on the market (that honor goes to Tirosint-Sol), it's still a solid option for many thyroid patients.
Now I want to hear from you:
Did any of the ingredients listed here surprise you?
Are you currently taking Armour Thyroid? If so, how is it working for you?
If not, are you thinking about taking it after this?
If it's not working, why do you think that's the case?
Leave your questions or comments below!
Scientific References
#1. rxabbvie.com/pdf/armour_thyroid_pi.pdf
#2. pubmed.ncbi.nlm.nih.gov/9343306/
#3. ncbi.nlm.nih.gov/books/NBK537269/
#4. pubmed.ncbi.nlm.nih.gov/20080179/
#5. ncbi.nlm.nih.gov/pmc/articles/PMC7393347/
#6. pubmed.ncbi.nlm.nih.gov/12229266/