Are Your Other Prescription Medications Damaging Your Thyroid?
If you have thyroid problems then there's also a high chance that you are taking OTHER prescription medications.
But did you know that these prescription medications may actually be causing issues with your thyroid?
It's true.
While those prescription medications may be helping other conditions in your body, you should never forget about the potential negative side effects that also come with them.
And there are MANY medications that negatively impact your thyroid function in various ways.
Today we are going to discuss a list of prescription medications that you should watch out for if you have thyroid problems AND if you are taking thyroid medications.
You will learn how these medications negatively impact thyroid function, what these medications are used to treat, and how to make sure your medications are not interfering with thyroid medication (if you are taking any).
Let's jump in:
DOWNLOAD FREE RESOURCES
Foods to Avoid if you Have Thyroid Problems:
I've found that these 10 foods cause the most problems for thyroid patients. Learn which foods you should avoid if you have thyroid disease of any type.
The Complete List of Thyroid Lab tests:
The list includes optimal ranges, normal ranges, and the complete list of tests you need to diagnose and manage thyroid disease correctly!
4 Ways That Prescription Medications Interfere with Thyroid Function
There are 4 main categories in which prescription medications can interfere with thyroid hormone function.
These categories are all different but they are all required to function optimally in order for your thyroid to do its job.
Different medications cause different problems with thyroid function, so be sure to compare your medications to those listed below.
And when I talk about thyroid hormone function what I really mean is how well your thyroid is working in your body.
If your thyroid is not working properly then you will most likely feel it as you experience thyroid-related symptoms (usually hypothyroid symptoms).
Category #1. Medications that Block T4 to T3 Conversion.
The first place that medications can interfere with thyroid function is by inhibiting or blocking something known as T4 to T3 conversion.
T4 to T3 conversion is often referred to as thyroid conversion and is probably one of the most important concepts as it relates to thyroid function generally.
This conversion refers to taking the inactive T4 thyroid hormone and converting it into the active T3 thyroid hormone.
If this process is blocked or slowed down in ANY way then you will simply not have enough T3 in the body.
If your T3 levels fall then you WILL experience low thyroid symptoms.
Here are prescription medications that BLOCK this process (or slow it down):
Category #2. Medications that Block TSH Production.
These medications work by interfering with how your brain communicates with your thyroid gland.
What you may not realize is that thyroid function starts all the way in your brain in something referred to as the hypothalamic-pituitary axis.
This axis is how your body communicates with other hormone systems and it's this system that tells your body to produce hormones (or not).
There are medications that BLOCK this process from working by directly interfering with pituitary function.
These medications can be difficult to trace because pituitary problems are not often seen when you check your thyroid lab tests.
Category #3. Medications that Block Thyroid Hormone Production from the Thyroid Gland.
Prescription medications can also directly block thyroid hormone production from the thyroid gland.
These medications work by damaging the thyroid gland directly.
If your thyroid gland isn't working properly then it doesn't matter if your brain is communicating with it, because it simply won't be able to respond.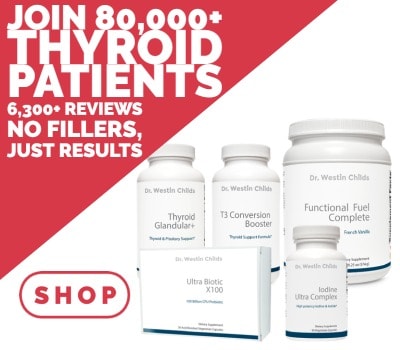 If you have a problem with your thyroid gland then your thyroid will NOT produce T4 or T3 thyroid hormone when prompted and you may start to feel hypothyroid.
These medications are typically rare, but you should be aware of them.
Category #4. Medications that Block Thyroid Medication Absorption
The last section is for those prescription medications which actually interfere with thyroid hormone.
The other medications that we've discussed cause problems with thyroid function, but this is completely different from medications that interfere with thyroid medication.
In this section, I am referring to prescription thyroid medications such as levothyroxine and Synthroid (as well as all other brands of thyroid medications such as NDT and T3) which are taken if you have low thyroid function in the body.
Many people reading this who already have baseline thyroid problems are most likely using some type of thyroid medication but if you aren't, then this information isn't super helpful to you (at least not yet!).
Make Sure you Double Check ALL Of your Prescription Medications
The moral of the story is that you should be very aware that prescription medications come with side effects and these side effects may include problems with your thyroid!
My recommendation is to take a close look at all of the prescription medications that you are taking.
If you find that any of your medications are found on the list above then ask your doctor if you can switch to another type of medication.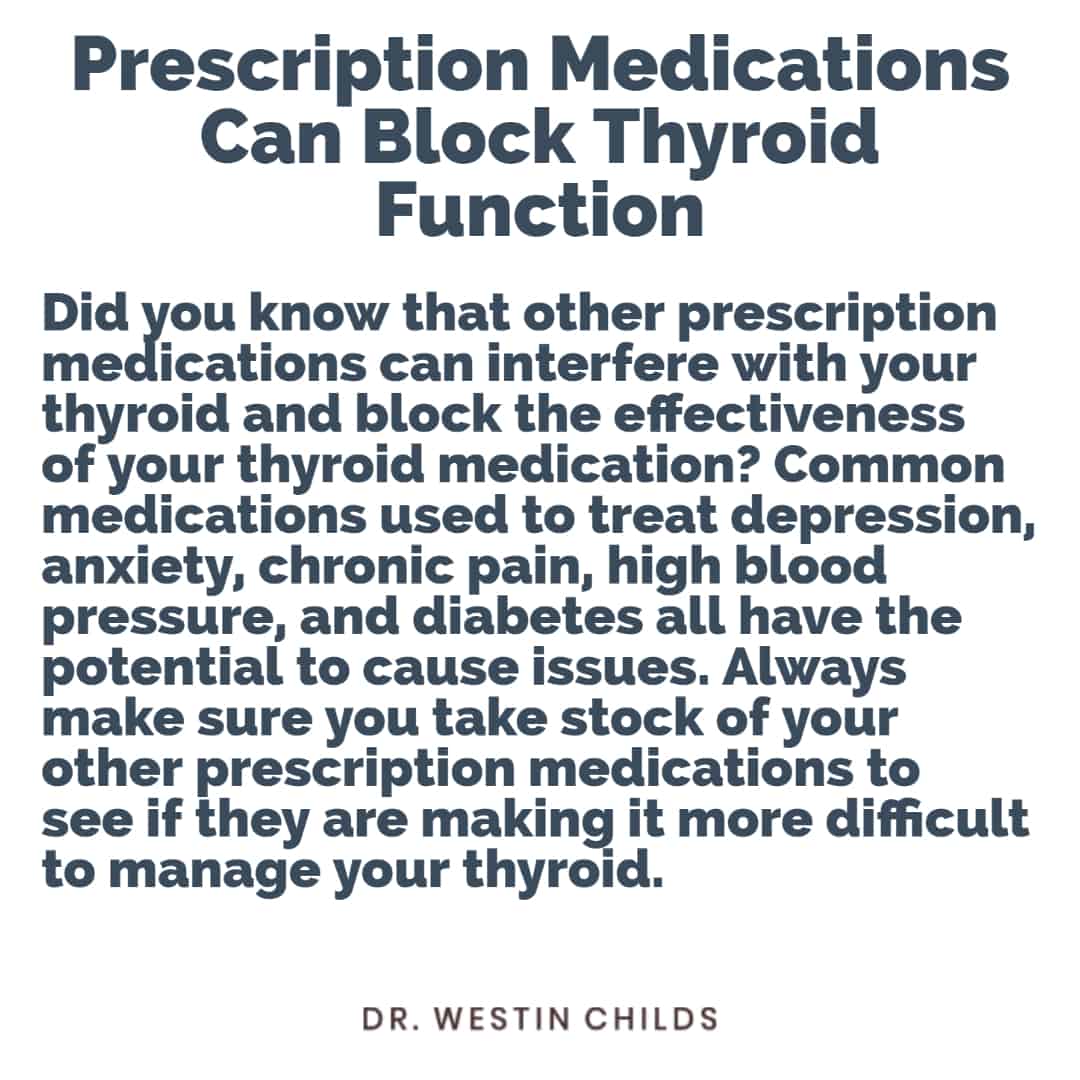 You will find that many times, switching your prescription medication may make a big difference in how you feel.
And there are plenty of other classes of medications for treatments like high blood pressure, mood disorders, depression, and so on.
In some cases, these conditions have 5+ different medications to choose from!
Now I want to hear from you:
Did you know that these medications can cause issues with your thyroid?
Are you taking any of the medications listed above?
If so, did you notice a change in how you feel or how well your thyroid was working after you started them?
Leave your questions or comments below!