It is definitely possible to get pregnant if you have thyroid problems.
But, having said that, it doesn't mean that it is easy.
The presence of thyroid dysfunction will not only make it more difficult to conceive, but it may also put your baby at increased risk of certain complications.
In this article you will learn more about the connection between your thyroid and pregnancy, how your thyroid influences your sex hormones, what happens if you get pregnant while on thyroid medication, and how to treat your thyroid naturally:
Getting Pregnant When you have Thyroid Problems
Hypothyroidism is a condition that is becoming more and more common and it is one that can absolutely affect your ability to conceive.
What is hypothyroidism?
Hypothyroidism is a medical condition that is caused when your body is unable to produce enough thyroid hormone from your thyroid gland.
The thyroid gland rests in your neck area and it produces some very important hormones.
A small disturbance in the production of these hormones may result in menstrual irregularities, PCOS-like symptoms, PMS, and other hormone-related problems.
The reason for this has to do with the interaction between thyroid hormone, progesterone, and estrogen.
Normal thyroid hormone production is required for your body to regularly ovulate. If you don't ovulate regularly, or have anovulatory cycles (1), then you reduce your risk dramatically of getting pregnant (2).
Hypothyroidism is also closely linked with progesterone. Women who have hypothyroidism often present with the symptoms of low progesterone and they tend to have low serum progesterone when their blood work is checked.
By the way, I'm specifically focusing on hypothyroidism in this article but hyperthyroidism can cause similar issues.
So it's important to realize that thyroid problems of any cause may potentially lead to difficulties in conception.
Don't let this scare you, though, because it is absolutely possible to get pregnant if you have thyroid issues it just becomes a lot more difficult.
In my experience, I've found that many women with hypothyroidism or Hashimoto's often get pregnant (rather easily) once they are treated appropriately.
That means getting on the right type of medication, balancing hormones including thyroid and other sex hormones, and improving lifestyle/diet.
DOWNLOAD FREE RESOURCES
Foods to Avoid if you Have Thyroid Problems:
I've found that these 10 foods cause the most problems for thyroid patients. Learn which foods you should avoid if you have thyroid disease of any type.
The Complete List of Thyroid Lab tests:
The list includes optimal ranges, normal ranges, and the complete list of tests you need to diagnose and manage thyroid disease correctly!
Is it Safe to get Pregnant if you have Thyroid Issues?
Not only is thyroid function important for getting pregnant it's also very important for the health of your baby (3).
When you are pregnant, and your baby is developing, he or she will be dependent upon your thyroid function for a while.
This means that it's important for you to have a fully functioning thyroid gland in order to prevent developmental issues while your baby is growing.
Babies born to women who do not have optimal thyroid function tend to have problems ranging from birth defects to neurological issues and even a lower-than-normal IQ after birth (4).
For these reasons, it's very important that you optimize your thyroid function before you get pregnant!
So, is it safe to get pregnant if you have thyroid issues?
The answer is yes, but you must be treated appropriately to avoid issues during pregnancy.
Again, don't let this information scare you but it's important to have an understanding before you jump in.
Many women, each and every year, get pregnant and have children with thyroid-related issues (some of them may not even know it) and their babies are just fine.
But, if you want to give your child the best chance and best health outcomes later in life, then you want to pay close attention to your own thyroid function.
How to Tell if you have a Thyroid Problem (Before you Conceive)
It's fairly easy to diagnose thyroid-related issues, as long as you have a little bit of knowledge.
Because of the important role that your thyroid plays in many systems in the body, it's often difficult to miss the diagnosis.
The symptoms associated with hypothyroidism are relatively easy to diagnose and hard to miss.
The more nuanced cases, such as those who only have minor thyroid dysfunction can be more difficult to spot, but the more obvious cases (the ones that tend to cause pregnancy issues) are rarely missed.
The symptoms of hypothyroidism include:
Fatigue (ranging from mild to severe)
Weight gain (ranging from mild to moderate)
Hair loss
Dry skin
Cracked/dry nails
Menstrual irregularities
Pain in your muscles or joints
Depression/anxiety (unexplained)
Eyebrow hair loss
Cold body temperature
Constipation
If you have any of these symptoms AND you are trying to conceive (perhaps you even have had difficulty already) then you'll want to get evaluated for thyroid-related issues.
You can do this with some simple lab tests.
It's important to understand, though, that there is a difference between optimal and 'normal' thyroid function.
The way that your regular primary care physician looks at your thyroid and the way that your reproductive endocrinologist looks at the thyroid is completely different.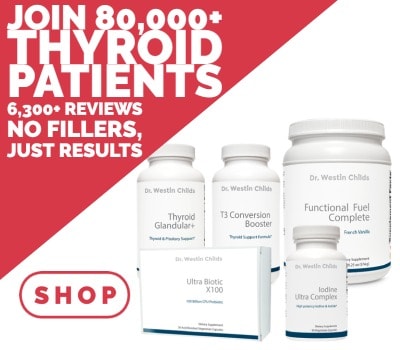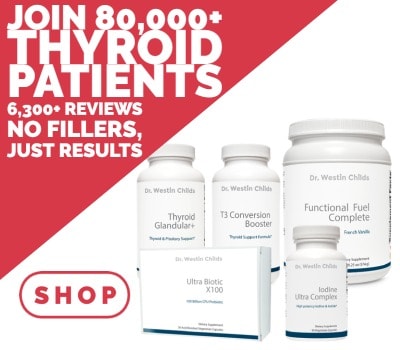 Reproductive endocrinologists often realize that even slight changes to thyroid function (which can be missed on regular tests) can impact your ability to get pregnant.
Because of this, these physicians tend to use tighter reference ranges as opposed to the more general and large reference ranges that regular Doctors may look at.
You can get more familiar with these tighter reference ranges by reading this article which goes into detail on this idea.
Thyroid Medication During Pregnancy
Understanding how pregnancy impacts thyroid function is also very important.
Once you are pregnant, the demand for thyroid hormone production increases immediately in your body.
Your body has to produce enough thyroid hormone for both you and your baby (at least initially).
In some cases, this increased demand can strain an already overworked thyroid and can exacerbate or uncover mild thyroid disease (5).
If you fit into this category you may start to experience some of the symptoms of hypothyroidism that I've listed above.
But what if you are already taking thyroid medication and you become pregnant?
This is another really important scenario.
Once you start taking thyroid medication your own body starts to shut off the natural production of thyroid hormone.
In effect, you become reliant upon thyroid medication as the primary source of thyroid hormone in your body.
You can probably see how this is a potential issue if you are taking thyroid medication.
How can your body increase thyroid hormone production if it's being shut down by the use of thyroid medication?
It can't.
This means that you have to increase your dose of thyroid medication once you find out that you are pregnant.
The standard recommendation is to roughly double whatever your existing dose of thyroid medication was prior to pregnancy (6).
This doubling of thyroid medication is felt to be sufficient to provide enough thyroid hormone for both you and your unborn baby.
My opinion is that you don't necessarily need to double your medication, but you do absolutely need to make sure that you have enough T3 thyroid hormone (the active thyroid hormone).
To get to this point sometimes you do need to double your existing dose but other times you just need to swap to a different medication (one that contains T3).
Fix your Thyroid Issues Before Trying to Conceive
While it is still very possible to get pregnant while you have thyroid issues, I don't think this is the best approach.
A better approach is to try and get your thyroid under control before you even start thinking about getting pregnant.
There are so many things that influence your thyroid including the type of food that you eat, the supplements that you take, nutrient deficiencies in your body, other hormone levels, and how much you exercise.
Each of these factors not only influences your thyroid but also other sex hormones in your body (such as testosterone, estrogen, and progesterone).
If you address these big issues you will be able to get pregnant much easier than otherwise, you'll be able to handle your pregnancy better, and you'll have a much easier time in the postpartum period.
If you walk into your pregnancy with these hormone issues you may still have a safe pregnancy and a healthy child at the end, but you are putting your body through an unnecessary amount of stress which may lead to weight gain and depression afterward.
Fixing your thyroid doesn't mean that you have to completely 'cure' your condition (it may not even be possible) but it does mean that you should at least address the issues I listed above.
Some women are able to clean up their diet, take the right thyroid medication, and use some high-quality supplements, and they are good to go.
Natural Treatments to Improve Your Thyroid
So what can you do to help optimize your thyroid?
Believe it or not, there are actually many different natural therapies that you can take advantage of right now to help improve your thyroid.
Let me be clear though:
These options are not necessarily a 'cure' for your thyroid disease, instead, they should always be combined with thyroid medication if that is something that you need to be on.
These therapies are designed to help eliminate factors and variables that can be blocking your thyroid from functioning at 100%.
Natural treatments that you can use to improve your thyroid include:
Eat a healthy, whole-food diet (one that is rich in zinc, selenium, and iodine. These nutrients help your thyroid function.)
Exercise regularly (but make sure not to overexercise or you may do more harm than good, you can read more about how much you should be exercising in this post)
Take a multi-vitamin to replete minerals and nutrients you may be deficient in
Use thyroid boosting supplements to help enhance thyroid function in your body (thyroid boosting supplements help your body produce more thyroid hormone and help your body convert inactive thyroid hormone into active thyroid hormone)
Improve your gut health (this can be done with diet, but you may also need probiotics or enzymes as well. Probiotics can also help improve hormone balance and lead to weight loss)
Manage your stress! (take adrenal adaptogens if necessary to help your body tolerate stress, these supplements are great if you suffer from stress on a day-to-day basis)
Avoid endocrine disruptors (7) found in plastics, certain foods, and dairy products
Drink plenty of filtered water (enough to help your body eliminate necessary toxins)
Avoid xeno-estrogens (8) (found in dairy products, foods, and chemicals)
Lastly, if necessary make sure that you take your thyroid medication!
You may find that you do better on combination T4 + T3 thyroid medications such as Armour thyroid or NP thyroid (you may need to switch from your current thyroid medication).
Conclusion
It is definitely possible to get pregnant if you have thyroid problems!
Having thyroid problems does, however, make both getting pregnant and dealing with pregnancy slightly more difficult and this is something that you should be aware of.
My advice is to make sure that you deal with and treat any thyroid problems that you may have before you get pregnant.
You can easily identify the presence of thyroid disease by looking at basic lab tests and by following your symptoms.
If you do become pregnant, and you are taking thyroid medication, make sure that you take enough thyroid medication!
Lastly, if you want to naturally improve your thyroid function you can take advantage of the natural therapies listed above.
Now I want to hear from you:
Are you currently trying to get pregnant?
Do you have or do you suspect that you have thyroid problems?
What have you done for them? Has anything worked?
Leave your questions or comments below!
Scientific References
#1. https://www.ncbi.nlm.nih.gov/pmc/articles/PMC2808395/
#2. https://www.ncbi.nlm.nih.gov/pmc/articles/PMC3136077/
#3. https://www.ncbi.nlm.nih.gov/pmc/articles/PMC3603018/
#4. https://www.ncbi.nlm.nih.gov/pmc/articles/PMC4684651/
#5. https://www.ncbi.nlm.nih.gov/pmc/articles/PMC4855970/
#6. https://www.ncbi.nlm.nih.gov/pmc/articles/PMC4873573/
#7. https://www.ncbi.nlm.nih.gov/pubmed/21939731
#8. https://www.ncbi.nlm.nih.gov/pubmed/12456297