Looking for some AIP-friendly dinners to help put your Hashimoto's at ease? I have you covered…
If this is the first time you have heard about AIP, let me fill you in:
AIP stands for the autoimmune protocol and it's a popular diet used to help treat Hashimoto's thyroiditis.
It's a restrictive diet that removes common food allergens with the goal of helping cool down thyroid gland inflammation and subdue thyroid antibodies.
I'm not a big fan of using the AIP diet for a prolonged period of time, but it's great if you are in a flare-up or if you are trying to reset your thyroid.
Either way, enjoy!
*Note: These recipes were not created by me, I'm just curating them for you so if you love the recipes, make sure to follow the creators on social media for more great recipes!
DOWNLOAD FREE RESOURCES
Foods to Avoid if you Have Thyroid Problems:
I've found that these 10 foods cause the most problems for thyroid patients. Learn which foods you should avoid if you have thyroid disease of any type.
The Complete List of Thyroid Lab tests:
The list includes optimal ranges, normal ranges, and the complete list of tests you need to diagnose and manage thyroid disease correctly!
#1. Ground Beef And Broccoli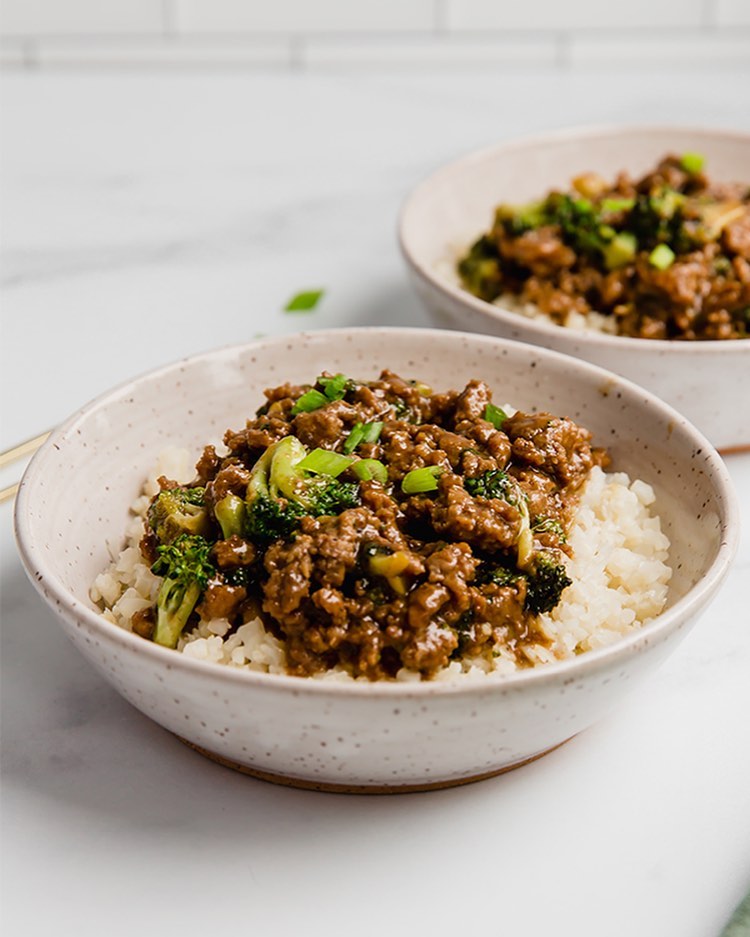 Photo and recipe credit Unbound Wellness.
INGREDIENTS:
1/2 cup coconut aminos
1/3 cup beef broth (sub water)
2 tsp apple cider vinegar
1 tbsp coconut sugar (omit for whole30)
1 tbsp + 2 tsp arrowroot starch
2 tsp garlic powder
1 tsp ginger powder
2 tbsp avocado oil
2 cups broccoli florets
3/4 tsp sea salt
1/4 tsp black pepper (omit for AIP)
1 lb ground beef
2 tbsp green onion, chopped
#2. Grain-Free AIP Pizza Crust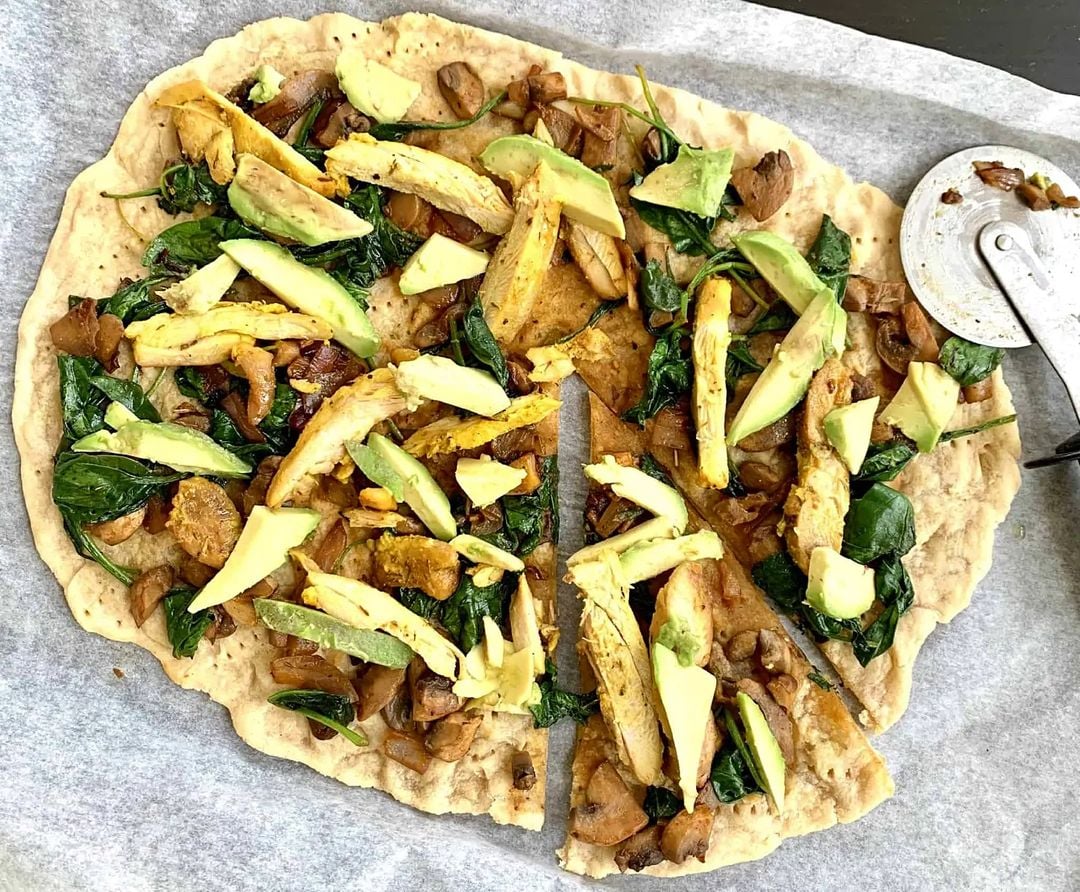 Photo and recipe credit cook2nourish.
INGREDIENTS:
1 cup cassava flour (I recommend only Otto's or Anthony's brands)
2 tbsp tapioca flour/starch
½ tsp sea salt
1 tsp nutritional yeast
¼ cup coconut milk
2 tbsp extra virgin olive oil
¾ cup hot water
#3. AIP Salted Cod in Coconut Milk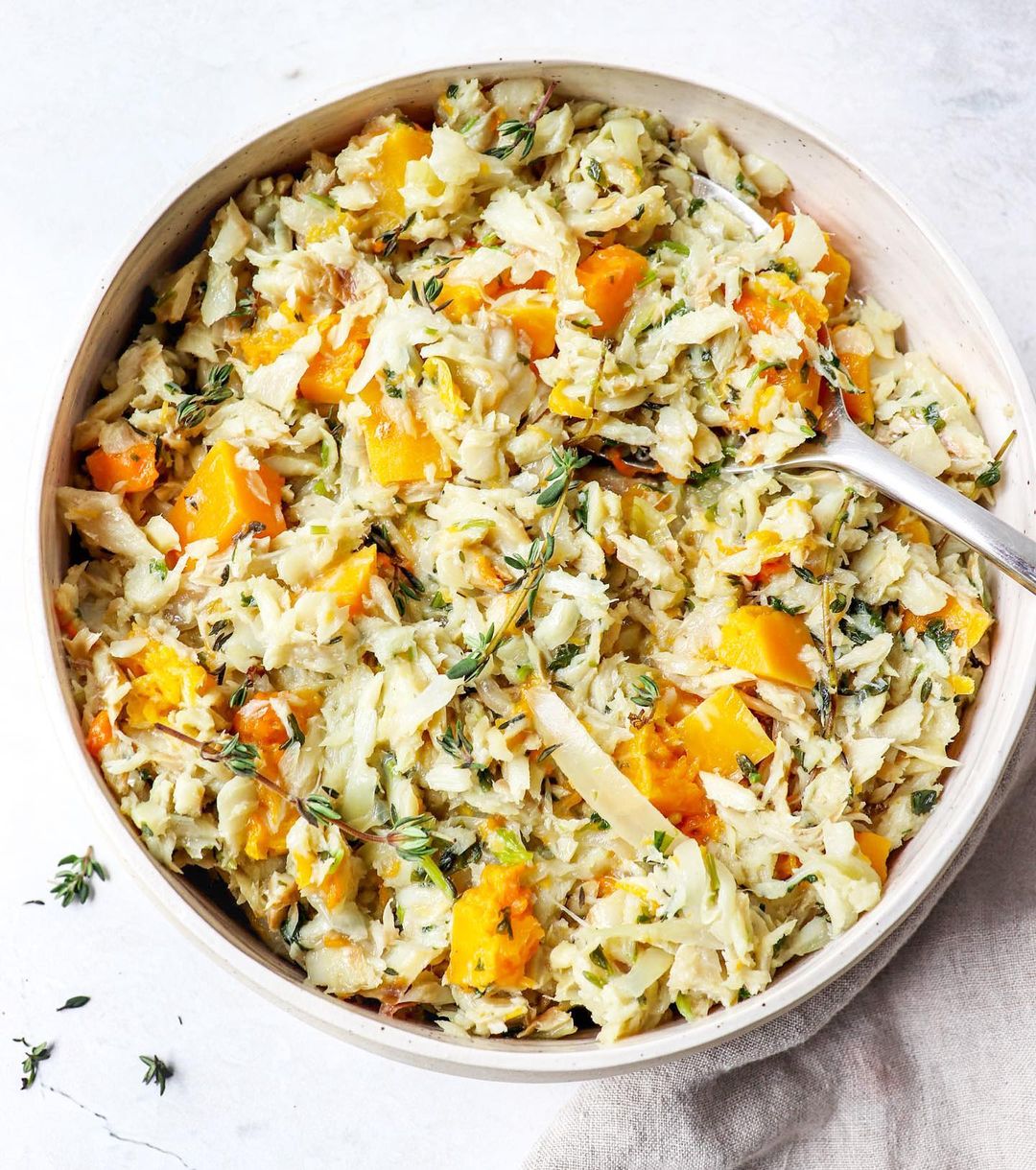 Photo and recipe credit healmedelicious.
INGREDIENTS:
1 medium yellow onion, thinly sliced
4–6 sprigs of fresh thyme
2 TBSP cilantro, chopped
1/4 cup butternut squash (fresh or frozen), cubed
1 cup full-fat coconut milk, additive-free
2 TBSP coconut oil
1 pack of deboned salted cod fish (300–340 g) see notes above for using fresh cod
Water for soaking and boiling the salted cod fish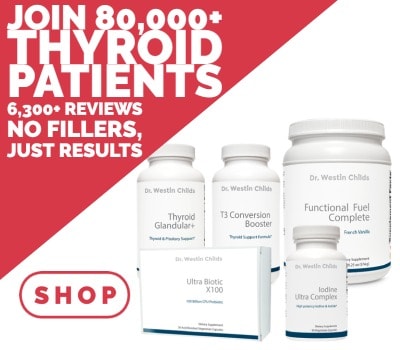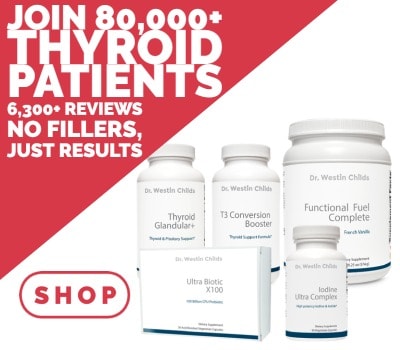 #4. Sheet Pan Lime Shrimp Fajitas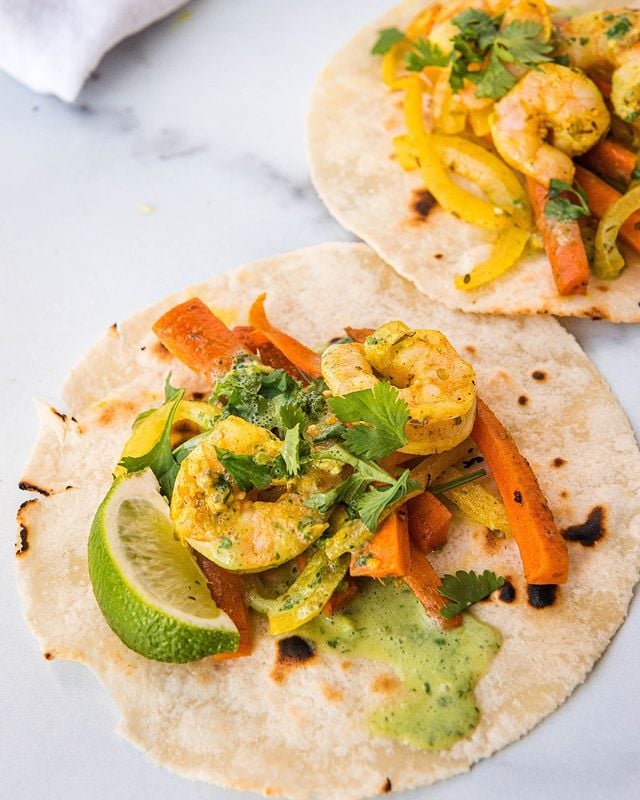 Photo and recipe credit thrivingautoimmune.
INGREDIENTS:
1/3 cup Avocado Oil (or Olive Oil or Coconut Oil)
2 Limes (both the juice and zest of)
1/2 tsp Sea Salt
2 cloves Garlic (minced)
2 tsp dried Oregano
1 tsp ground Ginger
1/2 tsp ground Turmeric
1/2 tsp Cinnamon
1 lb Raw, peeled, and deveined Shrimp (thawed if frozen)
3 large Carrots (cut into thin matchsticks)
1 large Yellow Onion (sliced thinly)
For serving:
1/4 cup fresh Cilantro (chopped)
Lime wedges
Lettuce Leaves, Cabbage Leaves, Tortillas that fit in your diet, or thinly sliced Jicama rounds
For the Lime Crema:
1/2 cup Coconut Milk (or Tigernut Milk (or dairy-free milk of choice if not on AIP))
1 Lime (juice and zest)
1/4 cup fresh Cilantro
1/4 tsp Sea Salt
#5. Hidden Veggie Meatloaf with Chicken & Lamb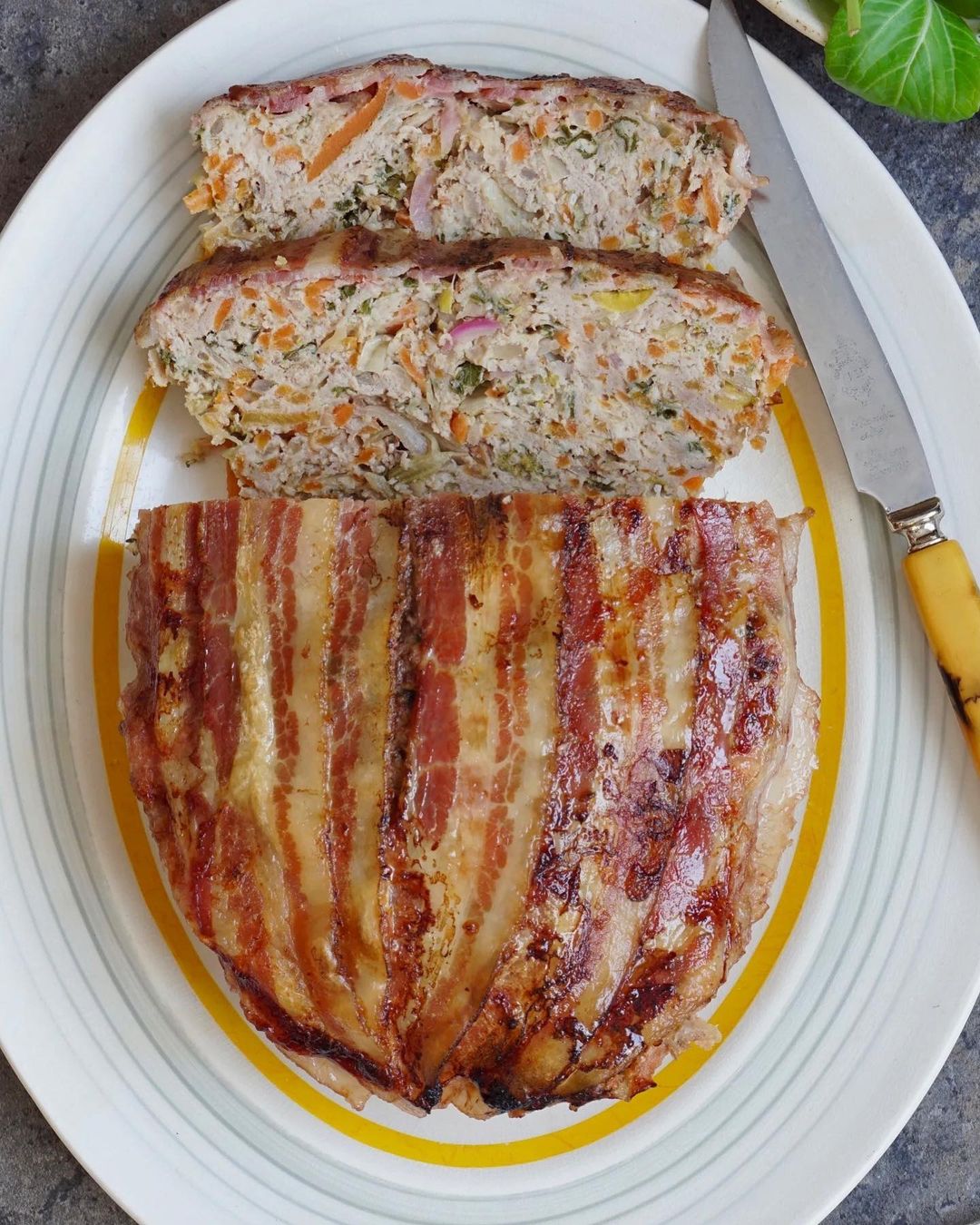 Photo and recipe credit healing_family_eats.
INGREDIENTS:
3/4 lb ground chicken
1 lb ground lamb
2 medium carrots, grated
3 radishes, grated
3 oz fennel, grated and chopped fronds
4 inches white part of leek, thinly sliced
6 fresh sage leaves, finely chopped
1/2 cup finely chopped fresh curly parsley
1 tsp fresh thyme leaves
generous pinch of sea salt
5-6 slices nitrate-free bacon
#6. AIP Tender & Tangy Brisket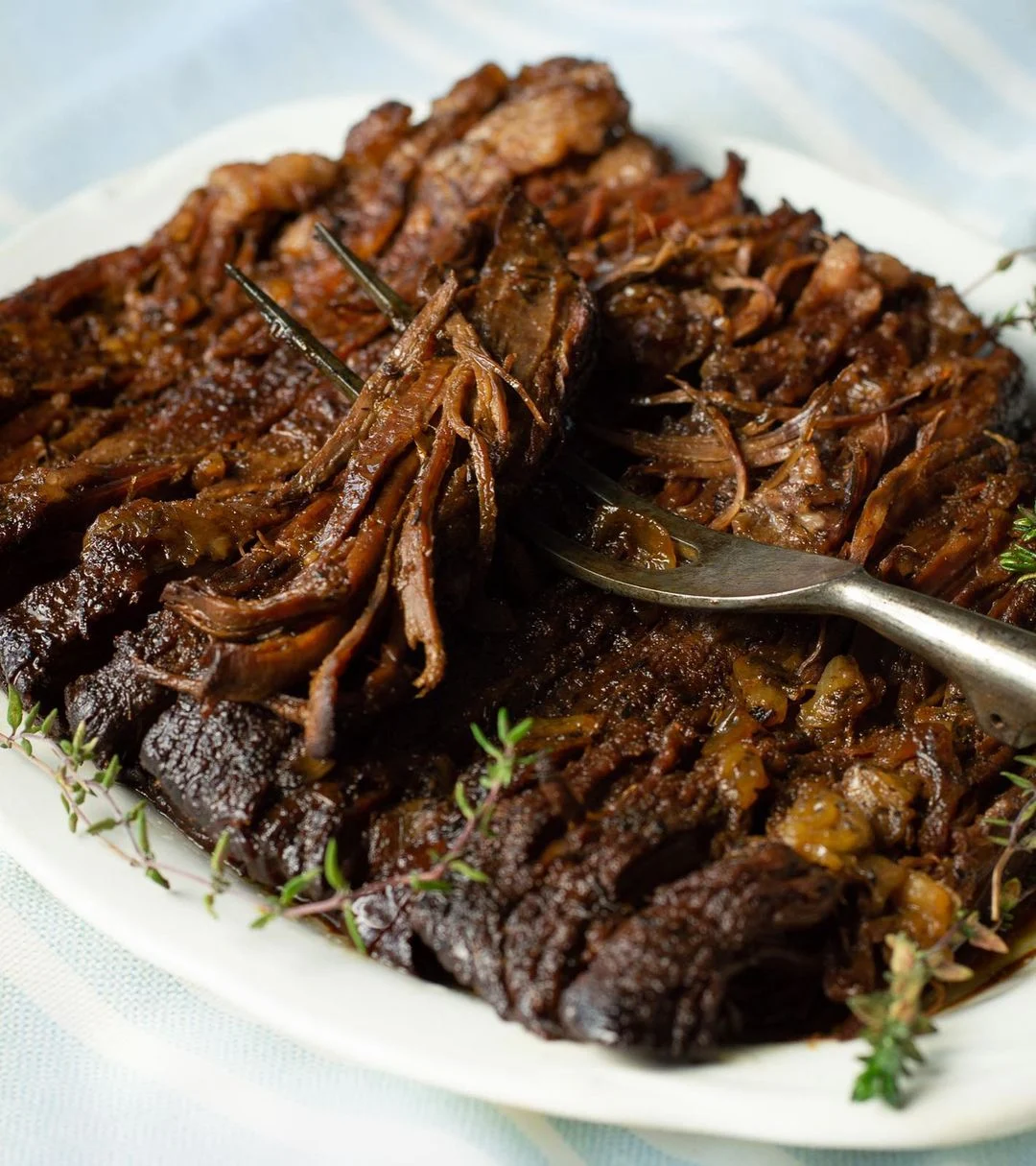 Photo and recipe credit wwhfoodphotography.
INGREDIENTS:
2 TBSP coconut oil or avocado oil
1 TBSP unrefined sea salt
1 PLAIN brisket, 3 pounds (NOT corned beef brisket)
1 cup sliced onions
1/2 cup organic apple cider vinegar
1/3 cup bone broth
1/3 cup unsulphured organic molasses
2 tsp dried thyme
2 tsp garlic powder
2 bay leaves
3 cups roughly chopped carrots and parsnips (optional)
#7. Sheet Pan Salmon & Bok Choy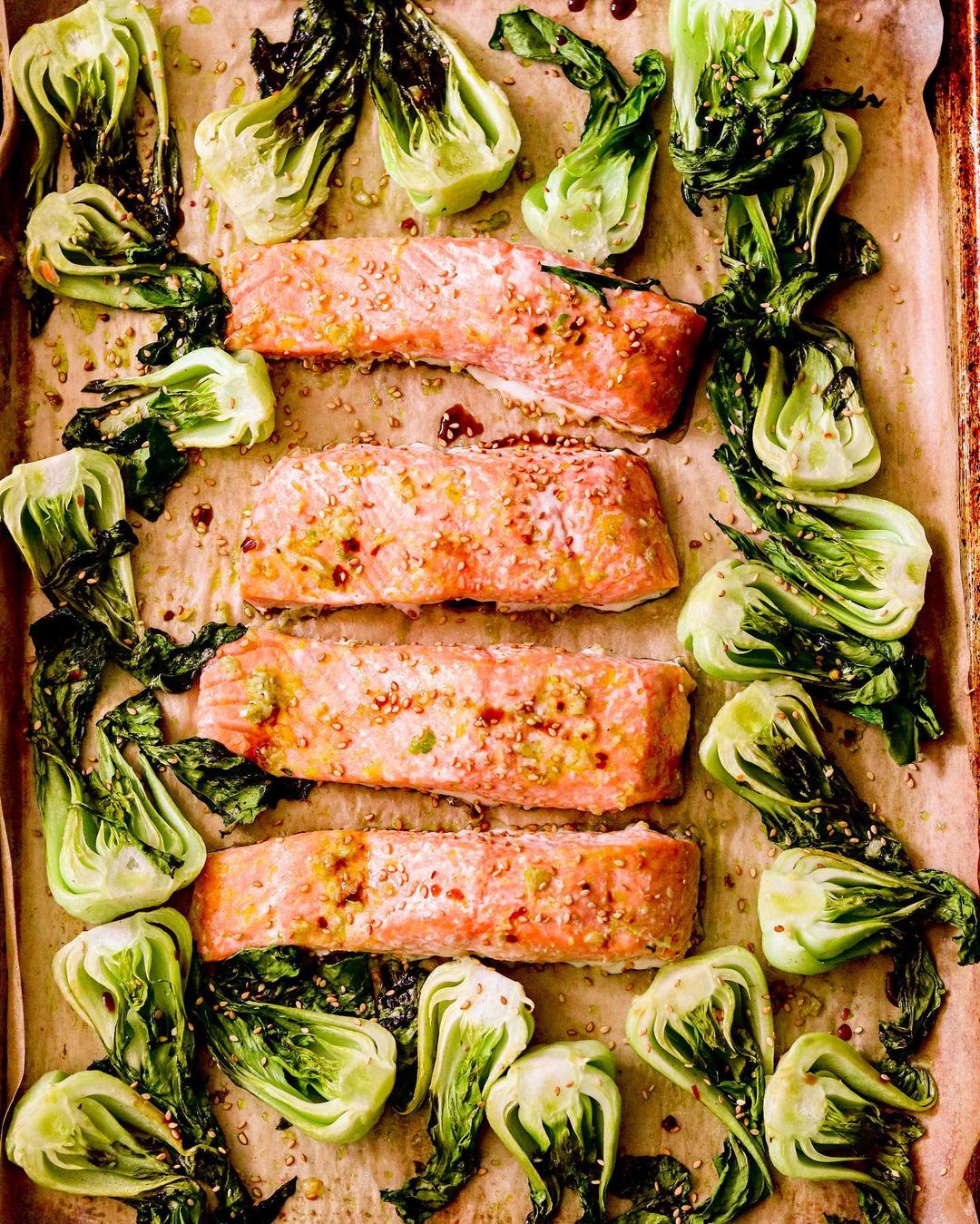 Photo and recipe credit whatgreatgrandmaate.
INGREDIENTS:
4 salmon filets
12 baby bok choy
3 tbsp avocado oil or your favorite cooking oil, melted
4 garlic cloves minced
Optional: 1/4 tsp red pepper flakes or more to taste (omit for AIP)
3/4 tsp sea salt
1-2 tsp coconut aminos or soy sauce for keto
Optional: toasted sesame seeds for garnish (omit for AIP)
#8. Chicken Soup with Cauliflower Dumplings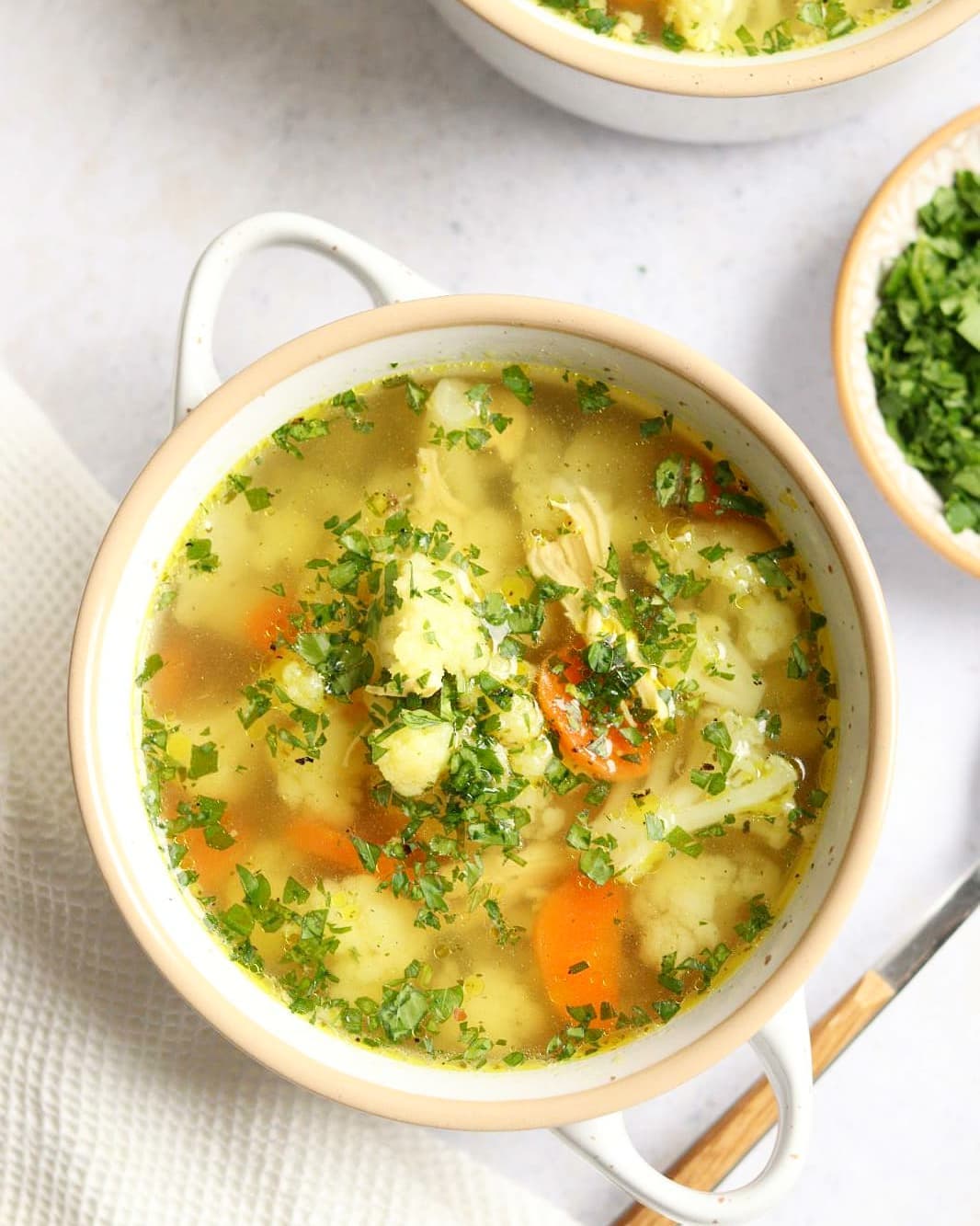 Photo and recipe credit sweetlemon.r.
INGREDIENTS:
3 carrots cut lengthwise
1 parsnip (or parsley) can be both
A medium piece of celery
1 large onion
4 cloves of garlic
Chicken cutlery (back, breast carcass, legs, skin, everything related to cutlery…)
A bunch of cauliflower
2 bunches parsley
Soup spices
Optional: pepper (omit if on AIP diet)
INSTRUCTIONS:
*Note: this recipe was translated from Romanian but you can follow the creator and find more recipes here.
#9. Korean Glass Noodles with Ground Beef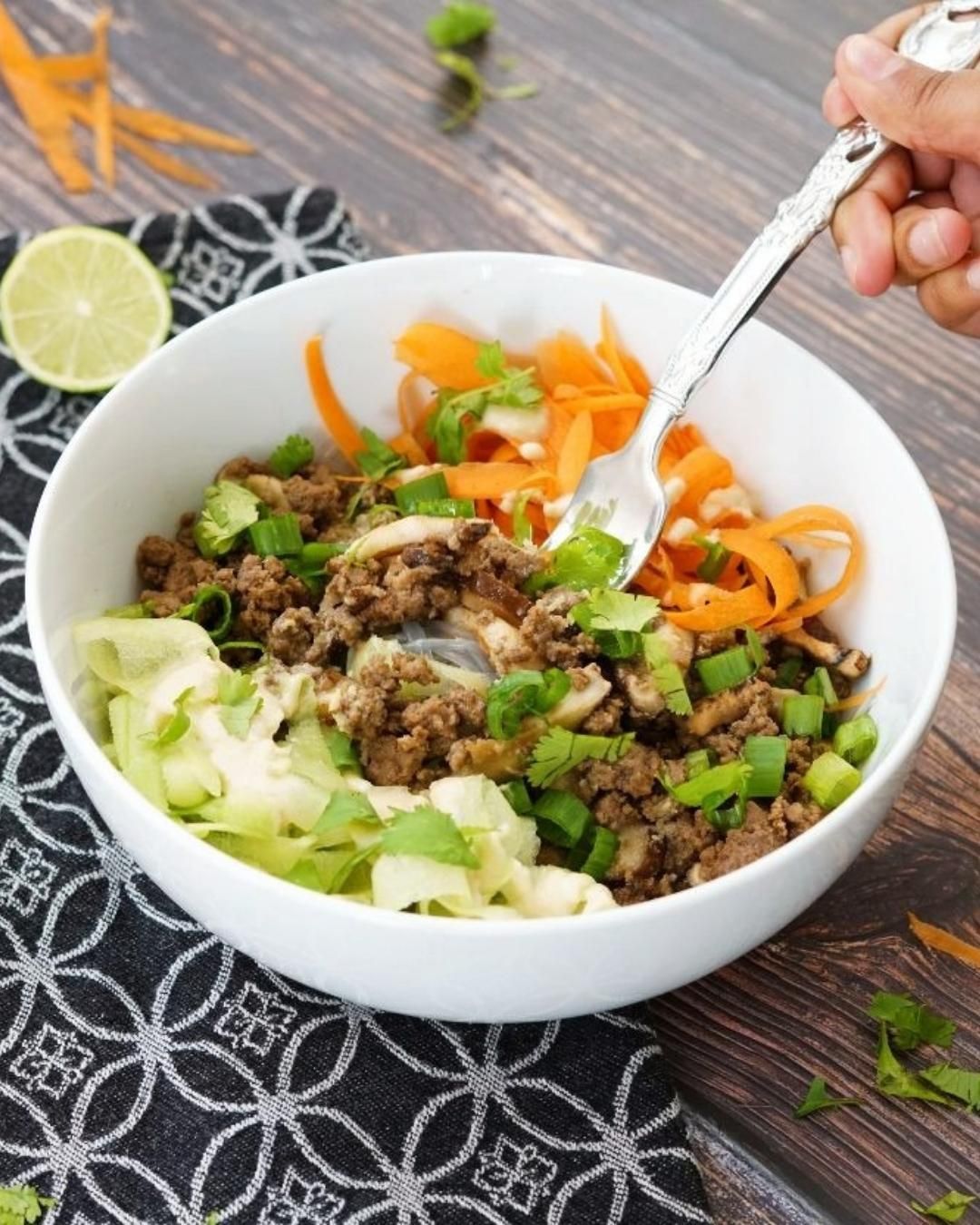 Photo and recipe credit foodcourage.
INGREDIENTS:
Noodles
1 3.5 oz package of sweet potato glass noodles
Sauce
1/4 cup coconut cream
1/2 tsp fresh grated ginger
2 tsp lime juice
2 tsp white wine vinegar
1 tbsp coconut aminos
1/4 tsp garlic powder
1/4 tsp sea salt
1 tsp honey
Main Dish
1 tbsp olive oil
1 pound ground beef
8 oz shiitake mushrooms, sliced
1/2 tsp onion powder
1/2 tsp garlic powder
1/2 tsp salt
1/2 tbsp white wine vinegar
1 tbsp coconut aminos
2 carrots, peeled into ribbons
1 cucumber, peeled into ribbons
Garnish
green onions, thinly sliced
cilantro, chopped
#10. AIP Shepherd's Pie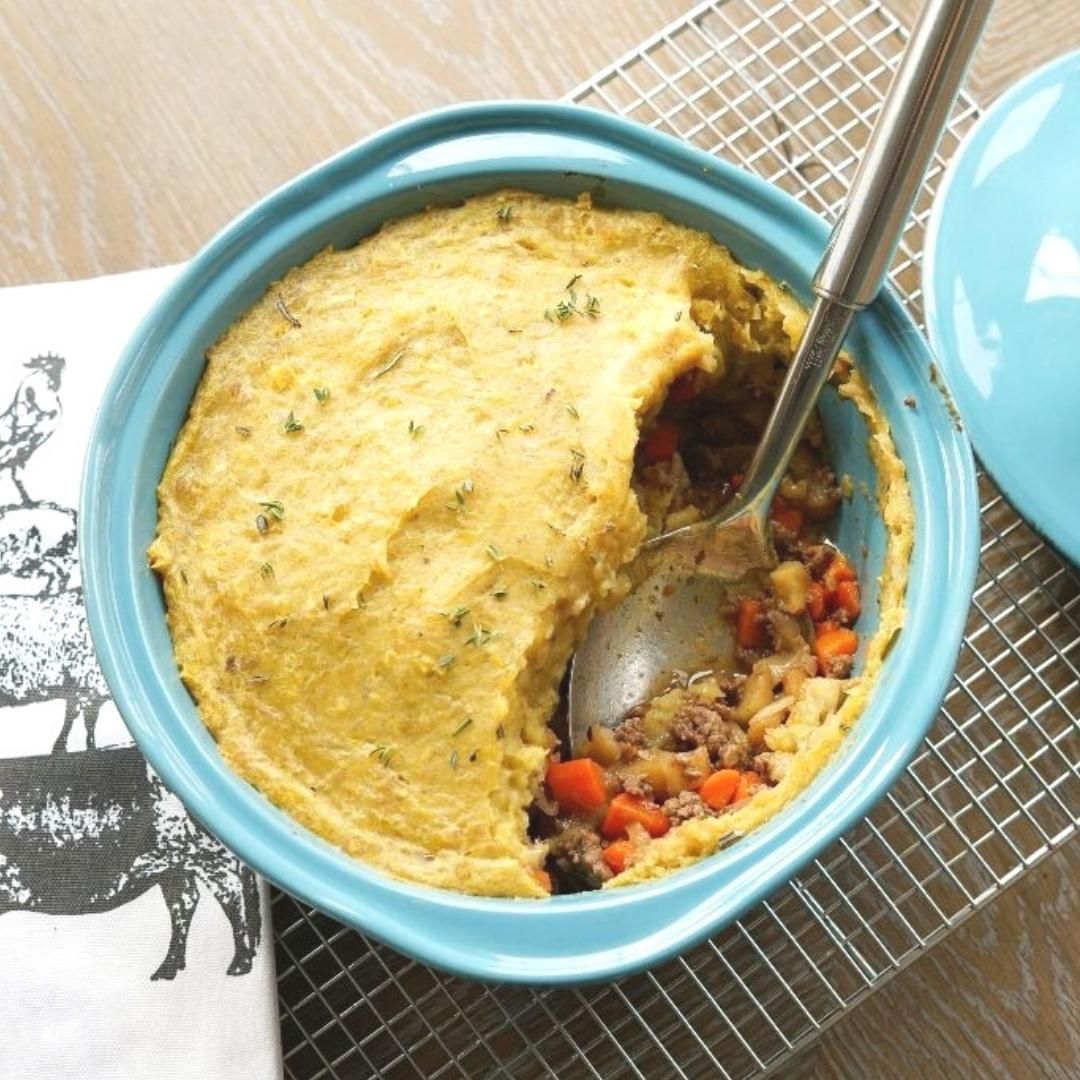 Photo and recipe credit foodcourage.
INGREDIENTS:
Mashed "Potatoes"
4 large green plantains
3 tbsp coconut oil
1 cup water (reserved from boiling the plantains)
1 tsp sea salt
Fillings
1 tbsp olive or avocado oil
1 cup yellow onion, diced (about 1/2 an onion)
2 cups carrots, diced small (3-5 medium carrots)
2 cups parsnips, diced small (1-2 parsnips)
3 cloves garlic, minced
1 pound ground beef (less than 15% fat)
2 tsp fresh rosemary, finely diced
1 tsp fresh thyme, finely diced
1 1/2 tsp sea salt
1 cup chicken broth or beef broth
1/2 tbsp apple cider vinegar
1 tbsp coconut aminos
1 tbsp arrowroot starch
2 tbsp cold water