Can you cure your thyroid problem with the use of food?
Not exactly, but eating the right foods can provide your body and thyroid with the exact nutrients that your thyroid needs to function.
And doing this may…
Pretty much every thyroid patient has a desire to feel better and they pretty much all know that diet has some impact on how they feel.
This is exactly why I created the Perfect Thyroid Diet.
Born out of research, experience, and a whole lot of testing, it's designed to provide your body with the right combination of foods to support your thyroid.
If you are looking for a simple (but not necessarily easy) meal plan designed to fit the exact needs of thyroid patients, then this is the diet for you.
What is the perfect thyroid diet?
Allow me to explain:
DOWNLOAD FREE RESOURCES
Foods to Avoid if you Have Thyroid Problems:
I've found that these 10 foods cause the most problems for thyroid patients. Learn which foods you should avoid if you have thyroid disease of any type.
The Complete List of Thyroid Lab tests:
The list includes optimal ranges, normal ranges, and the complete list of tests you need to diagnose and manage thyroid disease correctly!
In a Nut-Shell:
The perfect thyroid diet is a whole-food-based diet designed to simplify the crazy world of nutrition that we live in.
If you are a thyroid patient who doesn't know where to start or what to eat because you've been told that just about everything can either help or hurt your thyroid, then this is for you.
The perfect thyroid diet takes into account my current research and understanding of nutrition and its impact on thyroid health.
The goal of this diet is to provide you with highly nutritious meals that are relatively easy to prepare, that will provide you with results, and take into account the highly specific needs that you have as a thyroid patient.
This means factoring in calories, protein, carbohydrates, polyphenols, iodine content, inflammatory fats, thyroid symptoms, hormones, and more.
From the ground up, this diet has been designed for people just like you who suffer from thyroid problems and it's all available to you here right now right now.
Ready to get started?
Here's what you'll need:
Kitchen Tools and Appliances:
Meals:
Meal #1. Fruit and Vegetable Morning Protein Smoothie
This morning smoothie is jam-packed with bioactive compounds from incredibly nutritious berries and vegetables with the intent to keep your immune system in check, keep you full for hours, stoke your metabolism, and promote better gut function.
It's also designed to help you get essential fatty acids (both omega-3 and omega-6) with an amino acid profile ideal for maintaining muscle health.
Here's how to make it.
You can have this meal at any time of the day but I would recommend having it in the morning.
Ingredients:
2 ounces of orange juice (not from concentrate)
2 ounces of pomegranate juice (fresh if possible but from concentrate is ok)
6 ounces of water
20 grams of plant-protein powder (you can increase your protein intake based on your needs)
15 grams of hemp hearts
15 grams of chia seeds
~120 grams of frozen banana (roughly one medium-sized banana)
140 grams of frozen berries (strawberries, blueberries, blackberries, or raspberries, your choice)
2 cups of greens (spinach, chard, or kale)
Instructions:
Place ingredients into a high-powered blender in this order:

Liquid
Protein powder
Frozen fruit
Chia seeds and hemp hearts
Greens

Blend on high for ~2 minutes until desired consistency is reached.
Enjoy right away!
Nutrition facts for this meal:
Calories 499
Total fat 13 grams (17%)

Saturated fat 0.9 grams (5%)

Cholesterol 1mg (0%)
Sodium 292mg (13%)
Total carbohydrates 74.3 grams (27%)

Dietary fiber 15.4 grams
Total sugars 41.6 grams

Protein 28.6 grams
What's included and why:
Orange juice – Orange juice contains a concentrated source of multiple flavonoids including naringin and naringenin (1). These flavonoids have anti-inflammatory properties and have been shown to help with weight loss, diabetes, high blood pressure, and high cholesterol. You can safely consume up to 2 cups of orange juice per day without having any impact on your weight (2) so don't worry about the sugar in this incredibly healthy juice.
Pomegranate juice – Pomegranate juice is included because it contains powerful polyphenols such as ellagic acid. Daily consumption of pomegranate juice has been shown to help decrease heart disease, reduce blood pressure, and decrease inflammation without causing weight gain (3).
Hemp hearts – Hemp hearts contain essential omega 6 fatty acids and GLA known as gamma-linolenic acid (4) (found predominately in breast milk). In addition to their high protein content, hemp hearts protect the heart, lower blood pressure, and provide anti-inflammatory cytokines.
Chia seeds – Chia seeds provide a load of fiber, and essential fatty acids in an almost perfect ratio (0.3:0.35 of omega 6 fatty acids to omega 6 fatty acids), and they are loaded with polyphenols. Chia seeds are one of the highest omega 3 fatty acid foods available (5) and just 1/2 a serving will provide roughly 3x the omega 3 fatty acid level that most women get daily.
Protein powder – Because the Perfect Thyroid Diet is primarily plant-based, you'll want to ensure that you get enough protein to support skeletal muscles (which are thyroid-responsive tissues). Most thyroid patients are not getting enough protein which is why adding extra to this meal is important. The recommended protein powder here provides 20 grams of protein for 100 calories which is an incredibly favorable protein-to-calorie ratio for plant-based protein.
Berries – Berries provide a huge number of bioactive compounds (6) (including plant-based polyphenols) which exert a number of beneficial effects but what we're interested in here is their anti-inflammatory and immune balancing effects. They, of course, also benefit other areas including metabolic health, heart health, and cholesterol.
Banana – The banana in this recipe is primarily here for flavor and sweetness but it also provides bioactive compounds and multiple minerals including magnesium, iron, copper, and zinc (all of which are important for thyroid health).
Greens – You can essentially hide 2 cups of greens (kale, spinach, or chard) in this smoothie because of the sweetness from the other ingredients. The two cups here are important because, between the vegetable hummus and this smoothie, you'll get all of your servings of vegetables (and all of their benefits) each day.
Meal #2. Collagen and Protein Shake with Macadamia Nuts and Dark Chocolate
Your next meal is a protein shake but a different kind than the first.
While it does contain protein, it contains a different blend of amino acids in the form of collagen.
The goal here is to get you nutrients that would otherwise be difficult to obtain without consuming far more calories.
Ingredients:
For the collagen protein shake:
20 grams of plant protein
20 grams of collagen
1 teaspoon of Ceylon cinnamon
2.5 grams of creatine
250 mg of cocoa flavonols
The macadamia nuts and dark chocolate snack:
1 serving of macadamia nuts
2 ounces of dark chocolate (at least 70% dark chocolate but higher is preferred)
Instructions:
Add 8-12 ounces of purified water into a blender.
Weigh out and add:

20 grams of plant-based protein powder
20 grams of collagen (make sure to use 20 grams and not just one scoop)
Roughly 1 teaspoon of Ceylon cinnamon (use over Saigon cinnamon)
2.5 grams of creatine monohydrate
Roughly 500 mg of cocoa flavonols in powder form (this is not the same as cocoa powder)

Blend or pulse the ingredients until they are mixed together (this will only take about 5-10 seconds).
Enjoy immediately.
In addition to this protein shake, you can also have 1 serving of macadamia nuts and 2 ounces of dark chocolate.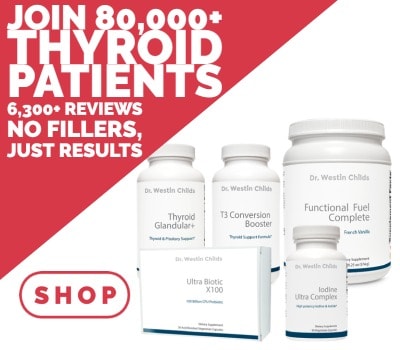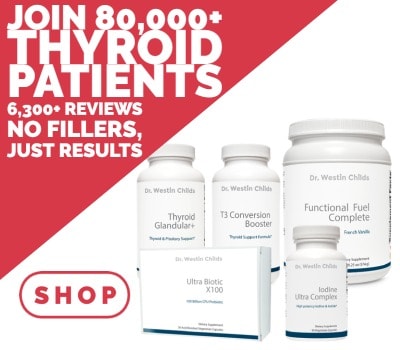 Nutrition facts for this meal:
Calories 189
Total fat 1.1 grams (1%)
Cholesterol 4mg (1%)
Sodium 343mg (15%)
Total carbohydrate 3.8 grams (1%)

Dietary fiber 2.3 grams
Total sugars 0.1 grams

Protein 39 grams
What's included and why:
Pea protein – Most thyroid patients undereat on protein so adding an additional 20 grams of protein here is ideal. Between the morning smoothie and this shake, you will be getting 60 grams of plant-based protein towards your daily goal (not counting the collagen protein).
Collagen – Collagen peptides provide huge benefits for thyroid patients because of their unique amino acid profile. Yes, they are included as a protein powder but they provide much different effects and benefits when compared to traditional protein powders. Collagen contains high amounts of the amino acids glycine, proline, and hydroxyproline (7) which provide benefits to skin, ligaments, tendons, and bones. Don't count the roughly 20 grams of collagen protein in this meal towards your daily total protein intake because the protein powder is included for different reasons.
Ceylon cinnamon – Cinnamon as a spice has antioxidant, anti-inflammatory, anti-diabetic, cholesterol-lowering, and cardiovascular disease-preventing effects (8) making it an incredibly healthy spice. To get these benefits, though, you will want to make sure you are consuming Ceylon cinnamon (also known as "true cinnamon", "Sri Lankan cinnamon", or "Cinnamomum zeylanicum"). The more readily available Saigon cinnamon contains high amounts of a compound called coumarin which can damage the liver and may promote cancer. Ceylon cinnamon has very little coumarin compared to Saigon cinnamon and is the preferred option (don't use Saigon cinnamon as a replacement here).
Cocoa flavanols – Cocoa contains many bioactive compounds including the highly beneficial flavanols such as catechin and epicatechin (9). These beneficial compounds are destroyed during the processing of cocoa so they are not present in high amounts of regularly processed chocolate. Taking a cocoa flavanol supplement allows you to get high amounts of epicatechins to obtain their benefits on the heart and cardiovascular system.
#3. Veggie Hummus Plus Protein
This veggie hummus allows you to get massive amounts of high-powered vegetables into your diet with relative ease.
Not only will this meal fill you up, but between this veggie hummus and your morning smoothie, you will be getting your daily requirement for vegetables without even realizing it.
And, despite the name and the look, this meal actually tastes amazing.
Here's how to make it:
200 grams of frozen broccoli
100 grams frozen riced cauliflower
45 grams of shitake mushrooms
1 small potato (roughly 100 grams)
1-3 cloves of garlic (depending on preference)
1 tablespoon of extra virgin olive oil
Salt
Pepper
100 grams of cooked chicken breast (option to substitute cooked chicken for lentils, protein powder, or another protein equivalent that equals roughly 30 grams of protein)
Nutrition Facts for the Veggie Meal (with cooked chicken breast):
Calories 413
Total fat 17.4 grams (22%)

Saturated fat 2.1 grams (10%)

Cholesterol 64mg (21%)
Sodium 268mg (12%)
Total carbohydrate 39.5 grams (14%)

Dietary fiber 10.9 grams (39%)
Total sugars 8.7 grams

Protein 30.9 grams
Instructions:
For the cooked chicken breast:
Prepare multiple chicken breasts to cook at one time (no more than 3-4 days worth).
Season chicken breast with salt and pepper (or your seasonings of choice. Additional options may include garlic, paprika, onion powder, etc.).
Bake in an oven or in an air fryer at 375 degrees until an internal temperature of 160-165 degrees is reached.
Remove the chicken and allow it to stand for 5-10 minutes.
Measure out 100 grams of your cooked chicken breast and eat it on the side of your veggie hummus.
For the veggie hummus:
Start a pot of water boiling (one big enough to hold all of the ingredients).
Weigh the frozen vegetables, potatoes, and mushrooms. Cut the small potato into cubes.
Add frozen broccoli florets, frozen riced cauliflower, potato, mushrooms, and garlic to the boiling water.
Allow the water to begin boiling again and cook for 9 minutes.
Drain the liquid and place it back into the pot you used to boil everything.
Drizzle one tablespoon of extra virgin olive oil on top and add salt and pepper.
Use an immersion blender for 1-2 minutes until you've created a vegetable hummus.
Place on a plate and top with additional salt and pepper (if needed).
Enjoy!
What's included and why:
Broccoli – One of the healthiest vegetables available, broccoli contains high amounts of sulforaphane (10), indole-3-carbinol, glucosinolates (11), and polyphenols. The ingredients in broccoli act to balance sex hormones, prevent oxidative damage, fight cancer, and reduce inflammation. Broccoli does contain goitrogens but the boiling process reduces the majority of these compounds.
Cauliflower – Within the same family as broccoli, cauliflower provides slightly different (but still very beneficial) compounds including phenolic compounds, flavonoids, and glucosinolates.
Garlic – Garlic contains allicin (12) which has been shown to improve heart health, act as an antioxidant, support the immune system, and prevent infections.
Shiitake mushrooms – Considered to be one of the healthiest mushrooms available, shiitake mushrooms have been shown to help balance the immune system (13), reduce inflammation, and lower cholesterol.
Potato – Included here for its high content of fiber and resistant starch.
Extra virgin olive oil – Probably one of the healthiest oils available, extra virgin olive oil is loaded with monounsaturated fatty acids (MUFAs) and polyphenolic compounds such as hydroxytyrosol (which prevents oxidative damage), oleuropein (which reduces inflammation), and oleocanthal (14) (which also reduces inflammation).
Chicken breast or other meat – Meat-based proteins have been limited in this meal plan to reduce your exposure to arachidonic acid. Chicken breast is a lean meat that is high in protein which means it provides a high amount of protein per calorie. Feel free to substitute this out with another lean meat of your choosing (turkey or lean beef) or a plant-based alternative such as lentils. Whatever you choose to do, make sure you are getting roughly ~25-30 grams of protein as this is important in your total daily protein intake.
Salt – In addition to making your food taste good, salt contains chloride which is especially helpful for thyroid patients. Chloride can help enhance the elimination of harmful halides (fluoride and bromide).
Pepper – Much like salt, black pepper does much more than just improve the taste of your food. It contains a compound called peperine which has been shown to improve the absorption of medications (15), supplements, and many nutrients.
#4. Final Meal
I would recommend keeping the first 3 meals the same every day and adding variety to your meal plan with this final meal.
While you do have some wiggle room here, there are still some things to consider to make sure you are getting all of the necessary nutrients in on a weekly basis.
At least two times per week, make sure this final meal contains a source of long-chain omega-3 fatty acids from fish (you can substitute out for algae if you are vegan).
The reason for this is that there are very few food sources that contain EPA and DHA and thyroid patients benefit from additional sources outside of what the body can create from shorter chain omega 3 fatty acids like alpha-linolenic acid (found predominately in chia seeds in this diet).
Here are a few ideas and recipes that you can consider for this fourth meal:
Honey Rosemary Baked Salmon
Ingredients:
For the sweet potatoes:
2 medium sweet potatoes thinly sliced
2 tablespoons extra virgin olive oil
1/2 teaspoon minced fresh rosemary
Salt and pepper to taste
For the salmon:
2 tablespoons unsalted butter, softened
3 cloves garlic, minced
1 tablespoon honey
1 teaspoon minced fresh rosemary
Salt and pepper to taste
24 oz salmon fillets (wild-caught)
1 large lemon
Ground Beef & Sweet Potato Skillet
Ingredients:
For the beef:
1 pound lean ground beef (can substitute out ground turkey as well)
1 tsp chili powder
1 tsp dried basil
3/4 tsp salt
1/2 tsp black pepper
1/2 tsp onion
1 tsp garlic, minced
Veggies:
2 tbsp extra virgin olive oil
2 cups carrots, peeled and diced
2 cups sweet potatoes, peeled and diced
1 tsp salt
1 tsp chili powder
1/2 tsp ground ginger
1/2 tsp onion powder
1/4 tsp crushed red pepper
1 cup beef stock or broth
1 lb Brussels sprouts, diced
Sweet Potato Breakfast Hash
Ingredients:
4 slices bacon, cut into 1/2-inch thick pieces
1 small onion, diced
1 red bell pepper, diced
1 large sweet potato, peeled and diced into 1/2-inch cubes
2 cups kale leaves, roughly chopped
1/4 teaspoon cumin
1/4 teaspoon garlic powder
1/4 teaspoon paprika
Salt and pepper to taste
4 eggs
1 green onion, sliced
Snacks:
It's impossible to create a one-size-fits-all diet due to the different caloric demands that each thyroid patient has.
I've created this meal plant to include all essential ingredients but you may find that you need additional calories outside of what is provided above.
Depending on your caloric intake (based on your activity level and muscle mass), appetite, and other hormones, you can add these approved snacks as needed:
2 additional ounces of dark chocolate (70% or greater) both for taste and polyphenols
1 serving of walnuts
Protein Powder (as needed for more protein/calories)
Up to 2 cups of orange juice
Up to 1 cup of pomegranate juice
Supplements:
Below are the following supplements that are needed for this diet:
Shopping List:
You can get many of these ingredients at Costco for a very good price so if you have a local Costco then that will be your best bet.
If not, then you can get pretty much everything at a standard grocery store (with few exceptions).
When possible, and as your budget permits, opt for the highest grade of food available to you.
This means organic when shopping for fruits and vegetables, organic or grass-fed when shopping for meats, wild-caught when shopping for fish, and organic when shopping for eggs.
Here's a list of everything that you will need for the perfect thyroid diet:
Orange juice (only get not from concentrate)
Pomegranate juice (fresh squeezed is preferred but from concentrate is ok)
Hemp hearts
Chia seeds
Bananas
Frozen berries (either strawberries, blueberries, raspberries, or blackberries)
Greens (baby spinach, kale, or chard)
Roasted macadamia nuts
Dark chocolate (70%+ or greater)
Frozen or raw broccoli
Frozen or raw cauliflower
Shiitake mushrooms
Yukon gold potatoes
Garlic
Extra virgin olive oil
Lean meat (chicken breast, ground turkey, or lean ground beef)
Fish (salmon, tuna, sardines, shrimp, tilapia, or oysters)
Frequently Asked Questions
Absolutely.
The Perfect Thyroid Diet can be used in all thyroid conditions including Hashimoto's.
Ideally? Forever.
This is not a fad diet but a diet designed to completely change the trajectory of your thyroid health and overall health.
You will obtain benefits as long as you are eating the foods and meals listed in this diet.
If you go back to your regular way of eating then your symptoms and conditions will eventually revert back as well.
Goitrogens are compounds that can block the uptake of iodine into the thyroid gland and are sometimes considered to be dangerous for thyroid patients.
Some of the foods in the Perfect Thyroid Diet contain goitrogenic compounds (especially kale, broccoli, and cauliflower).
This isn't a problem, though, because by preparing your food correctly (boiling or steaming) you can minimize the goitrogenic compounds found in foods.
Will you be getting some goitrogens from this diet? Yes.
Is that a problem? No.
If you are concerned about your goitrogenic intake you can simply increase your daily dose of iodine.
Taking more iodine will outcompete the goitrogens found in food which leaves plenty for your thyroid gland to take in and produce thyroid hormone with.
There is no set amount because each person is so different.
Depending on your daily activity, your metabolism, your hormone levels, your thyroid status, and more, you may need to adjust your caloric intake.
The Perfect Thyroid Diet provides a base set of calories that can and should be consumed and, from there, you can add additional calories as needed based on the factors mentioned above.
Ideally, you will want to follow the diet as outlined as closely as possible but you may need to make adjustments based on certain preferences.
You are welcome to make any changes you'd like but realize that the farther you deviate from the program, the less likely you are to see results.
Depending on your circumstances, it's very likely.
This diet was created to support healthy thyroid function and because the thyroid is pivotal in weight maintenance, enhancing its function will likely improve your metabolic function.
No!
Protein is incredibly important to thyroid patients because your skeletal muscles are considered a thyroid-responsive tissue.
Most thyroid patients are undereating protein which prevents adequate muscle maintenance.
The more muscle mass you have the better your thyroid will function.
Your primary sources of fat will come from extra virgin olive oil, chia seeds, hemp hearts, walnuts, and flax (optional).
Chia seeds, walnuts, and flax are included to increase your intake of alpha-linolenic fatty acid which is the primary omega-3 fatty acid.
It is recommended that you get at least 2 servings of fatty fish or algae each week to obtain additional EPA and DHA (which are long-chain fatty acids).
Your body can create some EPA and DHA from the omega-3 fatty acids included in this diet but only at a rate of about 10-20% which is why additional EPA and DHA is recommended.
At baseline, the Perfect Thyroid Diet will provide you with roughly 5-7 grams of omega-3 fatty acids each day which is 2-3x that of the average person.
The average omega-3 intake (as measured by alpha-linoleic acid) is 2.0 grams in men/day and 1.5 grams in women/day.
The ratio of omega-3 fatty acids is designed to be roughly in line with the intake of omega-6 fatty acids.
Sources of animal protein contain an omega 6 fatty acid metabolic known as arachidonic acid (AA).
AA is balanced with a roughly equivalent intake of omega-3 fatty acids (as alpha-linolenic acid) from green leafy vegetables, flax, chia, walnuts, and hemp hearts.
This is by design with the goal of bringing down your intake of omega 6 fatty acids to omega-6 fatty acids to around 2-4:1.
Scientific References
#1. ncbi.nlm.nih.gov/pmc/articles/PMC4085189/
#2. ncbi.nlm.nih.gov/pmc/articles/PMC5376946/
#3. ncbi.nlm.nih.gov/pmc/articles/PMC4007340/
#4. ncbi.nlm.nih.gov/pmc/articles/PMC2868018/
#5. ncbi.nlm.nih.gov/pmc/articles/PMC6994964/
#6. ncbi.nlm.nih.gov/pmc/articles/PMC8747047/
#7. pubmed.ncbi.nlm.nih.gov/28687386/
#8. ncbi.nlm.nih.gov/pmc/articles/PMC3854496/
#9. ncbi.nlm.nih.gov/pmc/articles/PMC4696435/
#10. ncbi.nlm.nih.gov/pmc/articles/PMC7802872/
#11. ncbi.nlm.nih.gov/pmc/articles/PMC8575925/
#12. ncbi.nlm.nih.gov/pmc/articles/PMC4103721/
#13. pubmed.ncbi.nlm.nih.gov/25866155/
#14. ncbi.nlm.nih.gov/pmc/articles/PMC4139846/
#15. pubmed.ncbi.nlm.nih.gov/9536651/